Images of tiger abuse at China zoos upset public 中國動物園虐虎影像引發眾怒
A video and photos of tigers being abused in a pair of incidents during China's May Day holiday have caused public condemnation, prompting apologies and promises that such incidents would not recur.
In the video, two uniformed men are shown slapping and shaking the head of a lethargic tiger and energetically jumping on its back.
The state-run China News Service said late on May 6 that the men were employees of a performance troupe that staged tiger shows at Wenling Zoo in eastern China's Zhejiang province during the May Day holiday. It said the men abused the tiger after a show featuring the animal.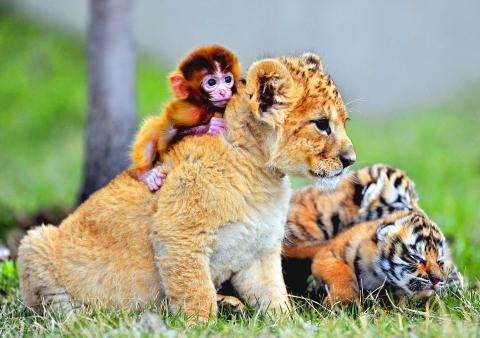 A baby monkey, a lion cub and tiger cubs play in Shenyang, Liaoning Province, China on May 1. 小猴子、小獅子與小老虎五月一日在中國遼寧省瀋陽市玩耍。
Photo: Reuters
照片:路透
In a separate incident, a tiger tethered with a rope was offered as a prop to photo-taking tourists during the holiday at a tiger park in northeastern Jilin province. One photo showed a person straddling the tiger's back.
Wang Haijun, a park official, told China News that a tiger tamer made the unauthorized decision to allow tourists to take photographs with the animal and that the park management immediately halted the act after hearing about it.
Mistreatment of captive or tamed wild animals is an issue in China. Earlier this year, visitors to the city zoo of Hangzhou in Zhejiang province were caught pelting two lions with snowballs.
(AP)
中國五一假期時,兩起老虎遭虐事件的影片和照片引發民眾譴責,促使動物園道歉,承諾這類事件不會再發生。
在影片中,兩名穿著制服的男子拍打搖晃有氣無力的老虎,兩人還精力十足地在老虎背上跳動。
國營媒體中新社五月六日稍晚表示,男子是表演劇團的員工,五一假期時在中國東部浙江省溫嶺市的動物園表演老虎秀。中新社表示,男子在老虎表演後虐待老虎。
在另一起事件中,中國東北吉林省一家老虎園區在假期期間,將老虎用繩子拴住,讓觀光客當做拍照道具。其中一張照片中,有個人跨坐在老虎身上。
園方人員王海軍(譯音)向中新社表示,馴獸師未經授權就決定讓觀光客和老虎合照,園方管理單位聞訊後馬上制止行動。
不當對待遭捕或馴養的野生動物是中國一大問題。今年稍早,浙江省杭州市動物園的遊客被抓到朝兩頭獅子丟雪球。
(美聯社/翻譯:陳維真)
Publication Notes
TODAY'S WORDS 今日單字
1. recur v.
再發生;復發 (zai4 fa1 sheng1; fu4 fa1)
例: When the symptoms recurred, the doctor diagnosed something different.
(症狀復發時,醫生做出不同的診斷。)
2. lethargic adj.
不活潑的;無生氣的 (bu4 huo2 po1 de5; wu2 sheng1 qi4 de5)
例: I felt tired and a little lethargic.
(我覺得疲累,有點沒精神。)
3. straddle v.
跨坐 (kua4 zuo4)
例: He turned the chair round and straddled it.
(他把椅子轉過來,跨坐上去。)
Comments will be moderated. Keep comments relevant to the article. Remarks containing abusive and obscene language, personal attacks of any kind or promotion will be removed and the user banned. Final decision will be at the discretion of the Taipei Times.