The Big Issue Taiwan – a social enterprise empowering the destitute 《大誌雜誌》— 關懷街友、弱勢族群的「社會企業」
How do you react when you come across homeless people on the street? Homelessness is something that can happen to anyone, if they lose access to the means of earning a living. Last year's attempt to drive the homeless out of a park in Taipei's Wanhua District by hosing them down was very contentious. The practice was seen as inhumane and certainly not a solution to the problem of homelessness, but neither are welfare handouts or members of the public giving money to beggars viable long-term solutions. What disadvantaged people need is to be given a chance: a stable job with a legitimate income.
The Big Issue, which operates based on the social enterprise model — using an economic vehicle to carry out social participation and thereby achieve a social purpose — is a magazine providing exactly one such "chance" for homeless and socially disadvantaged people to earn a living for themselves.
The Big Issue Taiwan was granted a publishing license in November 2009 after its chairman and editor-in-chief Fines Lee met with The Big Issue founder John Bird, who gave Lee the go-ahead after Lee's presentation. In the following months of preparation, re-editing and positioning, the first Taiwan edition was published in April 2010. As of today, 30 editions have been published. The magazine, with a circulation of 30,000, is turning a profit, mainly from advertising — and Lee revealed that he is considering expanding its vending locations to southern Taiwan in future.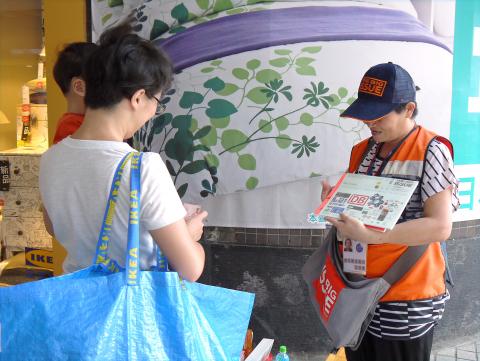 A vendor selling the latest issue of The Big Issue to a mother holding her son on her left arm on the street in Taipei on Sept. 5. 一位《大誌雜誌》販售員九月五日在台北街頭,賣出一本當期雜誌給一位抱著兒子的母親。
Photo: Lin Ya-ti, Taipei Times
照片:台北時報林亞蒂
The Big Issue — one of the UK's leading social businesses — was initiated by The Body Shop founder Anita Roddick and founded by Anita's husband Gordon Roddick and social entrepreneur Bird in London in September 1991. The magazine is a member of the International Network of Street Papers (INSP), and as of today, it is also produced and sold in different languages in about 10 countries, including Australia beginning in 1996, Japan in 2003, and also South Africa, South Korea, Namibia, Kenya, Malawi, Ethiopia, Nigeria, and Taiwan.
To become a seller, one must be homeless or socially disadvantaged. All sellers undergo training and internship, and they wear ID badges, which include the seller's photo and seller number. There are currently 60 sellers regularly shouting "The Big Issue! NT$100 a copy!" in the vicinity of the top 50 MRT stations in Taipei and New Taipei City. Initially, a seller gets 10 copies for free so he or she can earn NT$1,000 after selling all 10 copies. Then, the seller buys each copy for NT$50, which is half the cover price. Several sellers have already experienced an improvement in their lives and their psychological well-being. This echoes, "[Our work] will have kept us out of greater trouble," written by UK-based Swiss writer Alain de Botton at the end of his book The Pleasures and Sorrows of Work.
Once a successful dot-comer, Lee has now shifted his career to the publishing industry and introduced the social enterprise model to Taiwan — successfully creating jobs for the homeless and the disadvantaged. The Big Issue Taiwan's target readers are the "Y" generation, office workers of the Internet generation, MRT commuters, and others, most of whom are between the ages of 20 and 35. Given that the content is key to maintaining readership, the seven full-time staffers and dozens of contributing reporters from all over the world are constantly working hard not only to get paid, but also to produce a quality magazine to attract readers. Based on the idea of "Stay Hungry. Stay Foolish," as well as objective and unbiased reporting, the magazine aims at covering important global issues concerning past and future. The contents include global consciousness, business and technology, culture, design, and other comprehensive reporting and commentary focusing on a wide range of issues.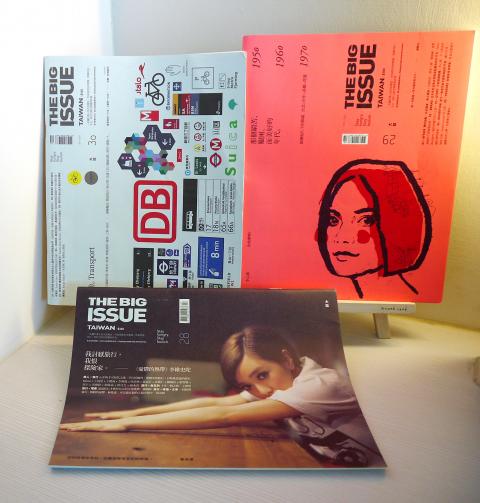 The latest three issues of The BIg Issue. 最新三期的《大誌雜誌》。
Photo: Lin Ya-ti, Taipei Times
照片:台北時報林亞蒂
Lee said, "I have to be honest. Initially, I did not run the magazine for the purpose of helping the vulnerable … A social enterprise is a social enterprise. I simply hope to give the public an opportunity to be aware of the homeless issue. Other than that, we are no different from other businesses. The public might mistake a social enterprise for a non-profit organization (NPO) and start to impose high moral expectations on us. But honestly, a social enterprise is an enterprise, or otherwise, I would just run an NPO instead."
The magazine is a fresh force in Taiwan's printed media. Through the positive cycle of "helping those who help themselves," the magazine helps homeless people earn a living, rebuild their confidence and self-esteem, reintegrate them into mainstream society, and thereby gain control of their lives. Lee also encourages sellers to accept any jobs that are better than selling magazines on the streets. US blind and deaf educator Helen Keller once said, "Although the world is full of suffering, it is also full of the overcoming of it." The magazine exists as a catalyst to help the homeless overcome homelessness.
(Lin Ya-ti, Taipei Times)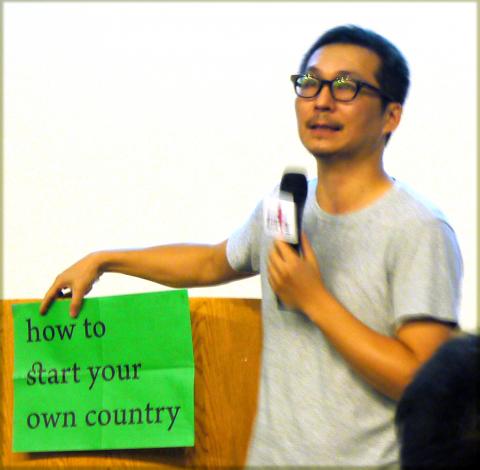 The Big Issue Taiwan chairman and editor-in-chief Fines Lee gives a lecture organized by the Hanguang Education Foundation at the Sun Yat-sen Memorial Hall on Aug. 11. 《大誌雜誌》執行長兼總編輯李取中八月十一日在國父紀念館,進行一場漢光教育基金會主辦的演講。
Photo: Lin Ya-ti, Taipei Times
照片:台北時報林亞蒂
路上看到街友時,你會如何反應?當一個人自營生計的條件被剝奪時,你我隨時都有可能窮途潦倒。去年發生在台北市「以灑水驅離萬華遊民」的事件,再度讓街友的社會問題浮上檯面。「灑水」當然不人道,遑論解決遊民問題;社福救濟與民眾捐款幫助靠施捨度日的街友,也非長久之計。這群弱勢朋友們所需要的是一個機會:一個能正當賺取穩定收入工作的機會。
《大誌雜誌》正是一份給街友與社會弱勢族群自食其力機會的「社會企業」雜誌。「社會企業」是運用商業模式,進行社會參與,達到長期支助某個議題或弱勢族群的目的。
《大誌雜誌》中文版執行長兼總編輯李取中於二○○九年十一月親赴英國與《The Big Issue》創辦人約翰‧博德會面,而博德在李取中的簡報後,直接給一句「放手去做吧!」授權中文版發行。不到幾個月的籌備、重新編輯與定位,《大誌雜誌》二○一○年四月在台創刊,至今已發行至第三十期。李取中表示,雜誌目前發行量約三萬本,營運至今是獲利的,廣告為主要收入來源,並期待未來能將販售點擴及南台灣。 
《The Big Issue》是英國的「社會企業」先鋒之一,該雜誌是由美體小舖創辦人安妮塔‧羅迪克發想,並由其夫婿果登‧羅迪克與社會企業家博德於一九九一年九月創立於英國倫敦。這本雜誌是國際街報聯盟的一員,迄今已有超過十個國家取得授權,以各自語言獨立發行,例如澳洲於一九九六年開始發行、日本於二○○三年以日文創刊,其他國家還包括南非、南韓、奈米比亞、肯亞、馬拉威、衣索比亞、奈及利亞與台灣。
販售員必須是街友或是社會弱勢,經過訓練與實習,目前約有六十位佩戴具編號相片識別證的販售員,在大台北五十大捷運站出口外圍,以「《大誌雜誌》!一本一百元!」的方式叫賣。每位販售員首次可免費獲得十本雜誌,賣完得到一千元收入,而後繼續到發行站以一本五十元進貨,每本利潤為五十元。許多販售員在販售雜誌後表示,他們皆獲得生活上與心裡上的改善。正如旅居英國的瑞士籍作家艾倫‧狄波頓在《工作!工作!》結尾寫道:「因為工作,我們才不至於陷入更糟的困境裡。」
李取中原是位成功的網路人,轉戰出版業後,成功將「社會企業」模式引進台灣,帶給街友與弱勢族群工作機會。《大誌雜誌》以Y世代、網路世代的上班族、捷運族為閱讀族群,讀者年齡以二十歲至三十五歲居多。為了讓消費行為持續,公司七名全職員工與來自世界各地外稿記者投注心血,除了獲得合理報酬外,還要讓雜誌內容吸引讀者。他們秉持「保持飢餓,保持未知」的核心精神,以及客觀中立的報導,傳達世界各地已發生或未發生的重要資訊,雜誌內容涵括全球意識、商業科技、文化、設計之綜合報導與評論。
李取中表示:「我必須誠實說,我一開始並不是為了幫助弱勢才去做雜誌…社會企業就是企業,我只希望能夠讓大眾有持續關注且改善遊民機會,但其實我們與其他商業是沒有差別的。一般社會大眾會以為我們是非營利組織,用比較高的道德標準要求,但說實話,就是商業企業,不然我就直接做非營利組織就好了。」
《大誌雜誌》是台灣平面媒體的一股新勢力。透過「幫助自助者」的良性循環,讓無家可歸者自食其力、重建自信自尊、融入主流社會,進而找回生活主導權。若販售員找到比街頭販售雜誌更好的工作,李取中也非常鼓勵販售員轉換更好的跑道。美國盲聾教育家海倫‧凱勒曾說:「世界充滿苦難,但也充滿超越。」而《大誌雜誌》可以說是帶給街友「超越」生活困境的推手。
(台北時報記者林亞蒂)
Comments will be moderated. Keep comments relevant to the article. Remarks containing abusive and obscene language, personal attacks of any kind or promotion will be removed and the user banned. Final decision will be at the discretion of the Taipei Times.