Steroids rely on liver to metabolize 類固醇靠肝臟代謝
Officials from the Food and Drug Administration under the Department of Health say steroids are used to treat inflammations of the body, and are appropriate for rheumatism and allergies, including rheumatoid arthritis as well as allergies and inflammation of the eyes or nose. Since steroids are a prescription drug, they must be administered by a certified doctor.
Yang Ti-shan, head of orthopedics at Ton Yen General Hospital in Hsinchu County, says steroids rely on the liver to metabolize and have too many side effects, adding that they are not used in orthopedics to treat osteoarthritis or arthritic pain any longer. When dealing with muscular inflammations or when drug treatment is not working, he does not use steroids unless absolutely necessary and keeps the dosage under 0.5 cubic centimeters. Yang also administers an equal dosage of pain relievers to ensure that the body is able to metabolize everything within 24 hours.
Yang says that he only administers steroids to be taken orally for an extended period of time in cases of rheumatoid arthritis, systematic lupus erythematosus, and anklosing spondylitis, and he only administers them together with pain relievers during treatment.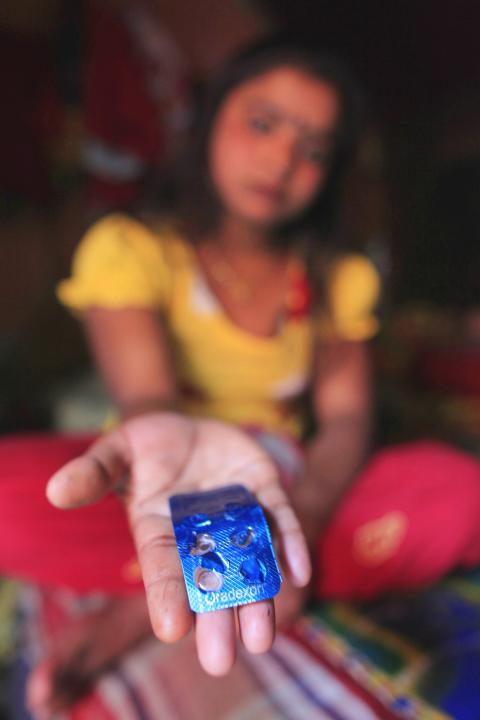 A woman in Tangail, Bangladesh shows Oradexon, a steroid, on March 5. 一位女士三月五日在孟加拉坦蓋爾秀出類固醇「歐樂得爽」。
Photo: Reuters
照片:路透
(Liberty Times, Translated by Kyle Jeffcoat)
衛生署食品藥物管理局官員表示,類固醇是治療身體發炎的症狀,適用風濕性疾患與過敏性疾病,因此包括風濕性關節炎、眼睛、鼻子過敏與發炎等,都可能使用。由於是醫師處方用藥,必須由合格醫師開立使用。
新竹縣東元綜合醫院骨科主任楊迪山說,類固醇因靠肝臟代謝,有太多的副作用,目前醫界骨科幾乎都不再用於治療退化性關節炎或關節疼痛。他在面對肌膜發炎且經藥物治療都無效下,實在逼不得已才會使用,使用的劑量則控制在零點五CC以下,而且還必須搭配一比一的止痛藥,以確保患者一天就能代謝掉。
楊迪山說,目前只有類風濕性關節炎、紅斑性狼瘡、或是僵直性脊椎炎等,才會以長期口服的方式,合併使用類固醇及止痛藥進行治療。
(自由時報記者黃美珠、鍾麗華)
Publication Notes
TODAY'S WORDS 今日單字
1. allergy n.
過敏 (guo4 min3)
例: Other alternatives are available for people with a penicillin allergy.
(對盤尼西林過敏的人有其他選擇。)
2. arthritis n.
關節炎 (guan1 jie2 yan2)
例: Her arthritis got so bad that she had to stop playing the piano.
(她的關節炎嚴重到要停止彈琴。)
3. prescription drug n. phr.
處方藥 (chu4 fang1 yao4)
例: What is a prescription drug in one country may be an over-the-counter drug in another country.
(在一個國家也許是處方藥的藥品,在另外一國家可以是非處方用藥。)
Comments will be moderated. Keep comments relevant to the article. Remarks containing abusive and obscene language, personal attacks of any kind or promotion will be removed and the user banned. Final decision will be at the discretion of the Taipei Times.