"Lai He Day" for father of Taiwan's nativist literary mov't 詩人醫師賴和 台灣新文學之父
Lai He was born in Changhua on May 28, 1894 and died in 1943. He was arrested in 1923 for participating in a political protest, and was a leading figure in Taiwan's literary circles during the 1930s. While he was editor for the literary arts section at Taiwan Minpao, he published numerous articles, such as "The awful state of Taiwan's literary circles," attacking conventional literature and promoting a new nativist literary movement in Taiwan. He was the first writer in Taiwan to write poetry and novels in Hoklo, also known as Taiwanese, and is often praised as being the father of Taiwan's nativist literary movement.
After Lai graduated from the Taipei School of Medicine, a predecessor to National Taiwan University's College of Medicine, he opened his own clinic in Changhua and always reduced or waived payment from the poor. People in Changhua respectfully call him "the Changhua Matsu," in reference to the goddess of the sea. The Lai He Memorial Hall and the Lai He Culture and Education Foundation are currently located at Lai He's former residence in Changhua, and the city celebrates "Lai He Day" on May 28 every year.
(LIBERTY TIMES, TRANSLATED BY KYLE JEFFCOAT)
賴和於一八九四年五月二十八日出生於彰化,歿於一九四三年,曾於一九二三年「治警事件」被捕入獄,是台灣三○年代文壇領袖,曾經主編過「台灣民報」的文藝欄,發表「糟糕的台灣文學界」等多篇文章,抨擊舊文學,掀起台灣新文學運動風潮,他的詩作及小說,首創以台灣話創作,後世尊稱其為「台灣新文學之父」。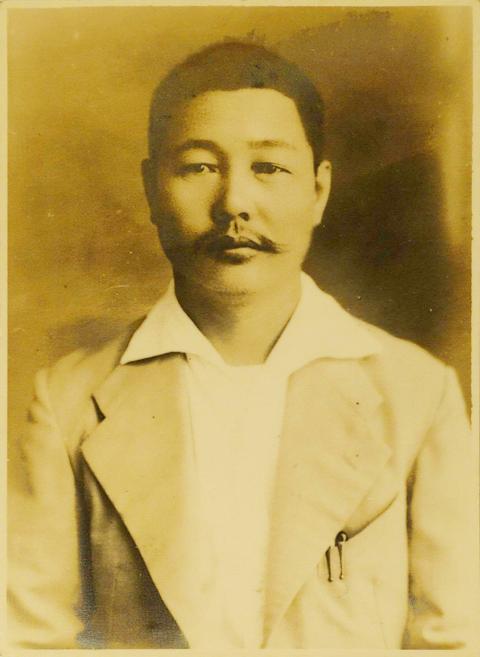 Lai He, the father of Taiwan's nativist literary movement. 台灣新文學之父賴和。
Photo courtesy of Lai He's family
照片由賴和家屬提供
賴和畢業於台灣大學醫學院的前身台北醫學校,曾在彰化市開設「賴和醫院」懸壺濟世,對貧困的人總是減免費用,彰化人稱他為「彰化媽祖」,目前在賴和彰化市故居設有賴和紀念館及文教基金會,彰化市並定每年的五月二十八日為「賴和日」。
(自由時報記者張協昇整理)
Publication Notes
TODAY'S WORDS 今日單字
1. poetry n. 詩作 (shi1 zuo4) 例: Haiku is a popular form of unrhymed Japanese poetry. (三行俳句詩是日本無押韻詩作中很流行的一種。) 2. predecessor n. 前身 (qian2 shen1) 例:A small pharmacy that opened over a hundred years ago was the predecessor to the huge pharmaceutical company you see today. (當今這間龐大的製藥公司前身,百年前是一家小小的藥房。) 3. foundation / n. 基金會 (ji1 jin1 hui4) 例: The Rockefeller Foundation has been carrying out its philanthropic mission since it was founded in 1913. (洛克菲勒基金會從一九一三年創立以來,一直以慈善為宗旨。)
Comments will be moderated. Keep comments relevant to the article. Remarks containing abusive and obscene language, personal attacks of any kind or promotion will be removed and the user banned. Final decision will be at the discretion of the Taipei Times.