Ultralight crashes in lychee orchard 輕航機墜機 駕駛命危
Kuo Hsiang-pin, the owner of a dyeing and finishing factory, crashed his ultralight aircraft into a lychee orchard in Changhua County on Sept. 21 following suspected mechanical failures. Only the frame of the aircraft was left after the fire was put out. Kuo was sent to Changhua Christian Hospital in critical condition for emergency treatment.
A female friend of Kuo's surnamed Chang, said he phoned her at 5pm to tell her that he was flying right above her house, asking her if she could see him. She walked out of her house and looked up to see Kuo flying his white ultralight aircraft. She waved at him and said that he was flying very high and indeed could see him.
Chang said she heard two explosions not long after she went back inside her house. She felt something was wrong and rushed out to see what happened, immediately spotting a fire in the neighboring mountains. When she reached the site of the crash she saw the burning aircraft.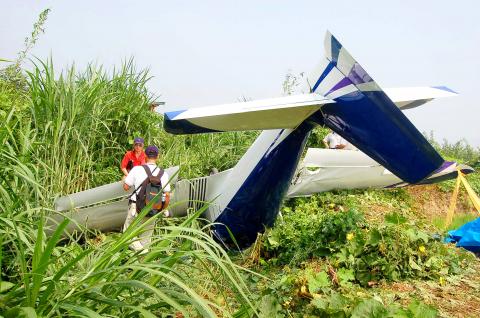 Officials from the Civil Aviation Administration and the Aviation Safety Council gather evidence in Changhua County where an ultralight aircraft crashed on Sept. 16, 2007. 民航局與飛安會官員二○○七年九月十六日於彰化縣一架輕航機墜毀地點蒐集證據。
Photo: Tsai Wen-cheng, Taipei Times
照片:自由時報記者蔡文正
A male witness surnamed Wu said he was busy cutting the grass when the aircraft crashed. Before the crash he noticed that an aircraft kept hovering over the mountainous area, and started smoking before plunging from the sky. After hearing two explosions, Wu saw a huge fire break out and alerted the police.
When Changhua County firefighters arrived at the lychee orchard, they found that only the frame of the aircraft remained after the fire. Kuo was burned over his entire body and he was sent to Changhua Christian Hospital. The police suspect that a mechanical failure caused the crash.
(LIBERTY TIMES, TRANSLATED BY TAIJING WU)
染整廠老闆郭祥彬駕駛輕航機,疑似機械故障,九月二十一日傍晚摔落彰化縣一處荔枝園,輕航機起火燒得只剩骨架。當時郭男命危被送往彰化基督教醫院急救。
郭祥彬友人張小姐表示,郭約於下午五點打電話給她,並說「我飛到妳家上空,妳有看到我嗎?」她走到屋外抬頭看,果然看到郭所駕駛的白色輕航機,並揮手打招呼說,「飛得很高,我有看到你。」
張小姐說,她回到屋內不久,便聽到兩聲爆炸聲。她感到不對勁,便奪門而出,就見到附近山區起火,於是立刻衝去察看。到達現場就看到起火的輕航機。
目擊民眾吳先生說墜機時他正忙著除草。當時他發現輕航機一直在山區盤旋,之後看到飛機冒煙,隨後便往下墜。聽到兩聲爆炸聲後看到一團熊熊烈火,於是趕緊報警。
彰化縣消防隊趕抵荔枝園,發現整架輕航機已燒得只剩骨架,將全身燒傷的郭男緊急送往彰基醫院。警方研判輕航機疑似機械故障,才導致墜機意外。
(自由時報記者湯世名、吳為恭)
Publication Notes
TODAY'S WORDS 今日單字
1. mechanical adj.
機械的 (ji1 xie4 de5)
例: The photocopier keeps saying there is some sort of mechanical failure. Can you call someone to fix it?
(影印機不停顯示著機械故障。你可以找個人來修嗎?)
2. critical condition n. phr.
命危 (ming4 wei2)
例: The driver and most of the passengers were sent to the hospital in critical condition after the crash.
(駕駛與大部分的乘客於撞車後命危被送到醫院。)
3. neighbor v.
在…附近 (zai4…fu4 jin4)
例: The parking lot neighbors the playground.
(停車場在遊戲場附近。)
Comments will be moderated. Keep comments relevant to the article. Remarks containing abusive and obscene language, personal attacks of any kind or promotion will be removed and the user banned. Final decision will be at the discretion of the Taipei Times.