Tamsui hall a token of Taiwan-Japan disaster aid 災難見真情 一滴水紀念館 見證台日情誼
The Drop of Water Memorial Hall near Huwei Fort in New Taipei City's Tamsui District opened last Tuesday. This modest-looking Japanese-style building is a century-old construction donated to Taiwan by Japanese civic groups. Behind it is a touching story. Each roof tile and beam of the building was shipped from Japan and reassembled in Tamsui. Its reconstruction is aimed at soothing the pain of Taiwan's 921 Earthquake and commemorating the friendship that has formed between Taiwan and Japan during times of distress in both countries.
When the Great Hanshin Earthquake struck Japan on Jan. 17, 1995, several Taiwanese civil groups formed rescue teams to help the stricken areas. These efforts left a deep impression on the grateful residents of one of the hardest-hit areas, the Mikura neighborhood of Kobe City. Over time, and guided by local leader Yasuzou Tanaka, Mikura residents slowly rebuilt their homeland and recovered from the disaster.
When the 921 Earthquake struck Taiwan in 1999, Tanaka led a group of people from the Mikura neighborhood to Taiwan to reciprocate Taiwan's earlier assistance by helping Taiwanese disaster victims. Since then, Taiwan and Japan have built up a solid mutual help partnership.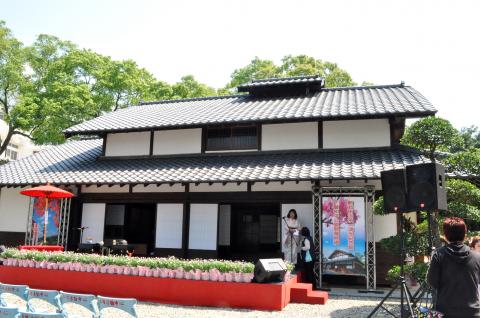 A woman talks to the host of ceremonies at the inauguration of the Drop of Water Memorial Hall in New Taipei City's Tamsui District on March 29. 三月二十九日,一位女性於新北市淡水區「一滴水紀念館」開幕典禮時與司儀交談。該紀念館由日本民間捐贈並運送來台,目的在撫慰台灣九二一大地震災民的傷痛,並紀念台日兩國於災難時的堅定友誼。
PHOTO: TSAI PAI-LING, LIBERTY TIMES
照片:自由時報記者蔡百靈
An almost century-old building in Japan's Fukui Prefecture survived the Great Hanshin Earthquake without even a scratch, but a few years later it was in line to be demolished. Its owner decided to save it by donating it to the Mikura neighborhood.
When Tanaka and a team of volunteer workers started to dismantle the old house, he discovered that it was built by Kakuji Mizukami, father of eminent writer Tsutomu Mizukami. In view of the house's historic value, he decided to donate it to Taiwan. This gesture was meant to symbolize homeland reconstruction and encourage 921 Earthquake victims to pick themselves up after the disaster, and as a token of the mutual sentiment between Taiwanese and Japanese people.
The whole house was built using mortise and tenon joints instead of nails. Seven years ago, voluntary workers from both countries dismantled the house bit by bit and put a serial number on each part before shipping it to Taiwan. The house was rebuilt near Huwei Fort in Tamsui and renamed the Drop of Water Memorial Hall, referring to the motto "a drop of water has unlimited possibilities" that Tsutomu Mizukami wrote to encourage poor students.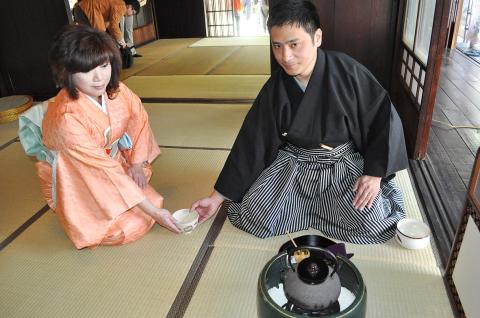 A woman and man dressed in kimonos demonstrate part of the Japanese tea ceremony at the inauguration of the Drop of Water Memorial Hall in New Taipei City's Tamsui District on March 29. 三月二十九日,穿著和服的一位女性與一位男性於新北市淡水區「一滴水紀念館」開幕典禮時,示範茶道的禮儀。
PHOTO: TSAI PAI-LING, LIBERTY TIMES
照片:自由時報記者蔡百靈
The Drop of Water Memorial Hall, which was inaugurated by New Taipei City Mayor Eric Chu and a representative from the Japan Interchange Association, is open to the public free of charge. The hall houses exhibits showing how it was built, dismantled and built again, as well as aspects of the Japanese lifestyle and some of Tsutomu Mizukami's writings. It can also be booked for other exhibitions and performances.
Masami Tanabe, deputy director of the Japan Interchange Association, says the Drop of Water Memorial Hall pays witness to the warmth between people in times of distress, and he says he has been very touched by Taiwanese people's help at this time, when Japan is suffering from another disaster.
(LIBERTY TIMES, TRANSLATED BY TAIJING WU)
位於新北市淡水區滬尾砲台旁的「一滴水紀念館」上週二開幕。這棟外表看似不起眼的日式建築,是日本民間捐贈給台灣的百年古宅。背後有著一段感人故事,古宅一瓦一木都是由日本運來,在淡水組裝重建,以緩和台灣九二一大地震造成的傷痛,並紀念台灣與日本患難中見真情的友誼。
西元一九九五年一月十七日,日本發生「阪神大地震」。當時台灣民間組成許多救難隊前往救援,讓受創嚴重的「御藏社區」民眾銘謝在心,御藏社區在領導人田中保三帶領下,慢慢重建復原家園。
一九九九年台灣發生九二一大地震後,田中保三也帶領御藏社區居民,以回報的心情來台救災,台日雙方因此建立深厚的互助情誼。
在阪神大地震中,福井縣一棟近百年古宅竟然絲毫未傷,但在幾年前卻面臨被拆除的命運,屋主於是決定將這間古宅捐給「御藏社區」,使其重生。
田中保三召集志工拆解古宅後發現,這棟建築是一九一五年日本文豪水上勉的父親水上覺治所建造。由於這棟建築深具歷史價值,因此決定將它送給台灣,不僅有「重建家園」的象徵意義,鼓勵台灣自九二一震災中站起來,也代表兩國人民間的共同情感。
這棟日式古宅完全沒有用到一根鋼釘、全用「榫頭」工法建造。七年前,兩國志工將古宅逐步拆解、編號後運到台灣,在淡水滬尾砲台旁進行重建,並以水上勉曾經用來鼓勵窮學生的「一滴水脈中有無限可能」,將古宅命名為「一滴水紀念館」。
「一滴水紀念館」上週二由新北市長朱立倫及日本交流協會代表共同揭幕,開幕後提供一般民眾免費參觀,內部設有展覽室介紹移築過程及建築工法,同時也展示日本居家生活風貌、水上勉作品等,並定期舉辦展演活動。
日本交流協會副代表田邊正美說,「一滴水紀念館」見證災難中人情的溫暖,現在日本遭逢震災,日本人又再度感受到台灣的溫暖,內心相當感動。
(自由時報記者蔡百靈)
Comments will be moderated. Keep comments relevant to the article. Remarks containing abusive and obscene language, personal attacks of any kind or promotion will be removed and the user banned. Final decision will be at the discretion of the Taipei Times.