YouTube users vote for best videos of 2007 YouTube 二0 0七 最佳影片獎
YouTube has announced the videos its users voted the best of 2007, with Harry Potter puppets, a mesmerizing baritone and hungry lions playing starring roles in winning works.
"In 2007 the YouTube community showed the world that there's something for everyone on the site," said YouTube manager of community Mia Quagliarello.
"This year's YouTube Video Award winners not only include entertainers, they include those who served as a mouthpiece for everyday people, those who inspired and those who informed."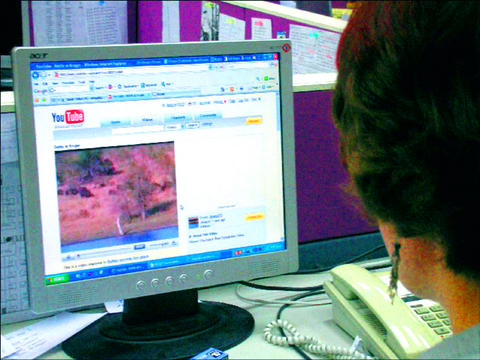 An office worker in Taipei views the Battle at Kruger video on the YouTube Web site, March 26, 2008. 上週三,台北某位上班族在觀賞YouTube網站上的「克魯格之戰」。照片:台北時報
PHOTO: CATHERINE THOMAS, TAIPEI TIMES
Awards were given in a dozen categories, ranging from music, sports and comedy to instructional, political and "adorable."
US graduate student Tay Zonday won in the music category for Chocolate Rain. His online fame landed him a performance on a late-night US talk show.
The award for best comedy video went to The Mysterious Ticking Noise in which puppets based on Harry Potter book characters dance and sing merrily before being blown up with a bomb by a gleeful Lord Voldemort.
A video of a baby prone to tumbling over in hysterics was voted most comic, and the creativity crown went to Swiss artist Guillaume Reymond, who used people to re-enact the video game Tetris.
The stop-motion video clip was created at the Les Urbaines festival in Lausanne, Switzerland, in November of 2007.
Top honors for instructional video went to a US high school student who demonstrates how to solve a Rubik's Cube puzzle.
The winner in the Eyewitness category is Battle at Kruger, a video graphically documenting a battle between lions, a crocodile and the water buffalo they want to turn into a meal in the Kruger National Park in South Africa.
YouTube's top-voted videos of 2007 and the finalists in each category can be viewed online at www.youtube.com/ytawards07winners.(AFP)
線上影音網站YouTube公佈了網站會員票選出的二OO七年度最佳影片,其中哈利波特玩偶、迷人的男中音和飢腸轆轆的獅子表現傑出抱走大獎。
網站社群負責人米亞.奎格莉亞芮蘿說:「二OO七這一年,YouTube社群讓全世界知道,每個人都可以在這個網站找到自己喜歡的東西。」
「今年YouTube年度影片得獎者不光只是娛樂大眾;有人為民喉舌,有人鼓舞人心,有人傳播資訊。」
獎項共分為十二類別,涵蓋音樂、體育、喜劇、教學、政治和「可愛」類。
美國研究生泰伊.松戴的「巧克力雨」得到最佳音樂類影片;網路上的暴紅,使他獲邀到一個深夜訪談節目中表演。
最佳喜劇影片由「神秘的滴答聲」拿下;本片由仿《哈利波特》片中角色的造型玩偶主演,它們在片中快樂地又唱又跳,最後卻被歡喜的佛地魔以炸彈炸死。
一個小嬰兒歇斯底里地笑到不支倒地的影片則獲選最滑稽獎;最有創意獎則獎落瑞士藝術家魁勞米.雷蒙,他用真人排列演出電玩遊戲「俄羅斯方塊」。
這個停格動畫短片是去年十一月在瑞士洛桑舉辦的「Les Urbaines festival」上拍攝的。
教學類最高殊榮則由一位美國高中生獲得,他在影片中示範如何破解魔術方塊。
最佳目擊影片是「克魯格之戰」,該片寫實記錄了南非克魯格國家公園內一群獅子、一隻鱷魚和水牛爭食打架的畫面。
YouTube二OO七年度票選最佳影片和各類別入圍影片可至網址:www.youtube.com/ytawards07winners觀看。
(法新社/翻譯:袁星塵)
Publication Notes
TODAY'S WORDS 今日單字
1. mesmerizing adj.
迷人的 (mi2 ren2 de5)
例: The view from the top was mesmerizing.
(從至高點俯視的景觀實在迷人。)
2. gleeful adj.
歡欣的 (huan1 xin1 de5)
例: Sam was gleeful when he heard about Fred's failure.
(山姆聽到弗萊德失敗時欣喜若狂。)
3. prone n.
有...傾向的 (you3 ... qing1 xiang4 de5)
例: Michael is prone to making smart-aleck comments.
(麥可常會作一些自以為聰明的評論。)
4. stop-motion adj.
停格的 (ting2 ge2 de5)
例: The earliest King Kong movie used stop-motion animation.
(最早的《金剛》電影是運用停格動畫技術拍攝而成。)
Publication Notes
OUT LOUD 對話練習
Fred: Did you hear about what happened at the party last week?
Dee: No?
Fred: Well, you know that Zed and Zoe have been having a bit of an up and down time recently? Well...
Dee: Is this a humorous anecdote or just pure gossip?
Fred: Well, it is kind of interesting.
Dee: I don't want to know about other people's misfortunes, Fred. You're such a blabbermouth!
弗萊德:你聽說上週那場派對上發生什麼事了嗎?
迪:沒有耶,怎麼啦?
弗萊德:唔,你知道柴德和柔伊最近的狀況時好時壞?結果…
迪:這是件趣事還是純粹是個八卦?
弗萊德:這個嘛,還算是有趣啦。
迪:我對別人的不幸沒興趣,弗萊德,你還真是個長舌公耶!
blabbermouth 長舌婦/公,大嘴巴
A blabbermouth is someone who spreads gossip easily and without regard for the feelings of others.
「blabbermouth」就是愛亂傳八卦,不顧別人感受的人。
Publication Notes
SAY WHAT? 說說看
mouthpiece 代言人
A mouthpiece refers to a person or an organization, normally in the mass media, which presents the views of others. It is often used in a negative sense, for example: "The Express is nothing but a mouthpiece for the purple party."
Another expression which uses mouth is word of mouth. This refers to information being passed along verbally, often between family, friends, colleagues or neighbors. For example, when enquiring as to how someone has discovered a new place to go or a book, etc., the person being asked might say: "I heard about it by word of mouth."
「mouthpiece」指的是能代表一群人意見的人或組織,通常是大眾媒體;通常具有負面的意味,例如:「『快報』就是一份只為紫營發聲的報紙罷了」。
另一個和嘴巴有關的片語是「word of mouth」,指的是口耳相傳的訊息,通常是在家族、朋友、同事和鄰居間的交流。例如你問及某人是如何發現一個新去處或是一本書時,被問到的人可能會說:「我也是聽別人說的」。
Comments will be moderated. Keep comments relevant to the article. Remarks containing abusive and obscene language, personal attacks of any kind or promotion will be removed and the user banned. Final decision will be at the discretion of the Taipei Times.