US diners find a purple pearl in a plate of clams 吃蛤蠣吃到珍珠
A couple in the US was enjoying a plate of clams when they made an unusual discovery: A rare purple pearl .
George and Leslie Brock stopped at a restaurant in Florida last week during a day at the beach. George Brock was about halfway through a dozen clams when he bit the pearl.
Brock's plate of clams only cost US$10 (NT$325). But an expert has said the find could be worth thousands.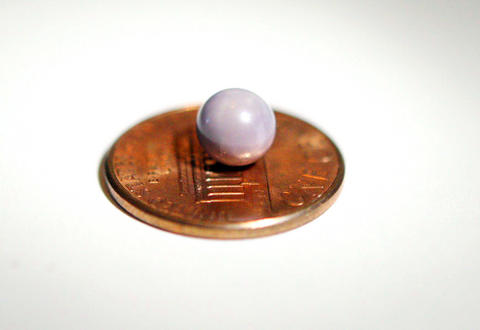 The pearl that was found by Leslie and George Brock is seen in Florida, US, on Dec. 30, 2007.PHOTO: AP 喬治:布魯克和妻子萊絲莉發現的珍珠,於去年十二月三十日攝於美國佛羅里達。 照片︰美聯社
"Few are round and few are a lovely color, so this is rare," said Antoinette Matlins, a gem expert. "I think they have found something precious and lovely."
The gems are most often found in a type of large New England clam known for a purple coloring on the inside of its shell.
The couple plan to find out how much the pearl is worth. They'll sell it if it's worth a lot of money.(AP)
美國一對夫婦在享用一盤蛤蜊之際,發現了一個不尋常的東西:一顆稀有的紫色珍珠。
喬治:布魯克和妻子萊絲莉上週某天到佛羅里達海邊遊玩,順道在一間餐廳用餐,喬治.布魯克點了一盤十二顆的蛤蜊,就在他吃了快半盤時,竟咬到一顆珍珠。
布魯克夫妻的這盤蛤蜊只花了十美元(新台幣三百二十五元),但一位專家表示,這顆珍珠可能價值數千美元。
「鮮少有珍珠這麼渾圓飽滿,顏色又漂亮,這顆珍珠相當稀有,」寶石鑑定專家安東尼特.馬特林斯說:「我想他們發現了一顆珍貴又美麗的珍珠。」
這類寶石最常藏於一種新英格蘭大蛤蜊中,這種蛤蜊的特色就是紫色的內殼。
這對夫婦打算先拿珍珠去鑑價,若價格不錯,他們將會賣掉它。(美聯社/翻譯:袁星塵)
Publication Notes
TODAY'S WORDS 今日單字
1. pearl n.
珍珠 (zhen1 zhu1)
例: Have you ever found a pearl in a clam?
(你曾在蛤蜊中發現珍珠嗎?)
2. expert n.
專家 (zhuan1 jia1)
例: My sister is a rock expert.
(我姊姊是個石頭專家。)
3. gem n.
寶石 (bao3 shi2)
例: Tina got a gem for her birthday.
(蒂娜得到一顆寶石作為生日禮物。)
4. precious adj.
珍貴的 (zhen1 gui4 de5)
例: That's a very precious ring she has.
(她的戒指非常貴重。)
Comments will be moderated. Keep comments relevant to the article. Remarks containing abusive and obscene language, personal attacks of any kind or promotion will be removed and the user banned. Final decision will be at the discretion of the Taipei Times.