US man busted for using a 'fake' million dollar bill 百萬美元面額「偽鈔」一使用就被逮
A US bank teller had a million reasons to say no.
Police say Alexander D. Smith tried to open an account with a US$1 million bill (NT$32,300,000) late last month. But there is no such thing as a million dollar bill. The teller refused and called police while Smith started to say bad words to the bank workers, said Lt. Michael Frank, a police officer.
Smith, 31, was charged with causing problems in public. He was also charged with forgery  , twice, Frank said.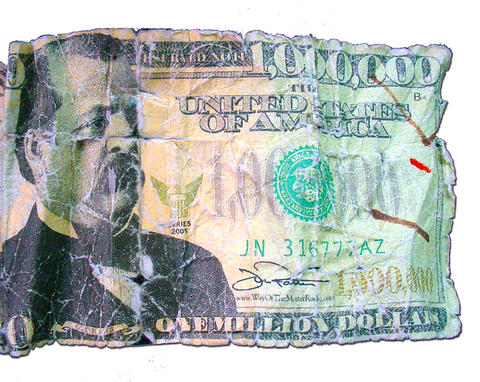 The million dollar bill that Smith tried to use to open the bank account, Aiken, US, Nov. 26, 2007.Photo: AP 十一月二十六日,史密斯在美國艾肯郡試圖存進銀行的一百萬美元鈔票 照片:美聯社
The other instance of forgery happened earlier. Police say that Smith bought cigarettes from a nearby grocery store with a stolen check.
Smith was being held at the Aiken County jail last week, and bail was set at US$257 (NT$8,300). It's not known if Smith has any more million dollar bills that he can try to use to paybail.(Staff Writer, with AP)
美國一位銀行櫃員有一百萬個拒絕的理由。
警方表示,一個名叫亞歷山大D.史密斯的男子上個月底拿了一張面額一百萬美元(新台幣三千兩百三十萬元)的鈔票到銀行開戶存款,但是美國根本沒有百萬美鈔這種東西。警局副隊長麥可.法蘭克說,櫃員拒收並打電話叫了警察,史密斯竟開始大罵銀行行員。
法蘭克說,三十一歲的史密斯以擾亂公共秩序被起訴,他也被控使用偽鈔兩次。
警方說,另一次行使偽造貨幣的情況發生在稍早,史密斯用一張偷來的支票在附近的雜貨店買煙。
史密斯上週已被關進艾肯郡監獄,需要兩百五十七美元(新台幣八千三百元)的保釋金才能交保,不知道他還有沒有百萬面額美鈔可以拿來支付保釋金。
(美聯社/翻譯:袁星塵)
Publication Notes
TODAY'S WORDS 今日單字
1. bank teller n.
銀行櫃員 (yin2 hang2 gui4 yuan2)
例: She became a bank teller after college.
(她大學畢業後,到銀行當櫃檯出納員。)
2. account n.
帳戶 (zhang4 hu4)
例: I have three different bank accounts.
(我有三個不同的銀行帳戶。)
3. forgery n.
偽造物 (wei4 zao4 wu4)
例: This bill is a very good forgery.
(這張鈔票偽造得非常逼真。)
4. bail n.
保釋金 (bao3 shi4 jin1)
例: "How much is bail?" James asked.
(「保釋金要多少?」詹姆士問。)
Comments will be moderated. Keep comments relevant to the article. Remarks containing abusive and obscene language, personal attacks of any kind or promotion will be removed and the user banned. Final decision will be at the discretion of the Taipei Times.