100th birthday fun 百歲生日樂
Evelyn Warburton rode to her 100th birthday party earlier this month in a motorcycle sidecar. She wore a black leather jacket, a helmet and a pair of sunglasses for the 10-minute ride from her home in Lightstreet to her granddaughter's house in Berwick, Pennsylvania, US.
"It was fun today," said Warburton.
Her chauffeur on the green 2000 Harley-Davidson Ultra was George Crawford, a friend who had been offering to take her to church on his motorcycle for several years.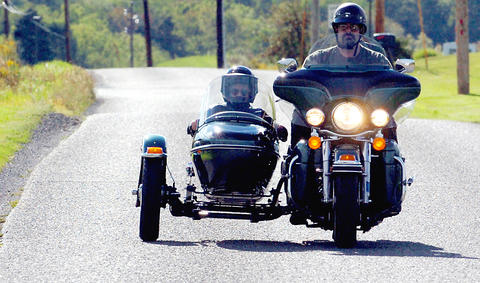 Right: Evelyn Warburton, left, rides in the sidecar of a motorcycle driven by George Crawford on Sep. 15, 2007. 右圖:艾芙琳.渥伯頓(左)在九月十五日搭乘喬治.克勞福所駕駛的摩托車旁的邊車。
PHOTO: EPA
Warburton finally said yes to Crawford's offer of a ride to her party on Sep. 15. She had actually turned 100 two days earlier.
Crawford said Warburton was nervous at first, but relaxed after he promised her she wouldn't fly out of the sidecar. The duo hit a top speed of 64kph.
"She's always willing to try new things," said Warburton's daughter, Nancy Hartzel. (AP)
艾芙琳.渥伯頓在本月初搭乘一輛連結在摩托車旁的邊車前往她的百歲生日慶生派對。她身穿一件黑色皮夾克、戴著一頂安全帽與一副太陽眼鏡,從她美國賓州萊特街住家花十分鐘的路程到達她孫女在博維克的家中。
渥伯頓說:「今天真好玩。」
騎乘這部綠色2000年哈雷戴維森Ultra機車的是喬治.克勞福,數年來他都用他的摩托車接送渥伯頓到教堂。
渥伯頓終於接受克勞福的好意,讓他在九月十五日騎車載她到她的派對。就在兩天前,她才剛過了她的百歲生日。
克勞福說渥伯頓起先有些緊張,不過在他答應她不會飆車後,她才鬆了一口氣。他們倆最高時速為每小時六十四公里。
渥伯頓的女兒南西.哈佐說:「她總是願意嘗試新事物。」(美聯社/翻譯:艾利斯)
Publication Notes
TODAY'S WORDS 今日單字
1. helmet n. 安全帽 (an1 quan2 mao4) 例: You should always wear a helmet when riding a scooter. (只要騎乘機車就應該戴上安全帽。) 2. chauffeur n. 私人司機 (si1 ren2 si1 ji1) 例: My dad has a chaffeur. (我爸爸有私人司機。) 3. several adj. 數個的 (shu4 ge5 de5) 例: We ate several cookies with our tea. (我們吃了數片餅乾配上我們的茶。) 4. nervous adj. 緊張的 (jin3 zhang1 de5) 例: I was nervous about meeting the queen. (我對於晉見皇后一事感到緊張。)
Comments will be moderated. Keep comments relevant to the article. Remarks containing abusive and obscene language, personal attacks of any kind or promotion will be removed and the user banned. Final decision will be at the discretion of the Taipei Times.