Peacock beaten by man who said the bird was a vampire 錯當吸血鬼 男子痛毆孔雀
A peacock in a fast-food restaurant parking lot was attacked by a man who said the bird was a vampire.
The bird was put down, said Richard Gentles from New York City's Center for Animal Care and Control.
The peacock, a male several years old, sat on a car in a Burger King parking lot on the morning of May 28. Workers had been feeding him bread when the man showed up.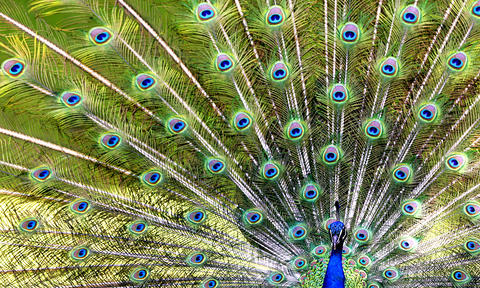 A peacock shows his fan in full display June 29, 2007, at the Hellabrunn Zoo in Munich, Germany.六月二十九日在德國慕尼黑的賀拉布魯恩動物園,一隻孔雀開屏展翅。
Photo: AFP
He took the bird by the neck, threw it to the ground and started kicking and stomping on the peacock, said worker Felicia Finnegan, 19.
"He was going crazy," she said.
Asked what he was doing, she said, the attacker explained, "I'm killing a vampire."
Workers called the police, but the man ran away.
Authorities were looking for the attacker, a young man.
It was not clear how the bird got to Burger King, but a person who lives near the restaurant was given one.
一隻在速食餐廳停車場逗留的孔雀遭到一名男子攻擊。男子指稱這隻孔雀是吸血鬼。
紐約市立動物管制局的理查.捷特斯說,孔雀已被安樂死。
這隻已好幾歲的公孔雀,五月二十八日早上坐在漢堡王停車場的一輛汽車上。那名男子出現時,幾名漢堡王員工正在餵牠吃麵包。
十九歲的員工費莉西亞.費妮岡說,男子掐住孔雀脖子,把牠摔向地板,再開始用力踢踩。
她說︰「他簡直瘋了。」
她說,男子被問及在做什麼時說︰「我在殺吸血鬼。」
幾名員工報了警,但男子已逃逸無蹤。
警方正在尋找這名年輕的男攻擊犯。
目前尚不清楚孔雀是怎麼到漢堡王來的,但附近有位居民曾獲贈過一隻孔雀。
(美聯社/翻譯︰賴美君)
Publication Notes
TODAY'S WORDS 今日單字
1. vampire n.
吸血鬼 (xi1 xie2 gui3)
例: People once believed in vampires that could turn into bats.
(人們一度相信吸血鬼可以變成蝙蝠。)
2. put down v. phr.
施以安樂死 (shi1 yi3 an1 le4 si3)
例: The poor old dog was so sick that we had to put him down.
(那隻可憐的老狗病得很重,所以我們得幫牠安樂死。)
3. stomp v.i. /v.t.
重踩 (zhong4 cai3)
例: The angry child stomped down the hall, huffing and puffing with every step.
(那名生氣的小孩重踩著廳堂,每一步都氣沖沖又惱怒。)
Comments will be moderated. Keep comments relevant to the article. Remarks containing abusive and obscene language, personal attacks of any kind or promotion will be removed and the user banned. Final decision will be at the discretion of the Taipei Times.