Hole-plugging ants let armies walk all over them 兵蟻以身填洞 讓同伴快速通過
When a rampaging column of 200,000 army ants hauling prey encounters a gaping pothole, volunteers bridge it with their bodies so that comrades can walk over them at full speed until the day's work is done, according to a new study.
And if the road-repairing ants — which can vary in size by a factor of five — are too small or too big for the job, others will keeping plugging away until a perfect match between insect and hole is found.
The study offers "rare quantitative evidence that extreme specialization" among a sturdy few with a lot of backbone can improve the performance of a majority, conclude Scott Powell and Nigel Franks, biologists at the University of Bristol.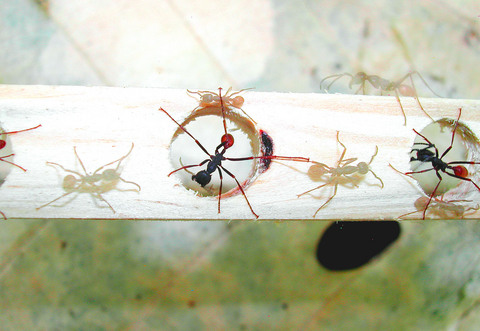 A recent picture released on May 29, 2007 shows ants bridging with their body so that comrades can walk past the holes more easily. 五月二十九日發佈的照片顯示螞蟻會用身體築橋,好讓同伴更容易通過有坑洞的地方
PHOTO: AFP
The researchers observed the species Eciton burchellii — better known as army ants — in Panama, and then created a series of artificial, hole-ridden highways to see how the insects would adapt.
They also measured gains in productivity, calculating that the self-sacrificing behavior of a few good ants "results in a clear net gain in daily prey intake for the colony."
If 7,500 worker ants in a typical "trail" — a foraging column which can be several meters wide — pitch in for hole-plugging duty, the foraging party can increase its daily intake of goodies by up to 26 percent, according the study, to be published in June in the British journal Animal Behavior.(AFP)
一項新研究指出,當二十萬隻快速搬運食物的兵蟻軍團遇上道路坑洞時,自願者會用身體搭橋,讓同伴踩在牠們身上快速通行,直到一天工作結束為止。
假如填路面的螞蟻(大小可差到五倍)體型太小或太大,其他螞蟻就會努力跑來填洞,直到找到契合洞口的螞蟻為止。
布里斯托大學生物學教授史考特.鮑威爾與奈吉爾.法蘭克斯結論說,這份研究提供了「相當專精的稀有數量學證據」︰堅強少數者的鼎力支持可以增進多數的表現。
研究人員觀察巴拿馬的「Eciton burchellii」螞蟻(俗稱兵蟻),再修築一長串坑坑洞洞的人造路面,看螞蟻如何適應。
研究人員也統計了食物的增加量,推斷少數善良螞蟻的自我犧牲,「明顯增加了蟻群一日的補 食量」。
這份發表在英國《動物行為月刊》六月號的研究指出,典型的螞蟻搜尋兵團「軍容」可寬達好幾公尺,假如七千五百隻工蟻都奮力補洞,這支運補大隊一天就可增加26%的食物。
(法新社/翻譯︰賴美君)
Publication Notes
TODAY'S WORDS 今日單字
1. comrade n.
夥伴 (huo3 ban4) ,同志 (tong2 zhi4)
例: Comrades share the same aspirations.
(夥伴們有志一同。)
2. factor n.
(數學)因數 (yin1 shu4)
例: You only have NT$10? You'll need to increase that by a factor of 10 if you want that umbrella.
(你只有新台幣十元?假如想要那把雨傘,出價就得多十倍。)
3. quantitative adj.
數量的 (shu4 liang4 de5)
例: Taiwan exports computers to the US without quantitative limitations.
(台灣出口至美國的電腦沒有數量限制。)
4. forage v.i. /v.t.
搜尋 (sou1 xun2)
例: Stray dogs often forage for food in the garbage.
(流浪狗往往在垃圾堆中搜尋食物。)
Publication Notes
SAY WHAT? 說說看
backbone 脊椎,支助
The backbone is another name for the series of vertebrae that surround the spinal cord. It can also be used as a metaphore for the most important part of something: "Mark is the backbone of this company. If he leaves, we could go out of business."
If someone is brave, you can say he or she has a lot of backbone. If someone acts cowardly, then others may say they are spineless or have no backbone.
「backbone」就是環繞脊椎神經的脊椎,也可以拿來隱喻事物最重要的環節。例如︰「馬克是公司的支柱,假如他離職,公司就無法營運」。
假如某人很勇敢,就是「has a lot of backbone」。假如有人行事怯懦,可以說那個人「spineless」或「have no backbone」。
Publication Notes
OUT LOUD 對話練習
Bobby: What's wrong with your arm? It looks terrible!
Alan: I was in the garden yesterday and got eaten up by fire ants.
Bobby: That must have hurt! Did you see a doctor or anything?
Alan: I don't think I'll need to. I'll be good as new in two shakes of a lamb's tail.
Bobby: That's good to hear.
巴比︰你的手臂怎麼囉?看起來很嚴重!
艾倫︰我昨天在花園被紅火蟻咬了。
巴比︰一定很痛!你有去看醫生嗎?
艾倫︰我想沒必要。很快就會沒事的。
巴比︰幸好。
in two shakes of a lamb's tail 馬上,立刻
In two shakes of a lamb's tail is another way to say a short amount of time. "I'm just going to the other room to grab my book. I'll be back in two shakes of a lamb's tail."
「in two shakes of a lamb's tail」是指短期內。例如︰「我要到另一個房間拿我的書。馬上就回來」。
Comments will be moderated. Keep comments relevant to the article. Remarks containing abusive and obscene language, personal attacks of any kind or promotion will be removed and the user banned. Final decision will be at the discretion of the Taipei Times.