Lunar New Year in Asia: Malaysia 亞洲新年 - 馬來西亞
Malaysia 馬來西亞
Malaysia celebrates Lunar New Year, or Tahun Baru with a two day holiday and many traditional Chinese customs. Offerings of sweets are made to the Kitchen God, children get ang pow, or red packets with money, and people spend time with family. Many pilgrims make a visit to the Kek Lok Si on Penang island to pray for good luck.
Meals on the first day of the New Year are often vegetarian since eating meat can be considered bad luck. People avoid scissors, brooms or white things on this day for the same reason.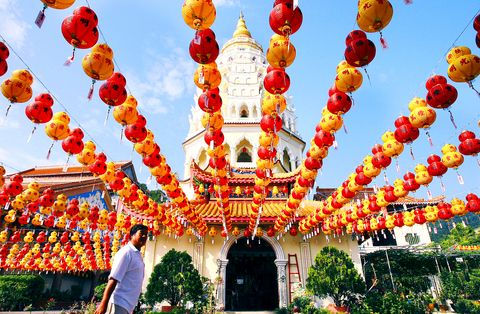 Kek Lok Si temple in Penang Island, Malaysia. Feb. 8, 2007. 2007年2月8日,馬來西亞檳城的極樂寺。 (照片:美聯社)
PHOTO: AP
On the fifteenth day, Chap Goh Meh, the Hokkien community in Penang celebrates by gathering at the beach. Unmarried women throw orange peels into the sea to wish for good husbands.
Sin-ni khoai-lok!
馬來西亞以兩天假期和許多中國傳統禮俗,慶祝農曆新年「Tahun Baru」。民眾會向灶神供奉甜點;小孩會拿到裡頭裝錢的紅包袋「ang pow」;大家都會跟家人團聚。很多香客會拜訪檳城島上的極樂寺求好運氣。
新年第一天的餐點通常是蔬菜,因為吃肉會被認為是厄運,所以一般人在這天也會避免用剪刀、掃帚或白色器具。
在第十五天「Chap Goh Meh」(十五尾),檳城的福建社群會聚集在海邊慶祝,未婚女子會把橘子皮丟進海裡,以祈求好丈夫。
(翻譯:鄭湘儀)
Comments will be moderated. Keep comments relevant to the article. Remarks containing abusive and obscene language, personal attacks of any kind or promotion will be removed and the user banned. Final decision will be at the discretion of the Taipei Times.