Lunar New Year in Asia: Singapore 亞洲新年 - 新加坡
Singapore 新加坡
In Singapore, Lunar New Year means two days off work for everyone, even though the celebration is traditionally more important to the ethnic Chinese population than to other Singapore residents. Many people visit the traditional Chinatown on New Year's Eve for a parade and countdown to the New Year. Just as in Taiwan, spending time with family is very important.
Fireworks, firecrackers, confetti, and floats help create a festive atmosphere in the streets, while restaurants offer special dinners and food stands sell traditional treats like waxed duck, sweet meats and cookies.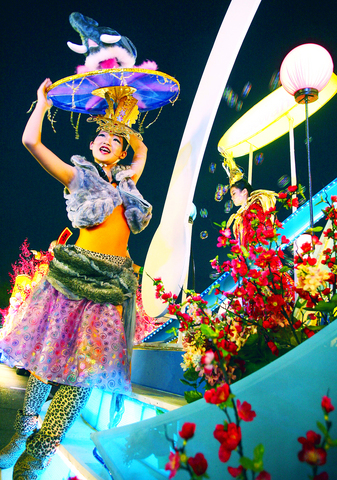 A preview of the Chingay parade in Singapore, Feb. 7, 2007. 2007年2月7日,新加坡妝藝大遊行預演。 (照片:歐新社)
PHOTO: EPA
Singapore also marks the fall of the city to Japanese forces on Lunar New Year, calling it Self Defense Day, but the New Year festivities are by far more important.
Sin-ni khoai-lok!
新加坡的農曆新年時雖然人人都有兩天假,新年慶典對華裔族群傳統上要比其他新加坡居民還重要。許多人會在除夕到傳統牛車水區看遊行和倒數。就像在台灣,跟家人相處非常重要。
街上的煙火、鞭炮、五彩碎紙和花車營造佳節氣氛;餐廳推出特別晚餐,小吃攤兜售如臘鴨、甜肉和餅乾等傳統菜餚。
新加坡的農曆新年也稱「自衛日
」,紀念新加坡落入日軍之手,不過新年的慶典活動重要多了。
(翻譯:鄭湘儀)
Comments will be moderated. Keep comments relevant to the article. Remarks containing abusive and obscene language, personal attacks of any kind or promotion will be removed and the user banned. Final decision will be at the discretion of the Taipei Times.