Lunar New Year in Asia: South Korea 亞洲新年 - 南韓
South Korea 南韓
In South Korea Lunar New Year is called Soel. Like in Taiwan, no one sleeps on New Year's eve. It is thought that if you do, your eyebrows will turn white. All the lights in the house must be kept on to welcome in the New Year.
Bamboo sticks are burnt in the house on New Year's eve. The cracking when the knots in the bamboo burn scares away the evil spirits of the old year. Just like in Taiwan, people wear new clothes on New Year's day — but they are normally the traditional costumes called han bok.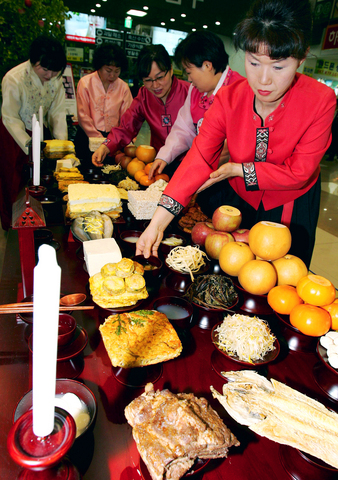 Ancestor-memorial services at the Hanaro-club in Seoul, South Korea. Feb. 7, 2007. 2007年2月7日,在南韓首爾農協所舉辦的祭祖儀式。 (照片:歐新社)
PHOTO: EPA
Everyone drinks a glass of a special liquor, gui balki sool, that is thought to help you hear clearly all year long. Families enjoy activities such as kite flying and the traditional Korean game yut, which is played with four wooden sticks. The game dates back to the first century.
Say Hay boke-mahn he pah du say oh!
南韓農曆新年叫「soel」。跟台灣一樣,除夕夜每個人都會守夜,據說若睡著眉毛會變白,屋內所有燈都得開著迎接新年。
除夕夜南韓人會在屋內燒竹枝,竹節燃燒時的爆裂聲能嚇走舊年的惡靈。南韓人也像台灣一樣,人人新年穿新衣,不過他們通常穿的是傳統韓服「han bok」。
每個韓國人都會喝一杯特別的烈酒「gui balki sool」,據說能幫助整年聽覺靈敏。家家戶戶都喜歡放風箏,玩一種自一世紀流傳至今,以四根特別木棒進行的傳統遊戲「尤茨」。
(翻譯:鄭湘儀)
Comments will be moderated. Keep comments relevant to the article. Remarks containing abusive and obscene language, personal attacks of any kind or promotion will be removed and the user banned. Final decision will be at the discretion of the Taipei Times.