Lunar New Year in Asia: Vietnam 亞洲新年 - 越南
Vietnam 越南
In Vietnam, Lunar New Year is called Tet Nguyen-Dan, or Tet. In many ways Tet resembles Lunar New Year in Taiwan, with lots of firecrackers, spring couplets and a long holiday. All businesses close down for at least three days.
Children wish their elders well and get Li Xi (red envelopes) in return. Apricot branches are put in the house to ward off demons. It is particularly auspicious if they bloom on the first day of Tet. A bamboo stripped of all but the top tuft of leaves is placed in the yard to scare away ghosts. Families make a traditional sticky rice cake called Banh Chung before the holiday and eat it together to celebrate the New Year. There is a special Tet dance called Mua Lan with a lion which symbolizes power and prosperity and is accompanied by firecrackers.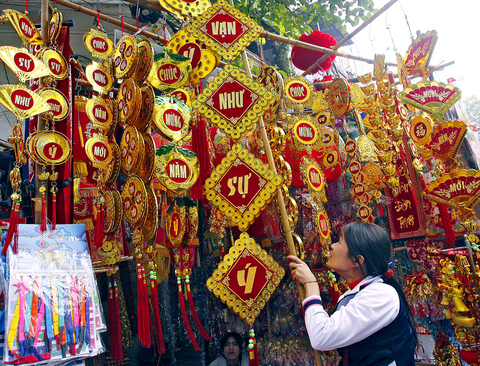 Tet decorations for sale in downtown Hanoi, Feb. 7, 2007. 2007年2月,河內市中心販賣的泰特節裝飾。 (照片:法新社)
PHOTO: AFP
Chuc Mung Nam Moi!
越南的農曆新年叫做「Tet Nguyen-Dan」或「Tet」(泰特節),泰特節很多方面都很像台灣的新年,鞭炮春聯處處可見,還可以放長假,所有生意都至少停業三天。
小孩會祝福他們的長輩,並且拿到「Li Xi」(紅包)。屋內會放置杏仁樹枝以抵擋邪靈,若在泰特節第一天開花尤其吉利。後院會放只保留頂束葉片的竹子以驅離鬼魂。
春節前家家戶戶都會做一種叫「
Banh Chung」的傳統糯米糕,並且一起食用以慶祝新年。一種特別的泰特節舞獅「Mua Lan」,有象徵強盛繁榮的獅子,並且伴隨著鞭炮。(翻譯:鄭湘儀)
Comments will be moderated. Keep comments relevant to the article. Remarks containing abusive and obscene language, personal attacks of any kind or promotion will be removed and the user banned. Final decision will be at the discretion of the Taipei Times.