The end of Harry Potter 哈利波特完結篇
How does J.K. Rowling feel now that she has finished the seventh and final Harry Potter book? The author herself confided last Tuesday on her Web site that Charles Dickens put it better than she could: "It would concern the reader little, perhaps, to know how sorrowfully the pen is laid down at the close of a two-years' imaginative task; or how an Author feels as if he were dismissing some portion of himself into the shadowy world ..." reads the passage from Dickens' preface to David Copperfield.
Rowling announced Feb. 1 that Harry Potter and the Deathly Hallows would come out July 21, bringing to an end one of the great phenomena of literary history. More than 325 million copies of the first six books have sold.
"I always knew that Harry's story would end with the seventh book, but saying goodbye has been just as hard as I always knew it would be," Rowling writes.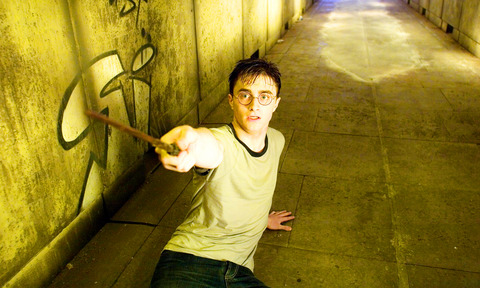 This undated photo from Warner Bros. shows actor Daniel Radcliffe, who plays Harry Potter, in Harry Potter and the Order of the Phoenix, to be released this summer.華納兄弟提供的今夏將上映的《哈利波特:鳳凰會的密令》劇照中,飾演哈利波特的演員丹尼爾.雷德克里夫。
PHOTO: AP
"Even while I'm mourning, though, I feel an incredible sense of achievement .... I've never felt such a mixture of extreme emotions in my life, never dreamed I could feel simultaneously heartbroken and euphoric." She continues.
"If it comes as any consolation, I think that there will be plenty to continue arguing and speculating about, even after Deathly Hallows comes out," she writes.
"I'm almost scared to admit this, but one thing has stopped me collapsing in a puddle of misery on the floor. While each of the previous Potter books has strong claims on my affections, Deathly Hallows is my favorite, and that is the most wonderful way to finish the series." (AP)
J.K.羅琳女士已完成《哈利波特》第七集完結篇,不知她此刻心情如何?她上週二在個人網站上透露她讀到狄更斯《大衛.考伯菲》序言的一段文詞,意有所感地說,查理斯.狄更斯比她表達得更透徹深入︰「也許,這與讀者較無關,理解兩年的想像任務結束了,筆擱下有多感傷;或者,作者宛似把一部分的自己拋向陰暗世界,感受如何呢?」
羅琳女士二月一日宣布,《哈利波特7︰哈利波特與致命聖靈》(暫譯)預計於七月二十一日發行,文學史上最大的盛潮之一即將畫下句點。前六集共賣出了三億兩千五百多萬本。
羅琳女士說︰「我一直心裡有數,哈利波特的故事將於第七集告終,但就是如我想的一樣難以道別。」
她繼續表示︰「即使我感到哀痛,我還是擁有了不起的成就感‥‥我一生從未感到情緒如此複雜洶湧,從未想到自己會同時感到黯然憔悴又心滿意足。」
她說︰「假如有任何慰藉,我想就是即便是在第七集出版後,還有後續要討論、思索。」
「我幾乎害怕坦承這一點,但有一件事阻止我墜入哀傷的泥沼。雖然前幾集的哈利波特每一本都強烈地得到我的鍾愛,但《哈利波特7︰哈利波特與致命聖靈》卻是我的最愛。這是為這系列小說畫下句點的最美好方式。」 (美聯社/翻譯:賴美君)
Publication Notes
TODAY'S WORDS 今日單字
1. confide v.i. /v.t.
傾訴 (qing1 su4)
例: I would like to confide in you, but you might tell my dad!
(我想向你傾訴,可是你可能會跟我爹地說!)
2. phenomena n. pl.
現象 (xian4 xiang4)
例: The police described the bright, fast moving light in the sky as one of a series of unidentified phenomena.
(警方將天上明亮、快速移動的光描述為一連串無法辨識的現象之一。)
3. mourn v.i. /v.t.
哀痛 (ai1 tong4)
例: The village mourned the death of their oldest villager.
(全村為最年長村民的逝世而哀悼。)
4. collapse v.i. /v.t.
傾倒 (qing1 dao3),崩潰 (beng1 kui4)
例: When the wind blew, the house of cards collapsed.
(那陣風吹來時,紙牌築成的房子傾倒了。)
Comments will be moderated. Keep comments relevant to the article. Remarks containing abusive and obscene language, personal attacks of any kind or promotion will be removed and the user banned. Final decision will be at the discretion of the Taipei Times.