Ireland to ask questions about China's Falun Gong prisoners 愛爾蘭質問中國法輪功學員受虐事件
China's ambassador to Ireland is to be asked to appear before an all-party parliamentary committee to discuss claims his country's authorities have been harvesting human organs from prisoners. The committee is also asking Foreign Affairs Minister Dermot Ahern to raise the issue with his Chinese counterpart at a meeting of the ongoing EU-China dialogue on human rights.
The moves came after the Oireachtas (Gaelic for parliamentary) Joint Committee on Foreign Affairs heard the findings of a report investigating the possible organ harvesting of Falun Gong practitioners.
The report alleged that "the Chinese Government has over the past half decade put to death a large but unknown number of Falun Gong prisoners of conscience" and "simultaneously seized their vital organs for sale at high prices."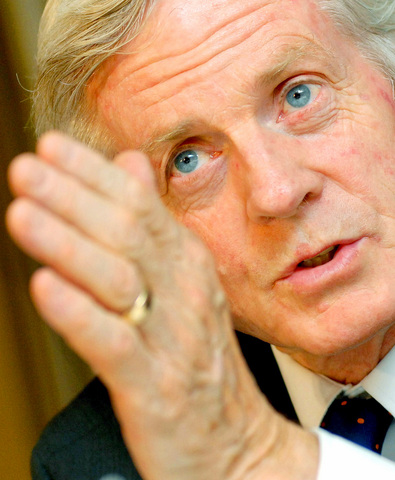 David Kilgour speaks at a press conference in Tokyo, 17 Oct. 17 2006. 2006年10月17日星期二,大衛•喬高在記者會上發言。 (照片:歐新社)
PHOTO: EPA
The committee had been addressed by former Canadian Secretary of State for the Asia Pacific region David Kilgour who co-wrote the report with David Matas, an international human rights lawyer.
Kilgour told the committee that those responsible for these deeds, including the doctors involved, should face the International Criminal Court as quickly as possible.
"We have a new form of evil in the world," he said. "These practices make crimes against humanity as defined by the Treaty of Rome and the International Criminal Court look more like misdemeanours." A misdemanour is a minor offence.
Committee chairman Dr Michael Woods of Prime Minister Bertie Ahern's Fianna Fail ruling party said Kilgour's report "made for compelling reading" and China should permit an independent investigation. (AFP)
中共駐愛爾蘭大使被要求出席跨黨派國會委員會,討論對於中國官方活體摘取囚犯器官的指控。委員會亦要求愛爾蘭外交部長德莫特.埃亨於中國歐盟人權對話會議上,向中國代表提出此項議題。
國會聯合委員會在聽取有關法輪功學員被活體摘除器官的調查發現後,提出這項要求。
這份報告宣稱「中國政府過去五年來處死大量(實際數字未知)的法輪功學員」並且「摘除他們的重要器官以高價賣出」。
加拿大前亞太司司長大衛?喬高,和共同撰寫此份報告的國際人權律師大衛.麥塔斯已在委員會上發表聲明。
喬高對委員會表示,該對這些行為負責的人,包括醫生在內,應該儘速接受國際刑事法庭的審判。
他表示︰「這世界存在著一種新型態的邪惡,這些行為讓羅馬條約和國際刑事法庭所定義的違反人道罪行相形之下如輕罪一般」。輕罪是指不嚴重的罪行。
委員會主席麥可.伍茲博士隸屬愛爾蘭總理博提.阿亨所領導執政的共和黨,他表示喬高的報告「不容忽視」,中國應准許進行獨立調查。(法新社╱翻譯︰鄭湘儀)
Publication Notes
Today's Words 今天單字
1. harvest v.i. /v.t. 收割 (shou1 ge1) 例: In fall, Taiwanese farmers harvest their oranges. (台灣農夫們在秋天採收柳橙。) 2. Gaelic n. 蓋爾語 (gai4 er2 yu3) 例: Many people in Ireland learn how to speak Gaelic. (許多英格蘭居民學習說蓋爾話。) 3. conscience n. 良心 (liang2 xin1) 例: He didn't take the money lying on the sidewalk — his conscience wouldn't allow him to. (他沒有拿掉在路邊的錢,他的良心不允許他這麼做。) 4. simultaneously adv. 同時地 (tong2 shi2 di5) 例: They finished the race simultaneously. (他們同時完成賽跑。)
Comments will be moderated. Keep comments relevant to the article. Remarks containing abusive and obscene language, personal attacks of any kind or promotion will be removed and the user banned. Final decision will be at the discretion of the Taipei Times.