New link in human evolution discovered 科學家發現人類進化的新連結
The latest fossil unearthed in Africa allows scientists to link together the most complete chain of human evolution so far.
The 4.2 million-year-old fossil discovered in northeastern Ethiopia helps scientists fill in the gaps of how our human ancestors made the giant leap from one phase of development to another. That's because the newest fossil was found in the region where seven other types of human-like fossils spanning nearly 6 million years and three major phases of human development were previously discovered.
``We just found the chain of evolution, the continuity through time,'' Berhane Asfaw, one of the co-authors of the study said. ``One form evolved to another. This is evidence of evolution in one place through time.''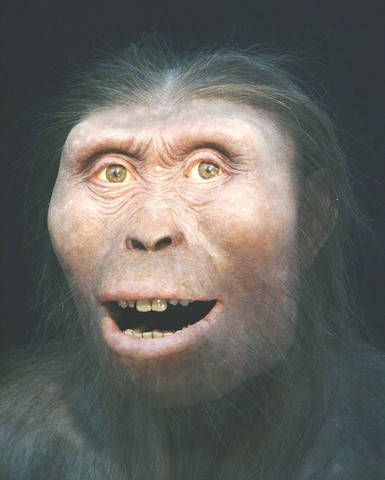 A reconstruction of the famous "Lucy" fossil discovered in Tanzania in 1974. 一九七四年在坦尚尼亞發現的知名「露西」化石之重塑模型。 (照片:法新社)
PHOTO: AFP
Although the kind of fossil the scientists discovered is not new, its location is what helps explain the shift from one early phase of human-like development to the next, they say. All eight fossils were within an easy day's walk of each other.
Until now, scientists had individual pictures of human evolution scattered around the world. Finding everything all in one general area makes those pictures more like a short movie about evolution.
``It's like ... a home movie, but a home movie covering 6 million years,'' said study lead author Tim White, co-director of Human Evolution Research Center at the University of California at Berkeley.
Scientists believe this latest discovery will help them connect the dots of human evolution. The new fossil is from a group that is believed to have evolved into modern man at some point. Additionally, the new fossil shows a connection between an even older fossil and modern human beings. (AP)
非洲最新出土的化石讓科學家得以將人類迄今最完整的進化鍊連接起來。
這個在伊索比亞東北部被人發現的四百二十萬年前的化石,有助於科學家填補人類祖先是如何從一個階段大幅進化到下一階段的空白。這是因為這個最新化石被發現的地區,是其他七種近似人類的化石稍早被發現的所在。這七種化石的時間涵括六百萬年,跨越人類三個主要進化階段。
「我們剛剛發現了演化鏈,穿越時光的進程,」這項研究的共同作者之一伯哈尼.亞斯法說:「一種形式進化到另一種。這是一個地區跨越時間的演化證據。」
科學家表示,雖然他們所發現的化石種類並非新化石,其地理位置卻有助於解釋近似人類的動物從早期階段進化到下一階段的發展。這八種化石的發現地都在方圓一天步行的距離內。
迄今,科學家已取得散落在全世界的人類進化的個別圖像。找到了某一概括地區的所有物件,讓這些圖像看起來更像是一部進化的短片。
這項研究的主導作者提姆.懷特說:「這就像是??一部家族史電影,不過卻是橫跨六百萬年的家族史電影。」他也是加州大學柏克萊分校人類進化研究中心的副主任。
科學家相信,最新的發現將有助於他們把人類進化的進程串連起來。這個新化石是從一個群組中發現,在某方面來說,據信這個群組已進化成現代人類。此外,新化石也顯示出更古老的化石與現代人類之間的關連。 (美聯社/翻譯:賴美君)
Publication Notes
Today's Words 今天單字
1. evolution n. 進化 (jin4 hua4) 例:The theory of evolution is widely accepted all over the world. (進化論在全世界各地被廣為接受。 ) 2. phase n. 階段 (jie1 duan4) 例:Now that the builders have finished planning the new bridge, they are moving to the construction phase. (既然建築商已完成新橋的設計,他們就步入工程階段。) 4. span v.t. 跨越 (kua4 yue4),貫穿 (guan4 chuan1) 例:The paintings on display span several decades of Monet's work. (所展出的莫內畫作橫跨好幾十年。) 3. continuity n. 連續 (lian2 xu4),連貫 (lian2 guan4) 例:Cara's family moved to many different countries when she was young, so there wasn't a lot of continuity in her education. (卡拉小時候家裡曾搬到好幾個不同的國家,所以她的教育沒有很連貫。)
Publication Notes
Reading Comprehension
閱讀測驗
1. How old is the most recently discovered fossil? a. 4.2 million years old. b. 6 million years old. c. 4.4 million years old. 2. What is new about this fossil? a. It's the first fossil of its kind ever found. b. It's the first fossil found in that part of Africa. c. It was found close to several different types of human-like fossils. 3. How many phases of human development does the new fossil record cover? a. Three. b. Six. c. Eight. 4. What do scientists hope the new fossil will do? a. Show them where they can find other similar fossils. b. Prove the existence of a new kind of human-like animal. c. Give a complete picture of how humans developed over time.
Comments will be moderated. Keep comments relevant to the article. Remarks containing abusive and obscene language, personal attacks of any kind or promotion will be removed and the user banned. Final decision will be at the discretion of the Taipei Times.