Lucky flowers and bonsai for the New Year 新年吉祥花卉與盆栽
With lunar New Year fast approaching, people have begun decorating their homes with lucky flowers and bonsai to bring good fortune for the New Year, which makes flower markets extremely busy and crowded. Phalaenopsis, Scarlet Sage, Pachira macrocarpa, Kumquat trees and Cat-tail willows are the plants most commonly used to spruce up the house. Let us introduce you to these symbols of good luck and happiness.
隨著年關將近,許多民眾會在家中擺設些吉祥花卉與盆栽,讓新春沾染喜氣,因此花市的交易也格外熱絡。常見的應景花卉有蝴蝶蘭、一串紅、發財樹、金桔與銀柳等,以下就讓我們來一窺這些象徵吉祥與好運的植物吧!
Pachira macrocarpa -- a symbol of wealth and prosperity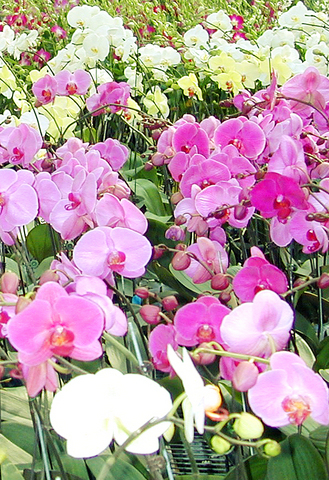 Phalaenopsis
PHOTOS: TAIPEI TIMES
發財樹 -- 招財納福
Although Pachira macrocarpa (the so-called "fa-cai" tree in Chinese) looks plain and simple on the outside, its vibrant, fat, thick leaves represent wealth and bountiful harvest. Because it is easy to grow, Pachira macrocarpa is a favorite for many people. During the New Year, farmers will fasten red ribbons to it to make it look more cheerful and festive. Whether in your house or office, it's always a good idea to put out a vase of Pachira macrocarpa to bring you great wealth and prosperity.
俗稱「發財樹」的馬拉巴栗雖然外表樸素,但生命力旺盛,葉片圓滿肥厚,象徵富貴與豐收,加上養植相當容易,廣受民眾喜愛。每逢過年過節,花農都會在發財樹紮上紅色的蝴蝶結,顯得喜氣洋洋。無論是居家或是公司行號,都適合擺上一盆發財樹,鐵定能為來年招來財運,錢財滾滾入袋。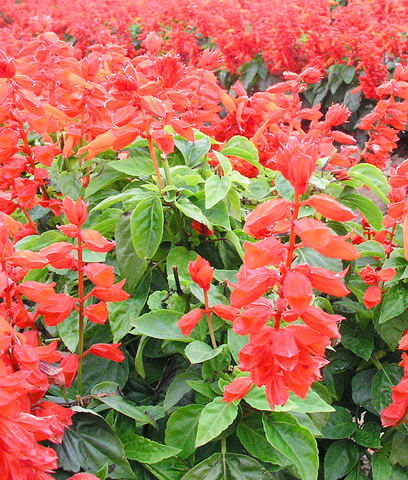 Scarlet Sage
Phalaenopsis -- queen of the orchids
蝴蝶蘭 -- 蘭花之后
One of the orginal habitats of the Phalaenopsis, Taiwan has been dubbed the "kingdom of Phalaenopsis." Therefore, the festive Phalaenopsis is widely regarded as the flower most representative of Taiwan. Phalaenops -- ``the queen of the orchids'' -- looks elegant and graceful, signifying nobility, good luck and happiness. It is always the most popular plant during the New Year as it lasts longer than most other flowers. It comes in a variety of colors for you to choose from, but pink Phalaenopsis is the most sought after. It is also considered a high-end gift for your friends and relatives.
台灣是蝴蝶蘭原產地之一,可稱為蝴蝶蘭王國,因此蝴蝶蘭可以說是最能代表台灣的應景花卉了。蝴蝶蘭素有「蘭花之后」的美名,外表高雅脫俗,有富貴吉祥、幸福隨之而來的花語,又因為花期較長,可以說是最熱門的開運盆栽。蝴蝶蘭的花色多變化,尤以喜氣的粉紅色系最受歡迎,拿來送禮也很高貴大方。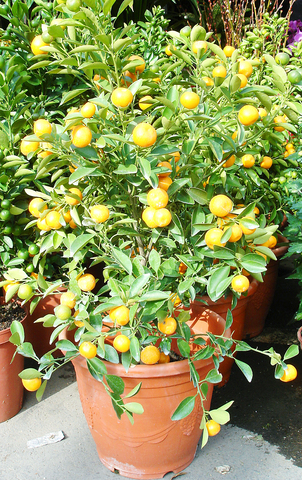 Kumquat
Scarlet Sage -- firecracker flowers

一串紅 -- 貌似爆竹
Setting off firecrackers has always been regarded as the way to celebrate the New Year. But nowadays, if you don't have the chance to set off firecrackers, there is an alternative. Buying Scarlet Sage bonsai, which look like firecrackers, is great to decorate your house. Scarlet Sage (scientific name: Salvia splendens) comes from Brazil and looks just like a festive red firecracks. It is red, vibrant and passionate, and a chain of its petals symbolizes a string of happiness. It will definitely create a lively and cheerful atmosphere in your home.
Yin-liu
爆竹串串賀新年,民眾也許不能在過年期間施放鞭炮,但有其他的選擇。在家中擺上一盆貌似爆竹的一串紅,可以說是酷到了極點。一串紅原產於巴西,貌如其名,外觀看似喜氣的紅色小爆竹,熱情洋溢,鮮紅欲滴,一串串的花朵象徵歡樂連連,絕對能為居家添增幾許熱鬧的氣氛。
Kumquat -- a symbol of good luck

金桔 -- 大吉大利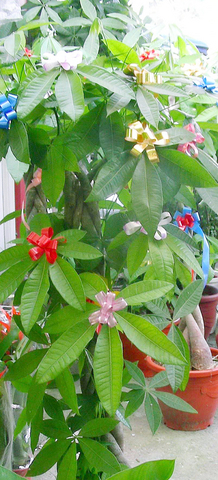 Pachira macrocarpa
With its lovely appearance and delightful orange color, the Kumquat,which sounds like "luck" in Chinese, is thought of as a symbol of good luck. Kumquat trees grow lots of small fruit and are a sign of an abundant harvest. In addition to using it as a decoration, you can do lots of other things with Kumquat as well, such as add it to food or tea. These features usually make Kumquat bonsai a hot item during the New Year.
小巧可愛的金桔因為「桔」與「吉」同音,加上顏色呈討好的橘色,可說是象徵大吉大利。而金桔盆栽結實纍纍,也代表四季豐收的好兆頭。金桔除了適合觀賞之外,還可以拿來食用或泡茶,妙用相當多,因此每逢春節金桔盆栽可說是暢銷熱賣。
Yin-liu (Cat-tail willow) -- a symbol of great wealth

銀柳 -- 財運吉祥
Because its flower looks just like a cat's tail, Yin-liu is also called "Cat-tail willow." Yin-liu sounds like "silver coin" in Chinese, and it is regarded as one of the best plants to decorate your house with. It is the most common flower in everyone's house, and symbolizes wealth and good luck. If you fasten red ribbons or red paper to it, it will radiate a festive aura and bring you prosperity. Yin-liu can grow in cold weather and be kept indoors for a long time, and thus is quite popular during the Lunar New Year.
銀柳因為花穗形狀有如貓尾一般,故又名「貓柳」,由於銀柳的諧音為銀兩,適合年節擺飾,是新春時期民眾最常使用的佈置花卉,象徵財運與吉祥。若在上頭在繫上紅色蝴蝶結、春字等裝飾後,可以增添不少的財運喜氣。銀柳屬耐寒植物,有擺置耐久的特性,深受民眾喜愛。
In additons to these plants and bonsai, tulips and gladiolus are also popular. While ``tulip'' sounds like "discovering treasure" in Chinese, gladiolus has the nickname of "fu-lan" which means it will fend off ill fourtune and bring good luck. Pineapple (a symbol of prosperity), lucky bambo (a mark of advancement) and radishes (a sign of good luck) are also favored plants. If you haven't put a lucky plant in your place, get to it!
除了上述的植物盆栽外,鬱金香有「遇金」的諧音,又名「福蘭」的劍蘭可揮劍斬斷惡運,招來福氣,也都是受歡迎的植物。此外,鳳梨(代表旺來)、開運竹(象徵節節高升)、蘿蔔(意喻好彩頭)也都是富貴開運的討喜植物。還沒在家中擺上一盆吉祥植物的你,趕快行動吧!
Comments will be moderated. Keep comments relevant to the article. Remarks containing abusive and obscene language, personal attacks of any kind or promotion will be removed and the user banned. Final decision will be at the discretion of the Taipei Times.