US lawmakers push for Taiwan aid
MANY FRONTS: Washington's support for Taiwan, Ukraine and Israel is inextricably linked, and the US must 'send the right message to Xi Jinping,' a US representative said
US lawmakers are urging the US Congress to pass a White House budget request to provide security assistance to allies and partners, including Taiwan.
US President Joe Biden's administration last month requested emergency supplemental funding for "key national security priorities," the White House said.
The more than US$105 billion package includes US$61.4 billion in aid for Ukraine, US$14.3 billion for Israel and US$7.4 billion for the Indo-Pacific region, which includes Taiwan, CNN reported.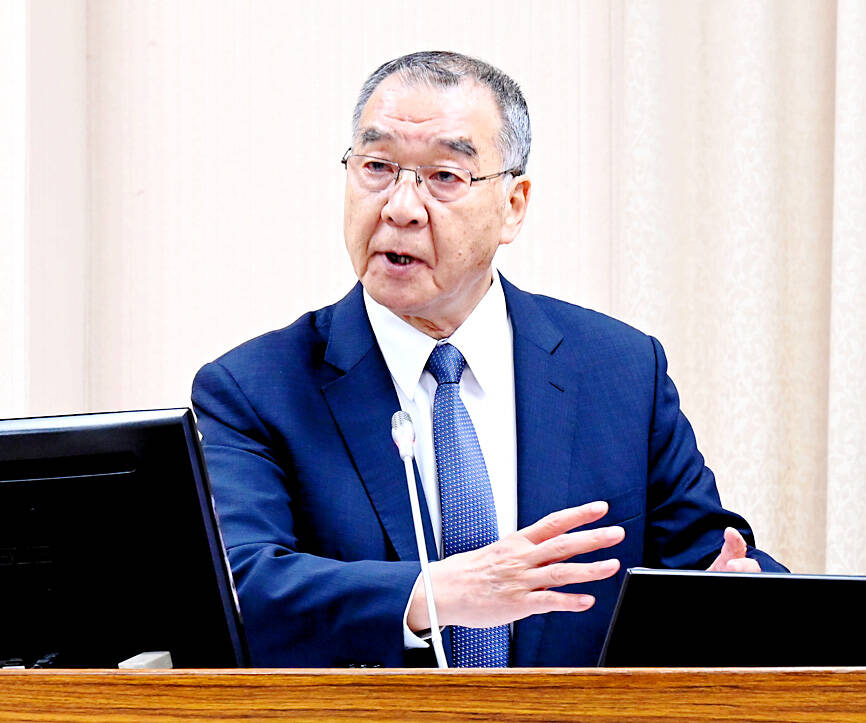 Minister of National Defense Chiu Kuo-cheng speaks at a meeting of the legislature's Foreign Affairs and National Defense Committee in Taipei yesterday.
Photo: Chu Pei-hsiung, Taipei Times
US Representative Mike Gallagher, the chair of the US House of Representatives Select Committee on Strategic Competition Between the United States and the Chinese Communist Party, told CBS' Face The Nation that he thinks the US Congress would pass the budget.
"We have no choice. We have to pass this," US Representative Raja Krishnamoorthi, the ranking Democrat on the committee, said on the show.
The two are leading the committee "to act before it's too late," considering the growing threat to Taiwan, Gallagher said.
Chinese President Xi Jinping (習近平) reportedly told Biden in their meeting in San Francisco on the sidelines of the APEC summit last week that peace and stability in the region are less important than solving the Taiwan question, he said.
"No amount of relentless diplomacy will make a difference if we don't fix the fundamental problem," which is the imbalance of hard power across the Taiwan Strait and throughout the Indo-Pacific region, he said.
The support offered to Taiwan, Ukraine, Israel and other priorities "are all inextricably linked," Krishnamoorthi said, adding that "we have to make sure that we send the right message to Xi Jinping."
A majority of the US public is concerned that a war might break out within 10 years and want their government to prevent it, he said.
The best way to achieve such a goal is "to make sure that we deter aggression by equipping Taiwan with what it needs to prevent aggression" as well as maintaining the highest-level communication channels between Washington and Beijing, he said.
Institute of National Defense and Security Research fellow Su Tzu-yun (蘇紫雲) last week told CNN that China's biggest military buildup in a century "may be just the beginning" and "can only be deterred by massive military power."
Taiwan would become "Chinese Hawaii" if occupied by Beijing, which could send submarines from eastern Taiwan to target the US' west coast, he said.
Former chairman of the US Joint Chiefs of Staff Mike Mullen told ABC's This Week that the meeting between Biden and Xi made "no progress" on the Taiwan issue, which "is the most significant and most dangerous, near term and long term."
Xi has been "very aggressive" in his assertion that China would eventually annex Taiwan, but the two leaders failed to agree that such a goal would not be achieved by force, he said.
Meanwhile, regarding Xi's denial that China has a plan to take military action against Taiwan in 2027 or 2035, Minister of National Defense Chiu Kuo-cheng (邱國正) yesterday said at the legislature in Taipei that the armed forces always prepare for war, while the ministry strives to prevent it.
Regarding Xi urging Biden to stop arming Taiwan, Chiu said that the US selling weapons to Taiwan is a normal interaction rather than an act to arm the nation.
Sending military personnel to the US to inspect and learn from their counterparts is also part of normal exchanges between Taiwan and the US, he said.
Additional reporting by Chen Yu-fu
Comments will be moderated. Keep comments relevant to the article. Remarks containing abusive and obscene language, personal attacks of any kind or promotion will be removed and the user banned. Final decision will be at the discretion of the Taipei Times.