Philippines quake death toll rises, as search continues
The death toll from a strong earthquake off the southern Philippines yesterday rose to seven, while rescuers also searched for two people feared buried beneath a landslide.
The magnitude 6.7 earthquake that struck the Mindanao region on Friday afternoon caused part of a shopping mall ceiling to collapse, triggered power cuts and sent people fleeing into the streets.
Falling debris from the SM City General Santos mall in General Santos crushed a woman to death, city police captain Ari Noel Cardos said.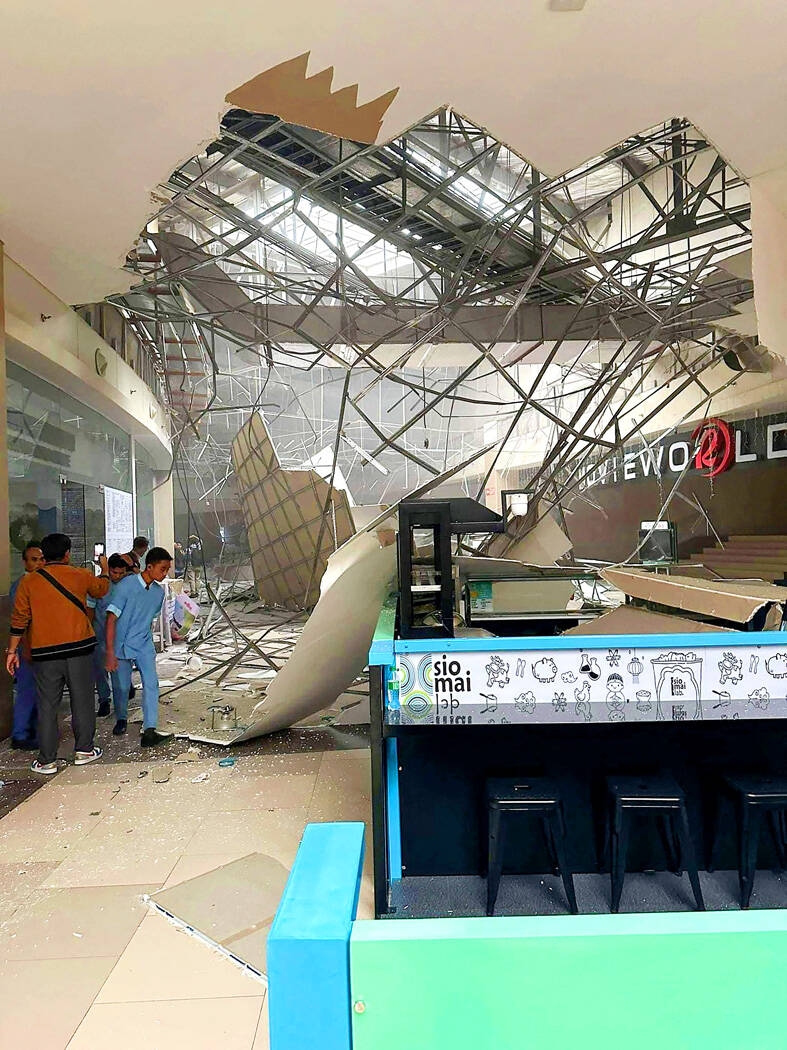 People walk past debris at a shopping mall in General Santos, Philippines, after a magnitude 6.7 earthquake shook the region on Friday.
Photo: AFP / handout / Shaira Ann Sandigan-Rodrigo
Police earlier reported the death of a couple pinned under a collapsing concrete wall in General Santos.
Another person was killed by a falling steel structure in the municipality of Glan, in Sarangani province, police officer Paul Mesalido said.
Firefighters yesterday dug with shovels as they searched for two members of a family feared buried beneath a landslide at a mountain village about four hours' drive from Glan, rescuer Daniel Nocos said.
"The village chief reported to us that a mother and her child were trapped beneath the rubble," Nocos said.
An excavator had been sent to help in the search, but had not yet reached the area because of bad roads and a damaged bridge, he said.
The Philippine National Disaster Risk Reduction and Management Council reported a second death in Glan and another in the adjacent Malapatan municipality, but gave no details.
In neighboring Davao Occidental province, an elderly man was killed by a large rock that rolled down a hill near his house, police officer Patrick Laurente said.
Two people were injured in General Santos, while 450 others were treated for panic and breathing difficulties, the disaster agency said.
The quake damaged 60 houses in four provinces as well as 32 roads and bridges in the region, rescuers said.
Gregorio Narajos, 34, was getting ready to eat at the SM City General Santos mall when the quake hit.
"We went under the table, we can't do anything else," he said. "People started running downstairs. We were scared because there might be a stampede, then the lights went off, the earthquake was so strong. People were screaming and shouting: 'Oh my God.' We just started praying."
The quake struck 26km from Burias Island at the southern tip of the Philippines, the US Geological Survey said, adding that it was centered at a depth of 78km.
Additional reporting by AP
Comments will be moderated. Keep comments relevant to the article. Remarks containing abusive and obscene language, personal attacks of any kind or promotion will be removed and the user banned. Final decision will be at the discretion of the Taipei Times.