Kishida urges Taiwan Strait stability
WATCHING CHINA: The Japanese PM told Xi Jinping that cross-strait peace is 'extremely important,' while the foreign ministry said peace in the Strait is an international consensus
Japanese Prime Minister Fumio Kishida on Thursday underscored the importance of peace and stability in the Taiwan Strait during a meeting with Chinese President Xi Jinping (習近平), while US Secretary of Defense Lloyd Austin reaffirmed the US' commitment to support Taiwan's self-defense capacity.
Kishida met with Xi for about an hour in San Francisco, where both leaders attended the APEC summit, the Japanese Ministry of Foreign Affairs said in a news release.
Kishida reiterated that cross-strait peace and stability are "extremely important" to the international community, including Japan, it said.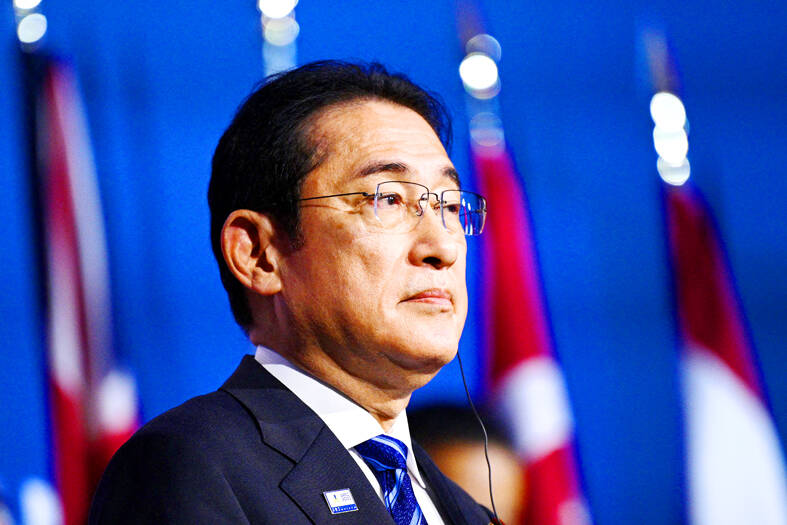 Japan's Prime Minister Fumio Kishida looks on during the Indo Pacific Economic Framework (IPEF) at the APEC Leaders' Week in San Francisco, California, on Thursday.
Photo: AFP
In Taipei, the Ministry of Foreign Affairs yesterday expressed gratitude to the Japanese leader for voicing concern over Taiwanese issues, adding that safeguarding peace in the Taiwan Strait has become the international consensus.
Meanwhile, Austin told reporters on the sidelines of the ASEAN Defense Ministers' Plus conference in Jakarta that "with the Taiwan Relations Act, we are committed to doing what's necessary to help Taiwan acquire the means to defend itself," the Nikkei Asia reported yesterday.
Austin's comment came after US President Joe Biden met with Xi on Wednesday on the sidelines of the APEC summit in San Francisco.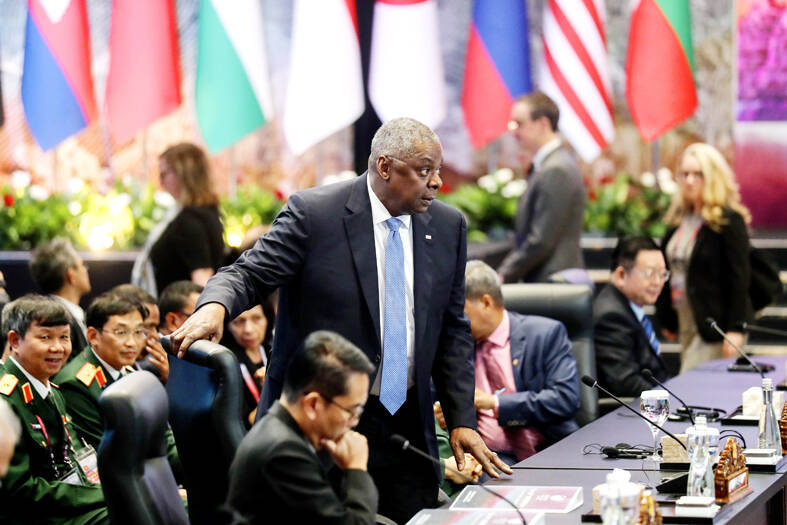 US Secretary of Defense Lloyd Austin, center, takes a seat shortly before the handover ceremony of the chairmanship of the Association of Southeast Asian Nations (ASEAN) Defense Ministers Meeting from Indonesia to Laos, in Jakarta on Thursday.
Photo: EPA-EFE
During the meeting, Xi urged the US to demonstrate its stance of not supporting Taiwanese independence through concrete action and to stop arming Taiwan, China's state-run Xinhua news agency reported.
However, Biden said that the US would continue to arm Taiwan as a deterrent against any attempt by China to use force to invade the nation, The Associated Press reported.
"I don't think that anything ... that both leaders discussed today [Wednesday] would cause that to move in a different direction," the Nikkei Asia quoted Austin as saying.
Austin welcomed the resumption of military-to-military communication and the intention to stabilize the tense US-China relationship after their leaders' meeting, but added that Washington would remain vigilant on the threat posed by China, it reported.
Austin reiterated that any unilateral change of the "status quo" in the Taiwan Strait is "undesirable," as such a conflict would have global impacts, it said.
The US would keep expediting the delivery of weapons to Taiwan and has been working to resolve a backlog of arms orders as it assesses China's capability to invade Taiwan, he said.
The ministry welcomed Austin's statement, saying that the Biden administration has repeatedly stressed its "rock solid" security commitment to Taiwan at several bilateral and multilateral events since Biden took office in 2021.
Austin's remark further demonstrated the US' firm support for the safety of Taiwan, and peace and stability in the Taiwan Strait, it said.
As a responsible member of the Indo-Pacific region and the international community, Taiwan is to continue to strengthen its self-defense capabilities and bolster the Taiwan-US security partnership, it said.
The nation is also to work closely with like-minded countries to jointly safeguard cross-strait peace and stability, as well as freedom, openness and prosperity in the Indo-Pacific region, the ministry said.
In addition to calling on the US to stop arming Taiwan, Xi said that Washington should "support China's peaceful reunification" with Taiwan, Xinhua reported.
US National Security Council Senior Director for China and Taiwan Affairs Sarah Beran yesterday told an online briefing that Biden "made clear" that Chinese military coercion against Taiwan is "absolutely unacceptable."
Not supporting Taiwanese independence while underscoring the importance of maintaining peace and stability as well as the "status quo" in the Taiwan Strait has long been the US policy, she said, adding: "I think we're very clear that our policy has not changed."
Regarding January's presidential and legislative elections, US National Security Council Coordinator for the Indo-Pacific Kurt Campbell on Thursday told Taiwanese media that Biden spoke about Taiwan's elections during his discussions with Xi.
"It was very clear with President Xi that our determination to maintain peace and stability across the Taiwan Strait remains strong," Campbell said, adding that Biden warned China not to interfere in Taiwan's elections, and expressed his belief in the value of Taiwan's democracy and elections.
Additional reporting by CNA
Comments will be moderated. Keep comments relevant to the article. Remarks containing abusive and obscene language, personal attacks of any kind or promotion will be removed and the user banned. Final decision will be at the discretion of the Taipei Times.