Peace in Strait important, Biden tells Xi
COMMITMENT: Joe Biden told Xi Jinping that the US would continue to arm Taiwan as a deterrent against any Chinese invasion attempts, a senior US official said
US President Joe Biden said he "stressed the importance of peace and stability in the Taiwan Strait," as he met with Chinese President Xi Jinping (習近平) for about four hours on Wednesday.
Biden also asked Xi to respect Taiwan's electoral process, a senior US official told reporters.
Biden and Xi held a "clear-headed" and "not heated" discussion on Taiwan — the most sensitive topic in the relationship with the greatest potential to spiral into wider conflict. Biden said he reaffirmed the US' "one China" policy and its belief that any resolution must be peaceful.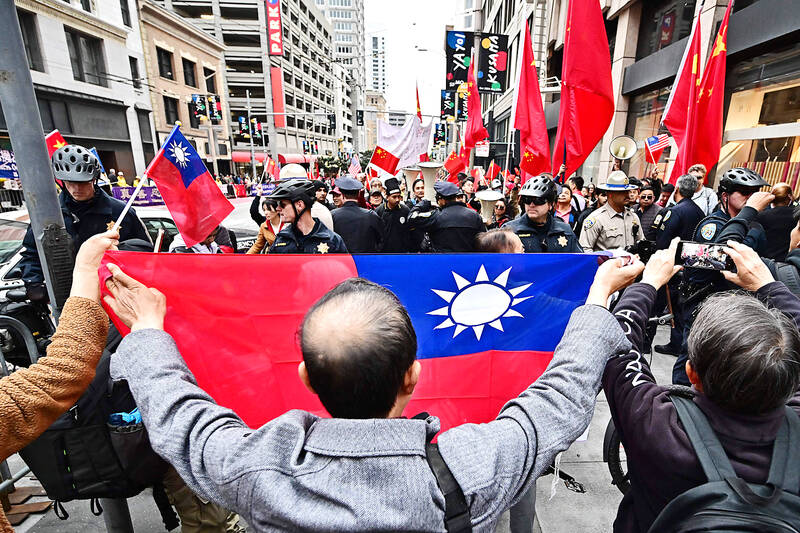 Protesters hold a Republic of China flag as they confront supporters of Chinese President Xi Jinping during demonstrations at the APEC Leaders' Week in San Francisco on Wednesday.
Photo: AFP
"I'm not going to change that," Biden said. "That's not going to change."
He reiterated, though, that the US would continue to arm Taiwan as a deterrent against any attempt by China to use force to invade the nation.
Xi told Biden he had no plans to invade the nation, although Biden chided him for China's massive military build-up around Taiwan, the US official said.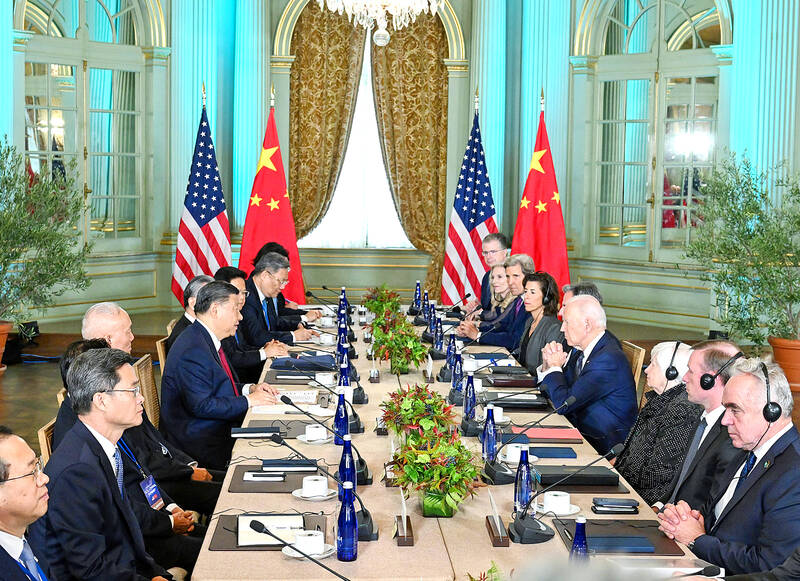 Chinese President Xi Jinping, fourth left, meets with US President Joe Biden, fourth right, yesterday at Filoli Estate in Woodside, south of San Francisco, California, USA. Chinese President Xi and US President Biden yesterday had an in-depth exchange of views on strategic and overarching issues critical to the direction of China-US relations and on major issues affecting world peace and development.
Photo: EPA
Xi told Biden during their meeting that Taiwan was the biggest, most dangerous issue in US-China ties, the official said.
The official quoted Xi as saying that China's preference was for peaceful "reunification" with Taiwan, but that he went on to talk about conditions in which force could be used.
Xi was trying to indicate that China is not preparing for a massive invasion of Taiwan, but that does not change the US' approach, the official said.
"President Xi ... underscored that this was the biggest, most potentially dangerous issue in US-China relations, laid out clearly that, you know, their preference was for peaceful 'reunification,' but then moved immediately to conditions that the potential use of force could be utilized," the senior US official told reporters.
Biden responded by assuring Xi that Washington was determined to maintain peace in the region.
"President Biden responded very clearly that the long-standing position of the United States was ... determination to maintain peace and stability," the official said.
"President Xi responded: Look, peace is ... all well and good, but at some point we need to move towards resolution more generally," the official said.
Biden and Xi met for the first time in a year for talks aimed at easing friction between the two superpowers over military conflicts, drug trafficking and artificial intelligence (AI), and they said they had made "real progress."
Biden said talks with Xi had yielded progress in repairing strained ties in the bilateral relationship, hailing agreements to restore high-level military communications, combat fentanyl and open a dialogue over AI.
"I believe they were some of the most constructive and productive discussions we've had," Biden said at a press conference following the summit. "We've made some important progress, I believe."
China described the talks as a "candid and in-depth exchange of views" and said "one country's success is an opportunity for the other," a statement released by Chinese Ministry of Foreign Affairs read.
The ministry added that it was "unrealistic for one side to remodel the other."
Biden highlighted the restoration of direct military-to-military contacts, saying they would prevent miscalculations between the two countries and also indicted he had the ability to speak to Xi directly.
"That's how accidents happen, misunderstandings, so we're back to direct, open, clear, direct communications," Biden said.
"We're going to continue to preserve and pursue high-level diplomacy," he added. "To keep the lines of communication open, including between President Xi and me. He and I agreed that each one has to pick up the phone call directly and be heard immediately."
Asked if he trusted Xi, Biden responded: "Trust, but verify as the old saying goes, that's where I am."
He said the US intended to "compete vigorously" with China, but added "we'll manage that competition responsibly, so it doesn't veer into conflict or accidental conflict."
As he ended the press conference, though, Biden referred to Xi as a "dictator," repeating remarks that sparked criticism from China earlier this year.
"Look, he is. He's a dictator in the sense that he's a guy who runs a country that is a communist country that's based on a form of government totally different than ours," Biden said.
Additional reporting by AP
Comments will be moderated. Keep comments relevant to the article. Remarks containing abusive and obscene language, personal attacks of any kind or promotion will be removed and the user banned. Final decision will be at the discretion of the Taipei Times.