Typhoon Koinu kills one, injures 304
RECORD-BREAKING WIND: Typhoon Koinu hit southern Taiwan, especially Orchid Island, as a high school reported damage and boats disappeared or capsized
One person died and 304 were injured after southern Taiwan was pummeled by strong winds and heavy rainfall brought by Typhoon Koinu since Wednesday, the Central Emergency Operations Center said yesterday.
An 80-year-old woman in Taichung died from severe bleeding caused by a cut by broken glass blown by the typhoon, the center said.
Nearly 330,000 households reported power outages, and 70,000 of them were still waiting for power supply as of 2:30pm, it said.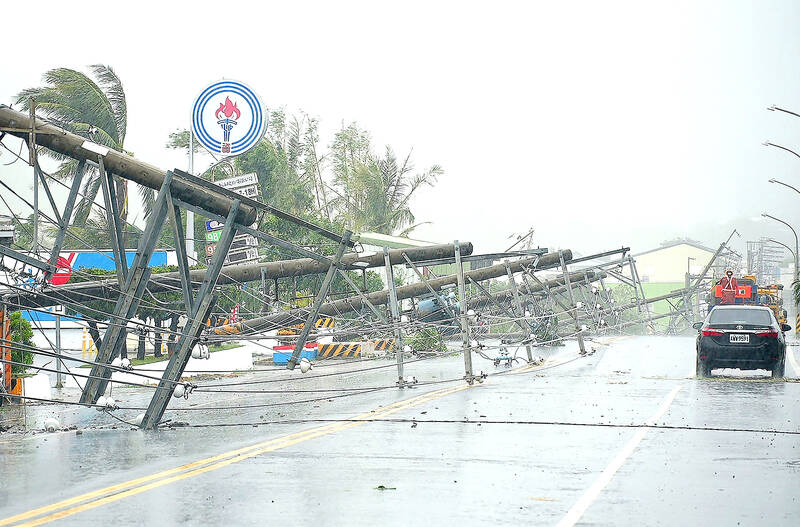 A car passes by power lines downed by the high winds from Typhoon Koinu in Pingtung County yesterday.
Photo: Sean CHANG, AFP
The center also received 1,251 reports of damage to road trees and 763 reports of infrastructure damage.
Typhoon Koinu also devastated outlying Orchid Island (Lanyu, 蘭嶼), with 90 percent of the boats docked at the island's Kaiyuan Harbor having capsized or disappeared.
The Central Weather Administration (CWA) said that its three anemometers in Lanyu were broken after detecting a gust of 95.2m per second, which exceeded Level 17 on the Beaufort scale.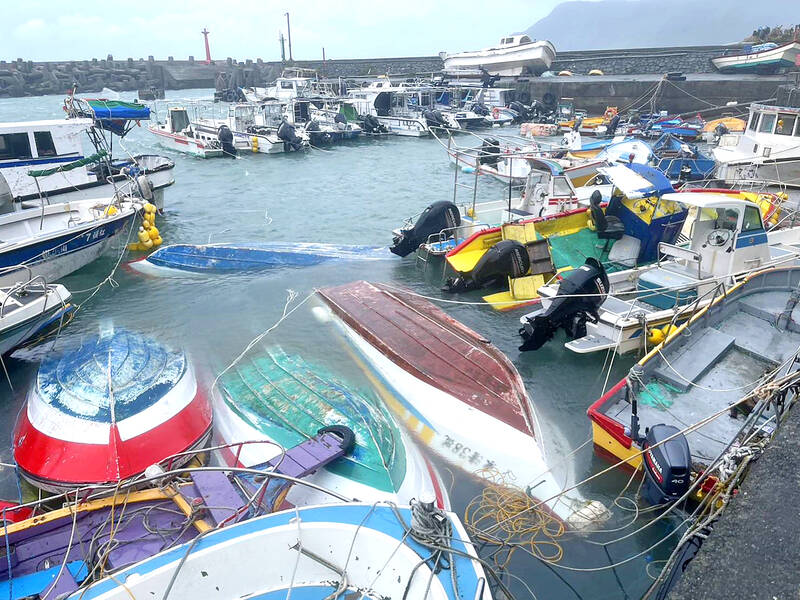 Overturned boats are pictured in Orchid Island (Lanyu) yesterday following Typhoon Koinu.
Photo courtesy of the Coast Guard Administration via CNA
The gust set a new record since the anemometers began to measure wind speeds in Taiwan in 1897, the CWA said.
Lanyu Township Office head Hsieh Hu-yuan (謝胡源) told the Central News Agency that the typhoon had done severe damage to the island's infrastructure.
"The township office was flooded. The electricity supply was almost out completely. The main road around the island was inaccessible. Flights and ferries to and from the island were canceled, and homes and boats of civilians were severely damaged. Fortunately, we do not have injured people who need to be transported to Taiwan proper," Hsieh said, adding that the township would strive to make the highway accessible as soon as the wind and rain ease,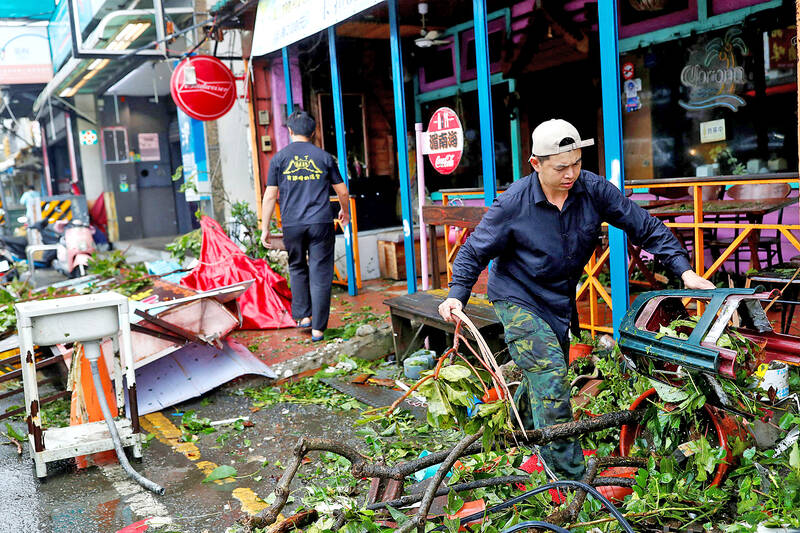 Workers look for valuables while clearing debris outside a restaurant in Kenting yesterday, after Typhoon Koinu.
Photo: Carlos Garcia Rawlins, Reuters
Former legislator Lai Kun-cheng (賴坤成) also posted photographs taken by a friend in Lanyu on Facebook, showing how the typhoon damaged vehicles, houses and a gas station.
"We have yet to reach some friends who live in two villages at the windward side. Hope everyone in Lanyu and Taitung survive the disaster," Lai said.
Lanyu Senior High School also reported severe damage to its facilities.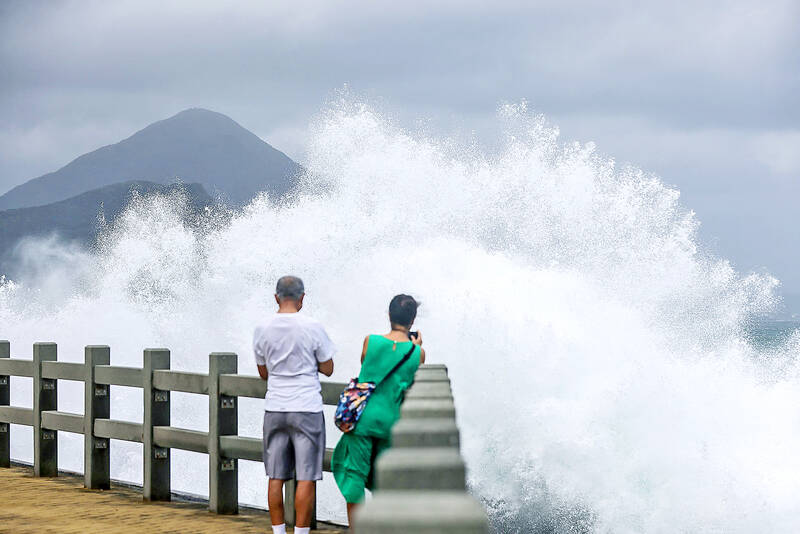 People take pictures as strong waves brought by Typhoon Koinu break along the coast in New Taipei City yesterday.
Photo: I-Hwa Cheng, AFP
"The roaring waves lasted all night, and it was difficult for people to walk to the township office with all the reef rocks on the highway," school principal Lien Wen-chien (連紋乾) said.
A bed-and-breakfast operator said they hope that the military would help repair the damaged infrastructure and facilities.
Land and sea alerts are scheduled to be lifted by noon today and tomorrow respectively, after the typhoon moves westward, the CWA said.
Comments will be moderated. Keep comments relevant to the article. Remarks containing abusive and obscene language, personal attacks of any kind or promotion will be removed and the user banned. Final decision will be at the discretion of the Taipei Times.