Flights and ferry services canceled as storm nears
More than 20 domestic flights and dozens of ferry services to the nation's outlying islands were canceled yesterday due to Typhoon Koinu, which could make landfall in southern Taiwan tomorrow.
The Central Weather Administration (CWA) yesterday morning issued a land alert for the typhoon, after issuing a sea alert for it on Monday night.
As of 8:30pm yesterday, the typhoon was centered 390km east of Oluanpi (鵝鑾鼻), moving west at 12kph, the agency said, adding that it had maximum winds of 155kph, with the storm's average radius expanding to 250km.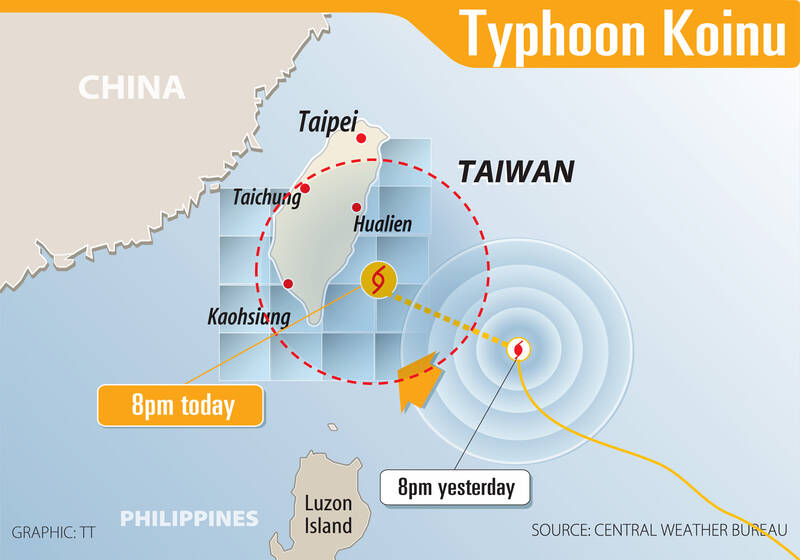 The land alert applied to Kaohsiung, Tainan, Chiayi County, Nantou County, Hualien County, Taitung County, Pingtung County and the Hengchun Peninsula (恆春半島), while the sea alert applied to vessels operating off the east coast, in the Bashi Channel and in the Taiwan Strait, it said.
Based on the CWA's forecast, the typhoon could make landfall on the east coast and sweep through the south before moving toward Hong Kong.
Twenty-two domestic flights and 33 ferry services to outlying islands had been canceled as of 6pm yesterday, the Civil Aeronautics Administration and Maritime and Port Bureau said.
Although no international flights were affected yesterday, Taoyuan International Airport Corp (桃園國際機場公司) said that it is on alert, as flights to Kaohsiung International Airport and Hong Kong International Airport could be diverted to Taiwan Taoyuan International Airport due to heavy rain and wind brought by the typhoon.
"We would regulate flights arriving at Taiwan Taoyuan International Airport when the nation is under the influence of the typhoon to maximize available aircraft parking spaces on the tarmac, and to maintain the safety and efficiency of the airport. This would also enable us to timely respond to emergency situations in the Taipei Flight Information Region," the airport operator said.
EVA Airways Corp (長榮航空) yesterday announced that all flights to and from Kaohsiung would be canceled today and tomorrow.
Tigerair Taiwan Ltd (台灣虎航) said that round-trip flights between Kaohsiung and Gimpo International Airport in South Korea and those between Kaohsiung and Chubu Centrair International Airport in Japan today are canceled.
The high-speed rail system would continue normal operation today, but the operator said that the system might reduce speeds when wind and rain exceed safety standards.
Taipei Rapid Transit Corp (臺北大眾捷運) said it could suspend operations of the MRT system, Maokong Gondola and Taipei Children's Amusement Park if the typhoon generates level 10 gusts on the Beaufort scale.
Ferry services to Penghu, Orchid Island (Lanyu, 蘭嶼), Green Island (綠島) and Siaoliouciou Island (小琉球) are canceled today and tomorrow.
Several tourist attractions, such as Alishan, would be closed to visitors today.
Meanwhile, a funeral for firefighters who died in a blaze at a Launch Technologies Co (明揚國際) factory in Pingtung County would be postponed until Friday.
Voluntarily enlisted military officers are asked to report for training in Taitung on Wednesday next week, instead of tomorrow, the Ministry of National Defense said.
The National Bunun Tribe Ear Shooting Festival and Traditional Skills Competition in Taitung was postponed, rescheduled to Thursday to Saturday next week, while the Kanakanavu Tribe Rice Festival in Kaohsiung was postponed until Sunday next week.
Comments will be moderated. Keep comments relevant to the article. Remarks containing abusive and obscene language, personal attacks of any kind or promotion will be removed and the user banned. Final decision will be at the discretion of the Taipei Times.