Taiwan wins first-ever gold in go at Asian Games
Taiwanese go player Hsu Hao-hung (許皓鋐) yesterday won his first-ever gold medal at the 19th Asian Games in Hangzhou, China, after defeating Chinese player Ke Jie (柯潔).
It was the first gold medal that Taiwan has won in go at the Asian Games, helping bring the nation's total medal count at day's end to four golds, four silvers and six bronzes.
The 22-year-old Hsu is considered Taiwan's premier go player after claiming first place in all eight go competitions in Taiwan.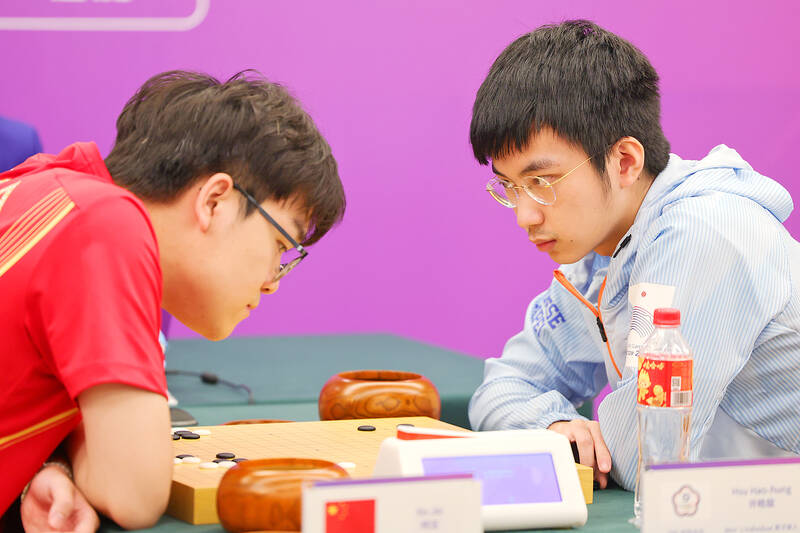 Taiwanese go player Hsu Hao-hung, right, faces off against China's Ke Jie in the men's individual go final at the Asian Games in Hangzhou, China, yesterday.
Photo: CNA
Hsu defeated South Korea's Park Jung-hwan yesterday to qualify for the semi-finals before defeating Shin Jin-seo to become the first Taiwanese player to ever qualify for the gold-medal match.
Taiwan in 2010 won the bronze medal in women's go at the Asian Games in Guangzhou, China, and Taiwanese-Australian player Joanne Missingham and Taiwan's Chou Chun-hsun (周俊勳) came in fourth in the mixed doubles at the same event.
Also yesterday, Taiwan nabbed a gold medal in men's pommel horse after Lee Chih-kai (李智凱) successfully defended the title he won in 2018.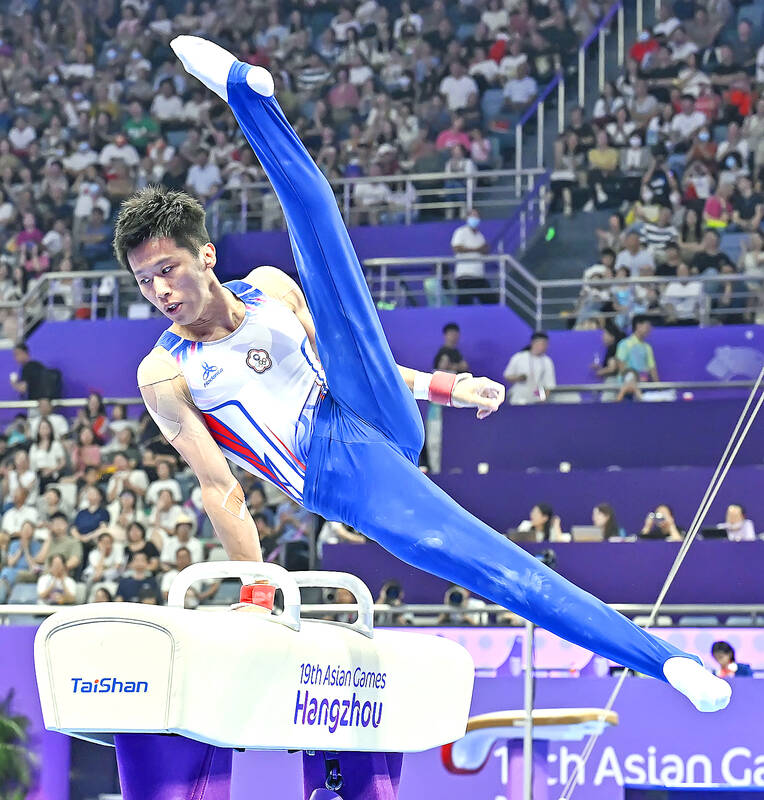 Taiwanese gymnast Lee Chih-kai competes in the men's pommel horse event at the Asian Games in Hangzhou, China, yesterday.
Photo: Chen Chih-chu, Taipei Times
The 27-year-old Olympic medalist, known as the "prince of the pommel horse," topped the event with a score of 15.500, while Japan's Ryota Tsumura won silver with 15.166.
Fellow Taiwanese gymnast Shiao Yu-jan (蕭佑然) fell just short of the podium after scoring only 0.034 points lower than bronze medalist Nariman Kurbanov from Kazakhstan with 15.100.
"I was so nervous, I was really stressed before my turn," Lee told reporters, commenting on how much he wanted to defend his crown and challenge himself.
He added that he made some mistakes in the beginning, so he quickly adjusted, and was surprised to get the same score as at the World University Games earlier this year.
Lee's next stop is the World Artistic Gymnastics Championships in Belgium from today to Sunday next week. His goal is to reach the finals and qualify for next year's Paris Olympics.
In the e-sports competition, Taiwanese Street Fighter V: Champion Edition players Lin Li-wei (林立瑋), known as "Oil King," and Hsiang Yu-lin (向玉麟), known as "GamerBee," faced off against each other in the losers' bracket final, sending Hsiang to the finals with a 4-2 win and Lin home with a bronze.
However, Hsiang had to settle for silver after losing to South Korea's Kim Gwan-woo 4-3.
Meanwhile, taekwondo athlete Lee Meng-en (李孟恩) won a bronze medal in the men's over-80kg event yesterday, following a 2-0 semi-final loss to Arian Salimi of Iran.
In the quarter-finals Lee Meng-en fought an outstanding match to outlast Nikita Rafalovich of Uzbekistan, gold medalist at the last Asian Games, 2-1, but lost in straight rounds to Salimi 14-10, 16-13 to finish in third place.
Salimi won the bronze medal at the World Taekwondo Championships in May.
As a result of Lee Meng-en's loss, Taiwan's taekwondo team won no gold medals for the first time in the Asian Games.
Taiwanese athletes Lin Wei-chun (林唯均) and Lo Chia-ling (羅嘉翎) won silver medals in the women's under-53kg and women's under-57kg categories respectively.
Comments will be moderated. Keep comments relevant to the article. Remarks containing abusive and obscene language, personal attacks of any kind or promotion will be removed and the user banned. Final decision will be at the discretion of the Taipei Times.