S Korean court refuses arrest warrant for politician
South Korea's opposition leader yesterday avoided arrest when a court dismissed a request from the prosecution for him to be taken into custody pending trial on corruption charges.
Lee Jae-myung, leader of the Democratic Party, still faces trial on charges of bribery in connection with a firm that is suspected of illicitly transferring US$8 million to North Korea.
The 58-year-old is also accused of breaching his duties, which allegedly resulted in a loss of 20 billion won (US$15 million) for a company owned by Seongnam city during his term as its mayor.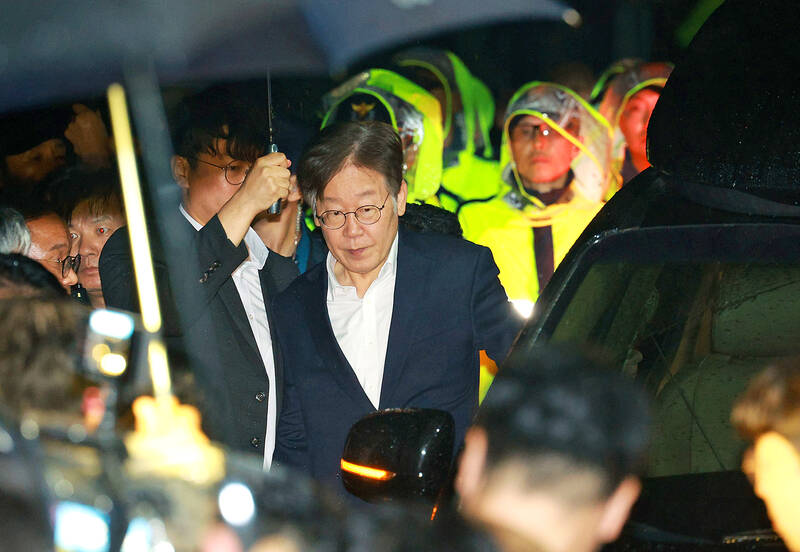 Democratic Party leader Lee Jae-myung yesterday departs the Seoul Detention Center after a court rejected an arrest warrant sought for him.
Photo: EPA-EFE
Prosecutors last week requested an arrest warrant against Lee, a former presidential candidate.
South Korea's National Assembly voted to strip Lee of his parliamentary immunity a few days later.
However, in a predawn judgement, the Seoul Central District Court dismissed the arrest request following a nine-hour sitting, which Lee attended.
A judge said that it was "difficult to see that there are grounds and necessity for detention," adding that there was low risk of Lee destroying evidence due to him being a public figure.
Lee has denied all the allegations against him, saying during Tuesday's hearing that it felt as though he had become "the enemy of the world."
He thanked the court for "being the last bastion of human rights," after it handed down the judgement.
South Korean Minister of Justice Han Dong-hoon said that the investigation would continue.
The court's decision not to confine him does not mean "Lee is innocent of any crime," Han told reporters. "The prosecution has been investigating fairly according to the procedure and will continue to do so."
Lee on Aug. 31 began a hunger strike over what he calls the government's "incompetent and violent" policies, especially its failure to oppose Japan's release of treated wastewater from the stricken Fukushima Dai-ichi nuclear power plant.
He returned to a hospital where he had been treated for fasting-related ailments after the court's judgement, local reports said.
He was hospitalized on Monday last week.
Comments will be moderated. Keep comments relevant to the article. Remarks containing abusive and obscene language, personal attacks of any kind or promotion will be removed and the user banned. Final decision will be at the discretion of the Taipei Times.