S Korea, Japan and China agree to hold summit of leaders
Senior diplomats from South Korea, China and Japan yesterday agreed that their nations' leaders would meet at the "earliest convenient time," the South Korean Ministry of Foreign Affairs said after a rare meeting aimed at commencing trilateral exchanges.
The three nations had agreed to hold a summit every year starting in 2008 to foster regional cooperation, but that initiative has been frayed by bilateral feuds and the COVID-19 pandemic. The last summit was in 2019.
The ministry said in a statement that specific dates remained under discussion and that the nations' foreign ministers would meet "in a couple of months."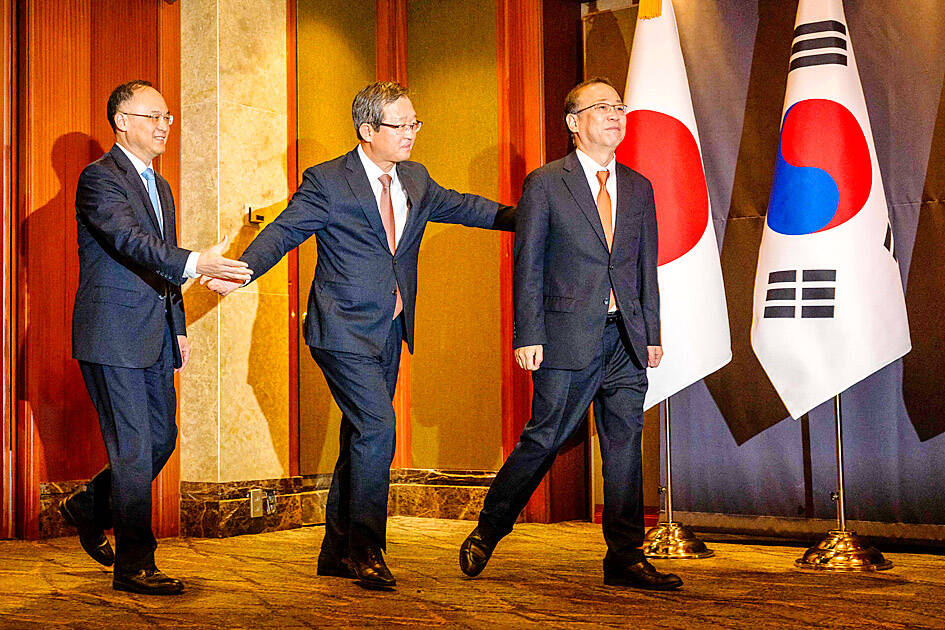 From left, Chinese Assistant Minister of Foreign Affairs Nong Rong, South Korean Deputy Minister of Foreign Affairs Chung Byung-won and Japanese Senior Deputy Minister for Foreign Affairs Takehiro Funakoshi arrive ahead of their meeting in Seoul yesterday.
Photo: AFP
South Korea is this year's host for three-way meetings and has proposed a summit in late December, Japanese broadcaster TBS reported.
Japanese Minister of Foreign Affairs Yoko Kamikawa said the three nations share the need to restart high-level talks, including summits, "as soon as possible."
"I believe it is very valuable to discuss the various challenges the region faces," she told a news conference in Tokyo.
The latest meeting was seen as partly intended to assuage Beijing's concerns over the two US allies' tightening cooperation after Seoul and Tokyo agreed this year to end legal, diplomatic and trade disputes over issues dating to Japan's 1910 to 1945 occupation of Korea.
"We unanimously believe that carrying out cooperation is in the common interests of the three parties," Chinese Ministry of Foreign Affairs spokesman Wang Wenbin (汪文斌) said yesterday. "We should work together to strengthen practical cooperation ... and make new contributions to regional peace, stability and prosperity."
South Korean President Yoon Suk-yeol and Japanese Prime Minister Fumio Kishida have taken steps to mend ties and last month held a historic trilateral summit with US President Joe Biden, where the three vowed to boost cooperation, including on defense and economic security.
A senior South Korean official said China has been proactive in seeking trilateral cooperation and arranging meetings since bilateral ties soured over the deployment in 2017 of a US Terminal High Altitude Area Defense (THAAD) anti-missile system in South Korea.
"I'm sure there should be some discomfort on their side regarding our increasingly close trilateral security partnerships with the United States and Japan," the official said, speaking on condition of anonymity because of the sensitivity of the situation. "There seems to be a view there that they need to properly manage bilateral ties with us, as they saw how their THAAD responses backfired and fueled anti-China sentiment to serious levels."
Beijing would most likely look to leverage trilateral trade ties to counterbalance the US friend-shoring strategy, promote people-to-people exchanges, and enhance communication and dialogue with Seoul and Tokyo on security and defense matters, said Zhao Tong (趙通), senior fellow at the US-based Carnegie Endowment for International Peace.
Japan and South Korea have an interest in avoiding conflicts and maintaining a stable security relationship with China, he said.
"These shared interests open up new avenues for strategic communication, confidence-building and measures to prevent crises," Zhao said.
Comments will be moderated. Keep comments relevant to the article. Remarks containing abusive and obscene language, personal attacks of any kind or promotion will be removed and the user banned. Final decision will be at the discretion of the Taipei Times.