Manila condemns China for putting up 'floating barrier'
FENCED OUT: Personnel from the Philippine Coast Guard found the estimated 300m-long floating barrier on Friday during a routine patrol, an official said
The China Coast Guard has installed a "floating barrier" in a disputed area of the South China Sea, which is preventing Filipino fishers from entering the area, Manila said yesterday.
The Philippine Coast Guard and the Philippine Bureau of Fisheries and Aquatic Resources "strongly condemn" China's installation of the barrier in part of the Scarborough Shoal (Huangyan Island, 黃岩島), Philippine Coast Guard spokesman Commodore Jay Tarriela wrote on X, formerly Twitter.
The barrier blocking fishers from the shoal was depriving them of their fishing and livelihood activities, he said.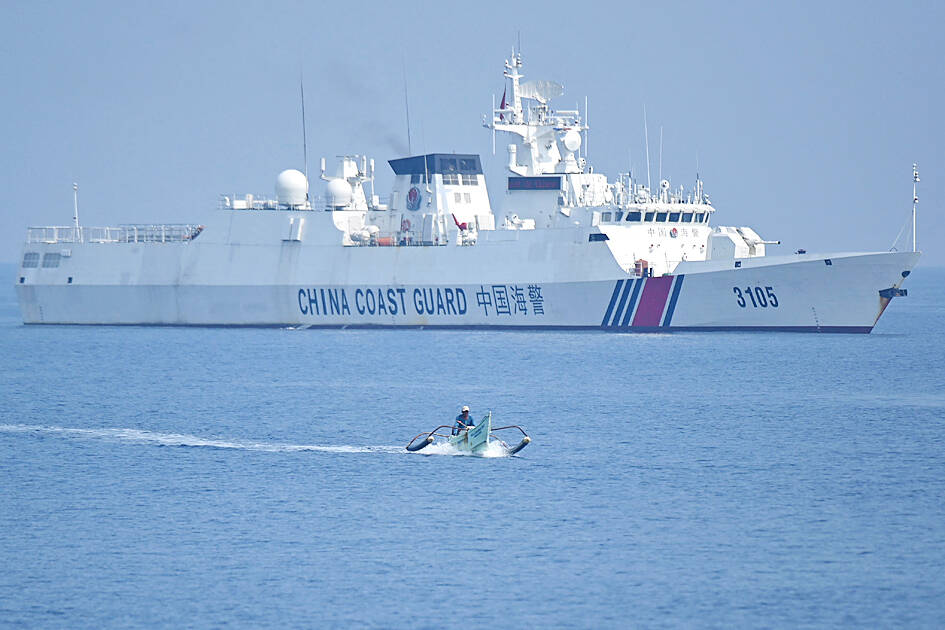 A Filipino fisher rides a wooden boat past a China Coast Guard ship near the Scarborough Shoal (Huangyan Island) in the South China Sea on Wednesday.
Photo: AFP
"The [Philippine Coast Guard] will continue to work closely with all concerned government agencies to address these challenges, uphold our maritime rights and protect our maritime domains," Tarriela said.
The Chinese embassy in Manila did not immediately reply to requests for comment.
China claims 90 percent of the South China Sea, overlapping with the exclusive economic zones of Vietnam, Malaysia, Brunei, Indonesia and the Philippines.
Beijing seized the Scarborough Shoal, which Taiwan also claims, in 2012 and forced fishers from the Philippines to travel further for smaller catches.
Beijing allowed Filipino fishers to return to the uninhabited shoal when bilateral relations were improving markedly under then-Philippine president Rodrigo Duterte, but tension has mounted again since Philippine President Ferdinand Marcos Jr took office last year.
Philippine Coast Guard and fisheries bureau personnel on Friday discovered the floating barrier, estimated to be 300m long, on a routine patrol near the shoal, locally known as Bajo de Masinloc, Tarriela said.
Three China Coast Guard rigid-hull inflatable boats and a Chinese maritime militia service boat installed the barrier when the Philippine vessel arrived, he said.
Filipino fishers say that China typically installs such barriers when they monitor a large number of fishers in the area, Tarriela said.
The Chinese boats issued 15 radio challenges and accused the Philippine ship and fishers of contravening international and Chinese laws, before moving away "upon realizing the presence of media personnel on board the [Filipino] vessel," he said.
Comments will be moderated. Keep comments relevant to the article. Remarks containing abusive and obscene language, personal attacks of any kind or promotion will be removed and the user banned. Final decision will be at the discretion of the Taipei Times.