Blinken stresses Taiwan Strait stability
NEW YORK TALKS: The US diplomat met with Chinese Vice President Han Zheng and Japanese Minister of Foreign Affairs Yoko Kamikawa with a focus on Taiwan
Washington's top diplomat on Monday stressed the importance of stability in the Taiwan Strait in a meeting with China's vice president as the rival powers held their second high-level talks in days.
US Secretary of State Antony Blinken, meeting Chinese Vice President Han Zheng (韓正) in New York on the sidelines of the UN General Assembly, said he believed in "face-to-face diplomacy" to deal with disagreements.
"I think it's a good thing that we have this opportunity to build on the recent high-level engagements that our countries have had," Blinken told Han as they opened their meeting at China's mission to the UN.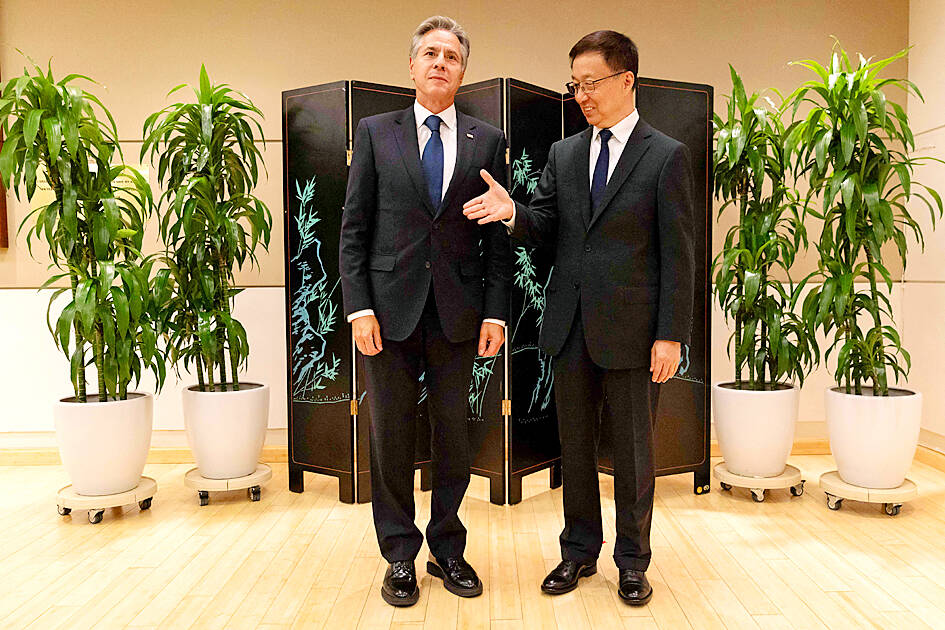 US Secretary of State Antony Blinken, left, and Chinese Vice President Han Zheng pose for a photograph while meeting in New York City on Monday.
Photo: AFP
The talks aim to "make sure that we're maintaining open communications and demonstrate that we are responsibly managing the relationship between our two countries," he said.
Han said that the world's two largest economies face "a lot of difficulties and challenges."
"The world needs healthy and stable US-China relations, which benefit not only China and the US, but the whole world," Han said.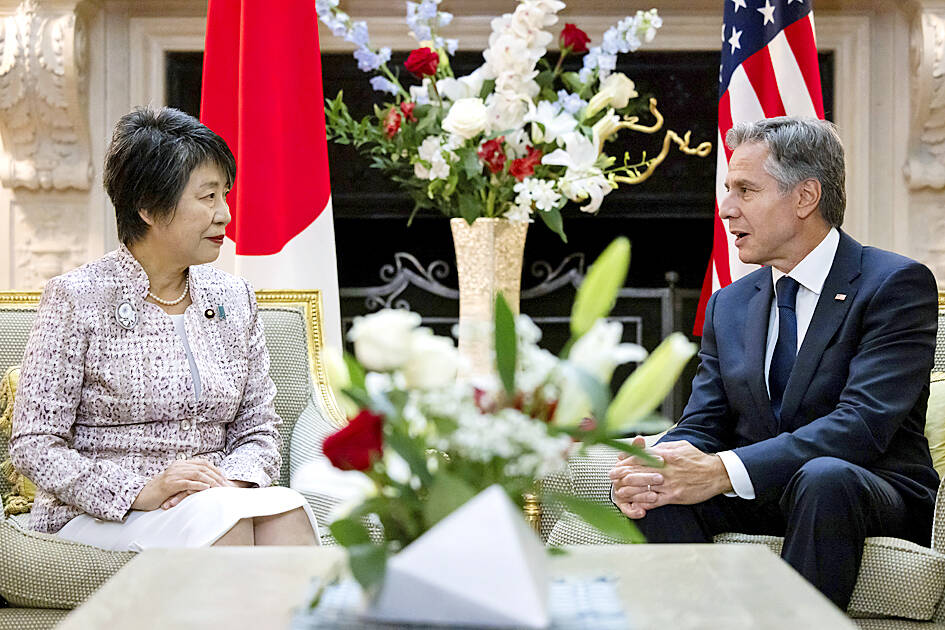 Japanese Foreign Minister Yoko Kamikawa listens as Secretary of State Antony Blinken speaks during a meeting, Monday, Sept. 18, 2023, in New York.
Photo: AP
The meeting comes as the US watches personnel changes in Beijing with growing intrigue.
Former minister of foreign affairs Qin Gang (秦剛), handpicked by Chinese President Xi Jinping (習近平), was abruptly replaced in July by veteran policymaker Wang Yi (王毅).
US officials initially expected Wang to travel to the annual UN meeting, where he might have met briefly with US President Joe Biden, but instead China sent Han, better known for his tenure as mayor of Shanghai than for diplomacy.
Wang, who also is the Chinese Communist Party foreign policy director, held talks with Biden's National Security Adviser Jake Sullivan in Malta at the weekend.
The US and China remain at loggerheads on a host of issues, including Taiwan.
China charges that the US is stirring up Taiwanese independence supporters, and has repeatedly staged shows of force.
The US says it is seeking the preservation of the "status quo" and has stepped up support, including last month for the first time approving direct military aid to Taiwan, which traditionally buys its own weapons.
Blinken in the talks with Han "underscored the importance of maintaining peace and stability across the Taiwan Strait," US Department of State spokesman Matthew Miller said.
Touching on nations with close ties with China, Blinken also discussed "provocative actions" by North Korea and Russia's invasion of Ukraine, Miller said.
China has also been outraged by US restrictions on high-end investment and exports of semiconductors from the US, which says it is doing that to safeguard its own security, but the tone has become comparatively civil.
Blinken and US Secretary of the Treasury Janet Yellen traveled this year to Beijing, resuming contact that had all but ceased during the COVID-19 pandemic.
Meanwhile, Blinken on Monday also met with Japanese Minister of Foreign Affairs Yoko Kamikawa and agreed on the necessity of stability in the Taiwan Strait.
"The Secretary and Foreign Minister also reaffirmed the importance of maintaining peace and stability in the Taiwan Strait, as well as upholding international law in the East and South China seas," a statement issued by the State Department said following their talks.
"They also agreed to continue cooperation with other global partners to promote security and prosperity for our two nations, the Indo-Pacific region, and the world," it said, adding that the two also agreed on "the importance of further bilateral cooperation, as well as trilateral cooperation with the Republic of Korea."
Additional reporting by staff writer
Comments will be moderated. Keep comments relevant to the article. Remarks containing abusive and obscene language, personal attacks of any kind or promotion will be removed and the user banned. Final decision will be at the discretion of the Taipei Times.