Japan names pro-Taiwan Kihara defense minister
Japanese Prime Minister Fumio Kishida has appointed as defense minister a politician who has worked to build ties with Taiwan, yesterday's new Cabinet lineup showed.
The choice spotlights a stronger line on defense as Kishida battles sagging ratings with his term as leader of the ruling Liberal Democratic Party (LDP) set to end next year.
Japanese Chief Cabinet Secretary Hirokazu Matsuno said the role of minister of defense went to Minoru Kihara, a pro-Taiwan politician who has visited the nation and belongs to a Japan-Taiwan inter-parliamentary group.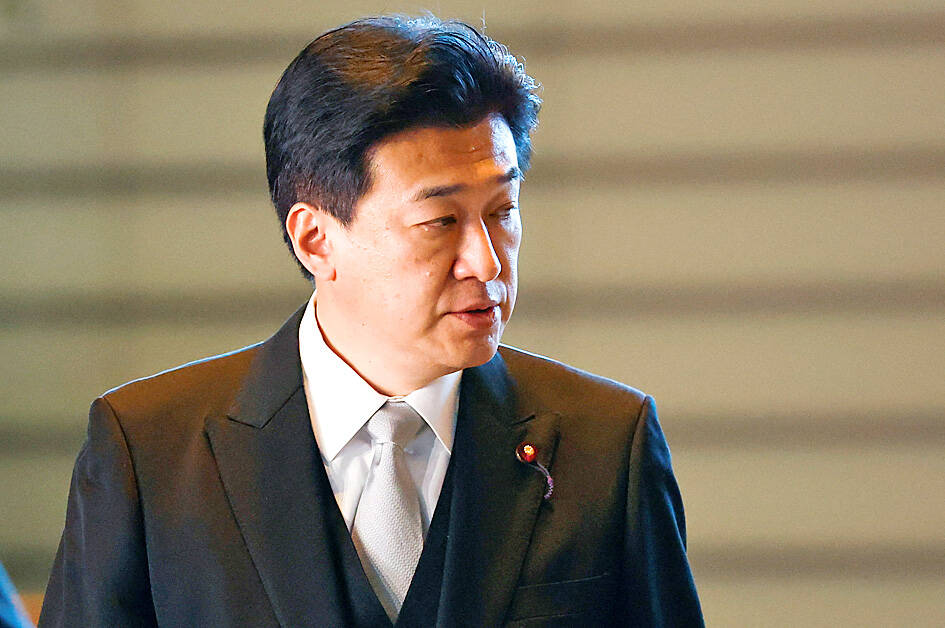 Japanese Minister of Defense arrives in to attend an attestation ceremony at the Imperial Palace in Tokyo yesterday.
Photo: Reuters
Kihara would oversee the bolstering of Japan's military as part of a plan to double defense spending by 2027. He would have to solve the question of how to fund that buildup amid rising tensions in the region over China's military expansion and maritime disputes.
Takashi Kawakami, a security expert and professor at Takushoku University in Tokyo, said the choice of Kihara as defense minister "isn't an anti-China move, but it does indicate a closeness with Taiwan."
"I do think this sends a message that Japan is seeking stability in Taiwan alongside the United States," he said.
However, one political commentator said that such ministerial roles had diminished in importance in favor of dialogue with China at the highest levels.
"Around the world, summit diplomacy has become the mainstream," said Shigenobu Tamura, who previously worked for the LDP. "Even if the foreign and defense minister posts change, there won't be any change or impact on Japan's diplomatic policy."
The Cabinet shuffle comes as Kishida, who assumed office two years ago, has seen his popularity dip in recent months after a string of scandals, including data mishaps linked to government ID cards and the arrest of a vice minister under suspicion of bribery.
In related news, Japan has appointed a serving government official to act as its de facto defense attache in Taiwan, four sources said, elevating security ties in a move likely to anger China.
Japan handles bilateral relations through the Japan-Taiwan Exchange Association in Taipei, which is chiefly staffed by reassigned foreign and trade ministry officials. The defense attache role has until now been held by a retired Japan Self Defense Force officer to avoid antagonizing China.
He has been joined by an official dispatched by the Japanese Ministry of Defense to enhance information gathering and communicate with Taiwan's military, said the sources, who asked not to be identified because of the sensitivity of the issue.
It is also "symbolic" of Japan's support for Taiwan, said one of the people who know about the appointment. "Taiwan had been asking for an active duty defense official to fill the post."
Highlighting Tokyo's nervousness about Beijing's reaction, the move was halted last year after a Japanese media report about the plan, the sources said.
The Japanese Ministry of Defense said that it would only pursue "non-governmental" ties with Taiwan.
In Taipei, the Ministry of Foreign Affairs declined to comment when asked about the new defense attache, but said it "would continue to deepen cooperation with similar-minded partners such as Japan."
See Japanese on Page 5
Comments will be moderated. Keep comments relevant to the article. Remarks containing abusive and obscene language, personal attacks of any kind or promotion will be removed and the user banned. Final decision will be at the discretion of the Taipei Times.