China exploring using AI to manipulate audiences
WIDER REACH: Beijing's efforts to shape foreign public opinion can be found on more than social media; they also include print, radio and television, a report said
Chinese researchers are exploring ways to use artificial intelligence (AI) tools such as ChatGPT to manipulate global audiences, possibly including their perceptions of Taiwan, a RAND Corp study found.
The US-based think tank published the report The Rise of Generative AI and the Coming Era of Social Media Manipulation 3.0 on Thursday last week discussing potential threats to US national security posed by actors misusing generative AI technologies, with a focus on China.
Although no evidence has shown that Beijing is using AI to generate and publish content on social media, it is the consensus among independent researchers and a number of governments that the Chinese government is conducting social media manipulation, the report said.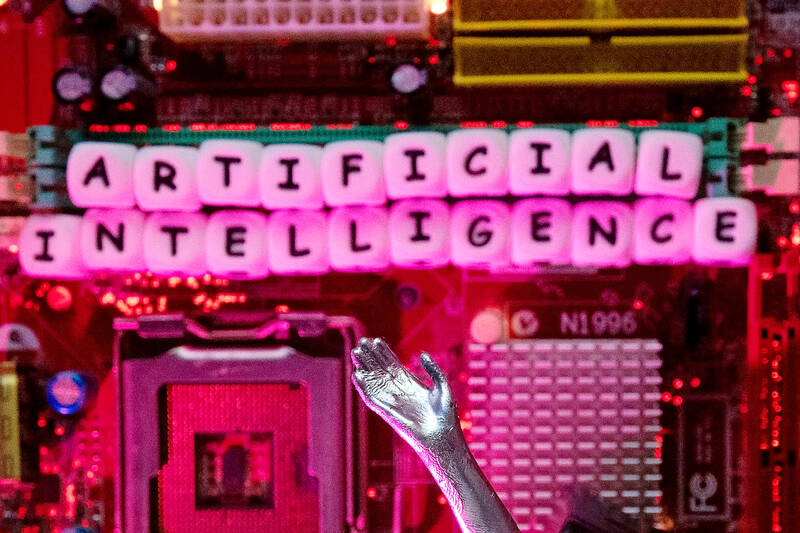 Letters spelling artificial intelligence and a robot hand are placed on a computer motherboard in an illustration taken on June 23.
Photo: Reuters
"AI offers the CCP [Chinese Communist Party] the potential to fulfill longstanding desires to shape the global conversation about itself and China more broadly," the report said.
It cited studies that pointed to Beijing's attempt to interfere in Taiwan's 2018 presidential election through social media manipulation.
New tactics emerged afterward, including using content farms to produce numerous false or misleading content, buying established Taiwanese social media accounts and allegedly paying Taiwanese influencers to spread pro-Beijing narratives, it said.
These efforts might not have a significant influence on election results, but seem to be "worsening Taiwanese political and social polarization and widening perceived generational divides," it said.
Utilizing AI might further improve the authenticity of China-produced content, as well as reduce the money and the labor required to produce it, meaning it could reach further and wider, the report said.
With China's technology ecosystem and strong government support, at least 30 Chinese companies, universities and research institutions were developing generative AI models as of April, it said.
By growing its technical capability in developing large language models, on which OpenAI's ChatGPT is based, trained mainly on Chinese-language data, the Chinese government might acquire sufficient capability to conduct social media manipulation on both domestic and foreign scales, the report said.
Beijing's efforts to shape foreign public opinion can be found on more than social media platforms, they also include print, radio and television, it said, adding that "using generative AI for such content at scale would be a natural progression of CCP efforts."
Nathan Beauchamp-Mustafaga, one of the authors of the report, told Defense One on Thursday last week that "logically the next target for China would be the Taiwanese [2024 presidential] election" in terms of manipulating public opinion.
The Web site said that social media platforms "aren't well positioned to guard against" China's efforts to conduct large-scale manipulation using generative AI.
Comments will be moderated. Keep comments relevant to the article. Remarks containing abusive and obscene language, personal attacks of any kind or promotion will be removed and the user banned. Final decision will be at the discretion of the Taipei Times.