Taiwan-bred pears exported to UK for first time: ministry
The Ministry of Agriculture has authorized a shipment of pears that were bred in Taiwan to the UK for the first time, adding to a string of successes in exporting agricultural products to new global markets.
The ministry said it chose to ship the "Baodao Ganlu Jumbo Pear" (寶島甘露梨), which is crunchy and juicy, and has a flavor akin to sugarcane, because it is sufficiently hardy to last the one-month storage period aboard ships bound for Europe.
Ministry officials said that in recent weeks they had also sold pomeloes to the UK, followed by the shipment of 3.53 tonnes of jumbo pears, and they expect more progress in opening up new markets overseas for the nation's fruits and other agricultural products.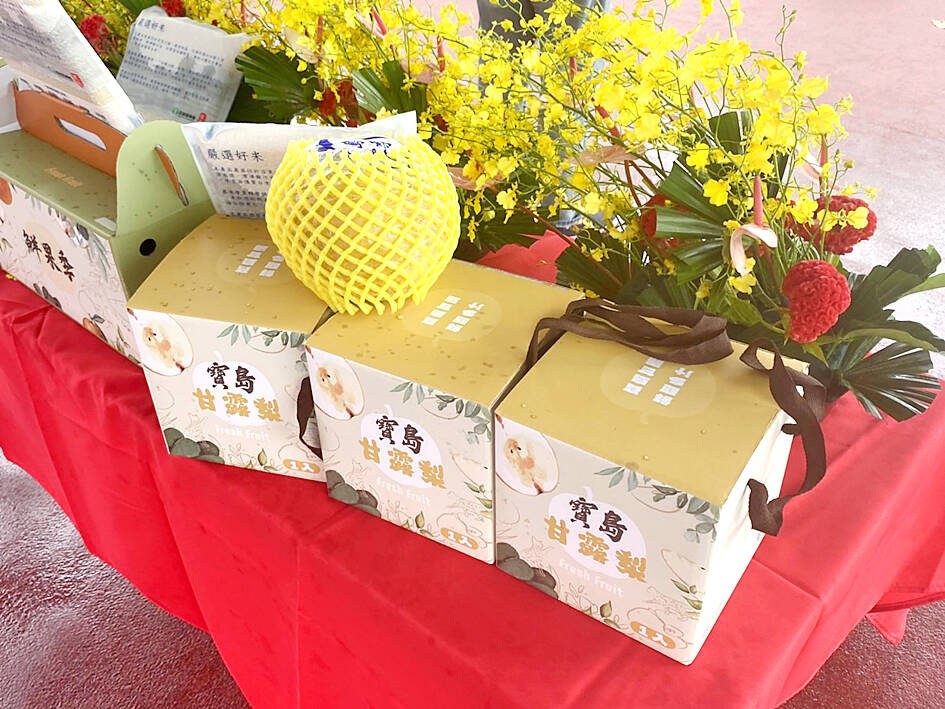 Boxes of Baodao Ganlu Jumbo Pears from Taichung's Houli District are pictured on Sept. 3 last year.
Photo: Chang Hsuan-tse, Taipei Times
The pear is considered a "Taiwanese native cultivar," developed by Liu Shen-chuan (劉申權), a fruit grower in his 70s with a farm in the mountains of Miaoli County's Jhuolan Township (卓蘭).
The jumbo pear usually grows bigger than an average person's face.
Following years of grafting, undergoing trials and diligent work, Liu filed for a patent for the new pear, which he and other authorized farmers can grow without having to import pear blossom budwood from Japan or China for grafting.
The pear has shown resistance to various diseases and infections, thereby reducing the amount of pesticide required, ministry officials said.
Trials have shown that the pear can be stored at 5°C or below for up to three months, said Su Teng-chao (蘇登照), head of the Fruit and Flower Industry Division at the Agriculture and Food Agency.
Su said the pears are in demand in Taiwan, which has driven up prices, and more farmers are switching to the variety.
The pear can weigh as much as 2kg and a gift pack of two can sell for more than NT$1,000, Agriculture and Food Agency deputy head Yao Chih-wan (姚志旺) said.
There are 4,946 hectares dedicated to growing the pear, mainly in hills and mountains of Jhuolan Township and Taichung's Dongshih District (東勢), and annual production has reached about 100,000 tonnes, Yao said.
"We believe more people will switch to buying this pear, because it has a good, sweet taste and crunchy texture, and also a nice appearance. Many consumers have said that its taste and quality have surpassed that of imported Asian pears, so we expect the demand to grow," he said.
Previously Taiwanese Asian pears were exported mainly to Singapore, Hong Kong and Malaysia due to the short shipping time, but this is the first time a Taiwanese exporter has clinched a deal to deliver to the UK, Yao said.
Taiwan's fruit exports previously had mainly targeted China, but after repeated bans by the Chinese government, exporters are turning to Japan, South Korea, Canada, the UK and other overseas markets where they sell at higher prices, he said.
He also quoted a fruit exporter who declined to be named, who said that since China banned Taiwanese pineapples, the prevalent view is that the Chinese market is too risky and so Taiwanese firms are exploring other overseas markets.
"We must do it, because we cannot put all our eggs in one basket," the exporter said.
Additional reporting by Jason Pan
Comments will be moderated. Keep comments relevant to the article. Remarks containing abusive and obscene language, personal attacks of any kind or promotion will be removed and the user banned. Final decision will be at the discretion of the Taipei Times.