Taipei to take PRC mango ban to WTO
NEGLIGIBLE: The ban is unlikely to have major economic repercussions, as exports made up only 2.2% of Taiwan's mango produce this year, the agriculture ministry said
Following China's announcement earlier yesterday that it had suspended imports of mangoes from Taiwan with immediate effect, the Ministry of Agriculture said it would take up the matter with the WTO's Sanitary and Phytosanitary Measures (SPS) Committee.
China's Taiwan Affairs Office spokesperson Zhu Fenglian (朱鳳蓮) said in Beijing that Chinese customs officers had detected citrus mealybugs in mangoes from Taiwan, which she said pose a "severe threat" to China's agricultural and ecological security.
Chinese officials informed Taiwan of the decision via official channels set out in a cross-strait agreement governing quarantine inspections for agricultural products, Chinese state media reported.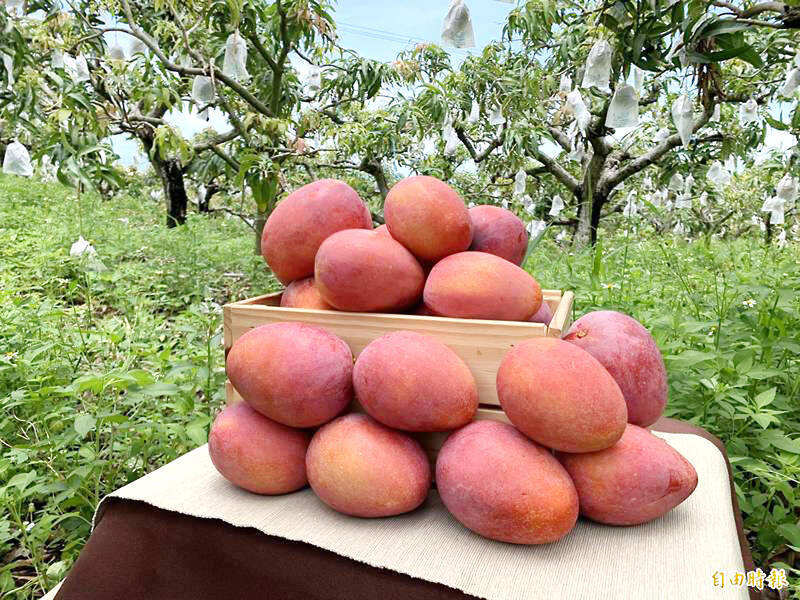 Mangoes are pictured at a farm in an undated photograph.
Photo: Taipei Times
"The above-mentioned measures are normal biosafety precautions, scientific and reasonable, and comply with relevant mainland laws, regulations and standards," the office said.
In Taipei, the agriculture ministry criticized the suspension as unwarranted and out of step with international trade standards. It said it had not received any such complaints from other export destinations.
The ministry "deeply regrets that China has repeatedly violated international practices and arbitrarily interrupted trade without scientific dialogue," it said in a statement.
Deputy Minister of Agriculture Chen Junne-jih (陳駿季) said that China notified the ministry on June 15 and Aug. 3 that it had detected citrus mealybugs in shipments of mangoes from Taiwan.
The ministry then traced the shipments back to their source farms, and told Chinese officials on July 4 and on Thursday last week what steps were being taken to resolve the issue, he said.
The two cases are the only times Beijing has said citrus mealybugs had been found in the 5,689 mango shipments Taiwan has exported to China since 2018, Chen said.
The low detection rate and that China did not take steps to mitigate trade impacts — such as fumigating for citrus mealybugs — as recommended by the WTO, show that Beijing's decision was "overly harsh" and out of line with international norms, Chen said, adding that the ministry would take the case to the WTO's SPS Committee.
The suspension from China is unlikely to have major economic repercussions, he said.
Taiwan produced 174,000 tonnes of mangoes this year, of which only 4,000 tonnes, or 2.2 percent, were exported abroad, Chen said.
This year, China imported about 1,000 tonnes of Taiwan mangoes, while Japan and South Korea imported 700 and 600 tonnes respectively, he said.
Taiwan has complained for the past three years of Chinese import bans on agricultural and aquatic goods, including pineapples and grouper fish, saying they are part of a Chinese pressure campaign.
The latest announcement was made a few days after Vice President William Lai (賴清德) returned from a visit to Paraguay that included stopovers in the US.
Comments will be moderated. Keep comments relevant to the article. Remarks containing abusive and obscene language, personal attacks of any kind or promotion will be removed and the user banned. Final decision will be at the discretion of the Taipei Times.