US announces US$345m in arms for Taipei
STAYING AHEAD: The military package is part of a presidential authority approved by Congress to arm Taiwan in case of an attack, a US official said
The US on Friday announced US$345 million in military aid for Taiwan, in what was Washington's first major package drawing on the US' own stockpiles to help Taiwan counter China.
The White House's announcement said the package would include defense, education and training for Taiwanese.
Washington is to send portable air defense systems, intelligence and surveillance capabilities, firearms and missiles, said two US officials who spoke on the condition of anonymity to discuss sensitive matters ahead of the announcement.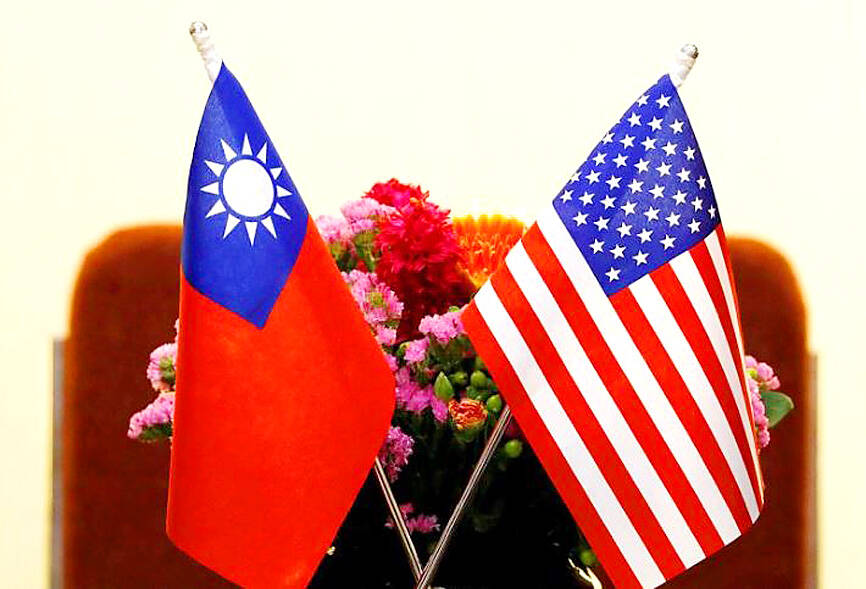 Flags of Taiwan and the US are displayed on a table for a meeting in Taipei on March 27, 2018.
Photo: Tyrone Siu, Reuters
US lawmakers have been pressuring the Pentagon and the White House to speed weapons to Taiwan. The goals are to help it counter China and to deter Beijing from considering attacking, by providing Taipei enough weaponry that it would make the price of invasion too high.
While Chinese diplomats protested the move, Taiwan's trade office in Washington said the US decision to pull arms and other materiel from its stores provided "an important tool to support Taiwan's self-defense."
In Taipei, Presidential Office spokesperson Lin Yu-chan (林聿禪) expressed Taiwan's gratitude to the US for fulfilling its promise regarding Taiwan's security, adding it would work to deepen bilateral ties and promote peace, stability and the "status quo" across the Taiwan Strait.
The Ministry of National Defense also expressed its appreciation in a statement, thanking "the US for its firm commitment to Taiwan's security."
"The Presidential Drawdown Authority is an important tool to shore up Taiwan's self-defense capabilities besides arms sales," Ministry of National Defense spokesman Major General Sun Li-fang (孫立方) said in a statement.
The Ministry of Foreign Affairs thanked the US for honoring its pledges to uphold Taiwan's security under the Taiwan Relations Act and the Six Assurances. It said that similar to arms sales, the Presidential Drawdown Authority is crucial to bolstering Taiwan's self-defense.
"Taiwan and the US will continue deepening their close partnership and work together to defend the rule-based international order and promote peace, stability and the status quo in the Taiwan Strait and the Indo-Pacific region," the ministry said in a statement.
The package is in addition to nearly US$19 billion in military sales of F-16s and other major weapons systems that the US has approved for Taiwan. Delivery of those weapons has been hampered by supply chain issues that started during the COVID-19 pandemic and have been exacerbated by Russia's invasion of Ukraine.
The new aid is part of a presidential authority approved by the US Congress last year to draw weapons from current US military stockpiles — so Taiwan would not have to wait for military production and sales. This gets weapons delivered faster than providing funding for new weapons.
The Pentagon has used a similar authority to get billions of dollars worth of munitions to Ukraine.
Getting stockpiles of weapons to Taiwan before an attack is one of the lessons the US has learned from Russia's invasion of Ukraine, US Deputy Secretary of Defense Kathleen Hicks said earlier this year.
Ukraine "was more of a cold-start approach than the planned approach we have been working on for Taiwan, and we will apply those lessons," Hicks said.
Efforts to resupply Taiwan after a conflict erupted would be complicated because it is an island, she said.
Additional reporting by Su Yung-yao
Comments will be moderated. Keep comments relevant to the article. Remarks containing abusive and obscene language, personal attacks of any kind or promotion will be removed and the user banned. Final decision will be at the discretion of the Taipei Times.