Joseph Wu meets with Italy lawmakers
EUROPEAN TOUR: A Lithuanian member of the European Parliament said that Taiwan had demonstrated courage in safeguarding democracy and freedom in the face of China
Minister of Foreign Affairs Joseph Wu (吳釗燮) on Saturday met with two Italian lawmakers in an unannounced visit to Milan, local media reports said.
In separate posts on Facebook, Paolo Formentini, vice president of the Chamber of Deputies Foreign Affairs Committee, called the meeting "an honor," while Italian lawmaker Igor Iezzi wrote that he is "always on the side of freedom."
"It was an opportunity to reiterate that the status quo in the Taiwan Strait must remain the current one and that freedom of navigation must always be defended," Formentini told the Italian news site Le Formiche on Saturday.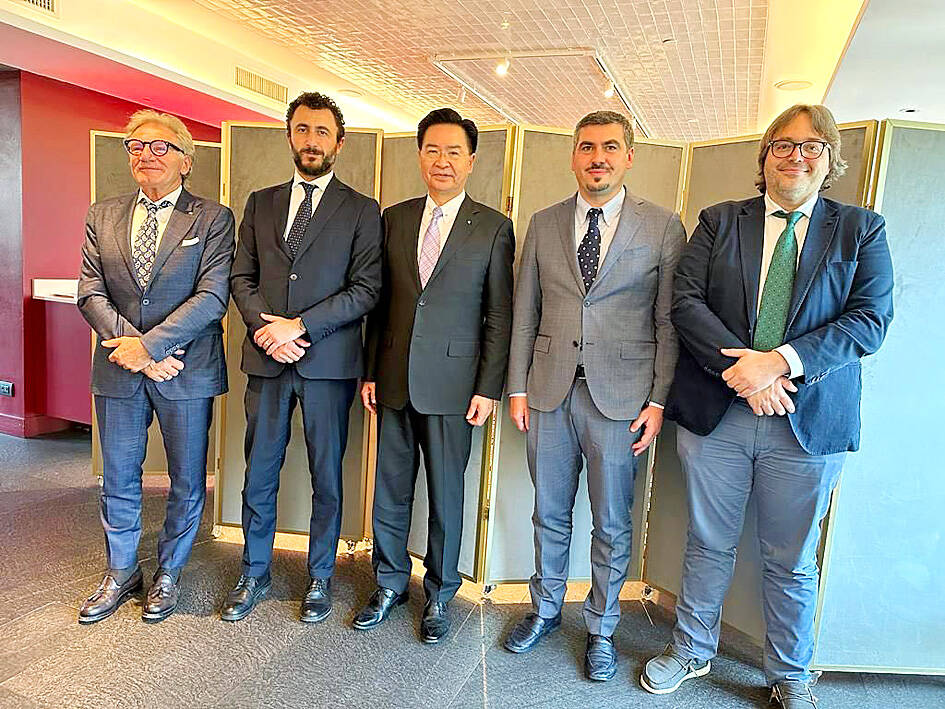 Minister of Foreign Affairs Joseph Wu, center, poses with Italian Chamber of Deputies Foreign Affairs Committee Vice President Paolo Formentini, second right, and Italian lawmaker Igor Iezzi, right, in an undated photograph.
Photo: Screen grab from Igor Iezzi's Facebook page
The visit was also important as Taiwan prepares to set up a representative office in Milan, its second in Italy, the site said.
In Taipei, the Ministry of Foreign Affairs said it had no comment on the reported meeting in Milan.
As Italy does not formally recognize the Republic of China, meetings between serving Italian lawmakers and Taiwanese officials are rare.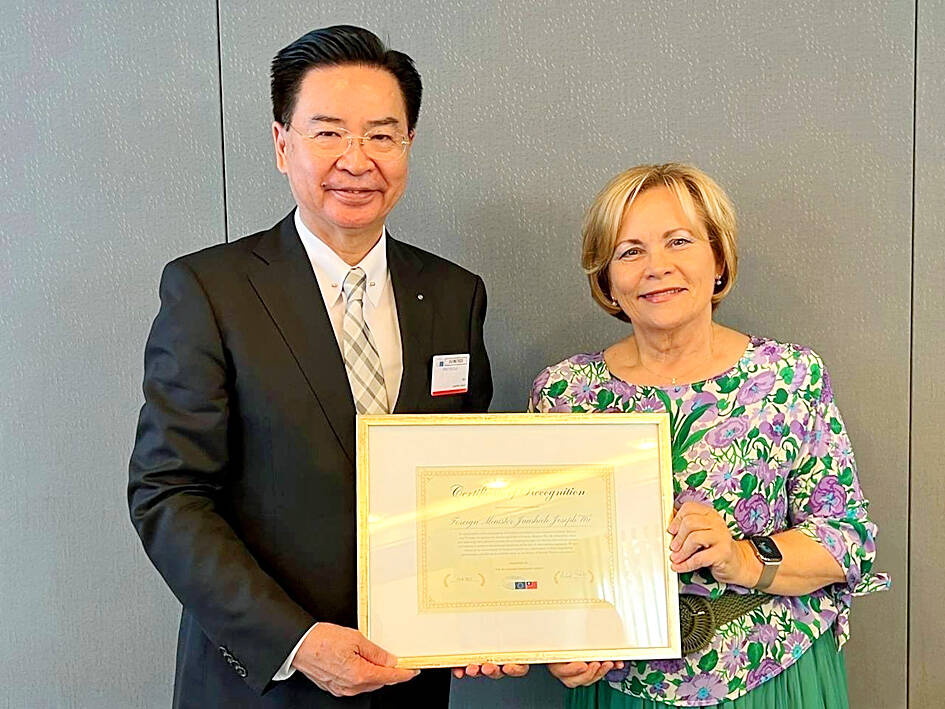 Minister of Foreign Affairs Joseph Wu, left, is presented with a certificate of appreciation by the European Parliament-Taiwan Friendship Group in an undated photograph.
Photo courtesy of the Ministry of Foreign Affairs via CNA
Wu on Monday last week departed on a trip to Europe, during which he visited the Warsaw School of Economics, and met with Czech Senate President Milos Vystrcil in Prague on Tuesday and European Parliament Vice President Nicola Beer in Brussels on Friday.
Wu also met with 12 lawmakers at the European Parliament, including European Parliament Subcommittee on Security and Defence Vice Chair Rasa Jukneviciene, Belgium-Taiwan Friendship Group copresident Georges Dallemagne, Luxembourgian lawmaker Claude Wiseler and member of the British House of Lords Sal Brinton, the ministry said in a news release yesterday.
The European Parliament-Taiwan Friendship Group and the Belgium-Taiwan Friendship Group each issued a certificate of appreciation and a joint letter of appreciation to Wu in recognition of his contributions to deepening the partnership between Taiwan, and the EU and Belgium, it said.
The European lawmakers and Wu exchanged opinions on cooperation between Taiwan and Europe, the situation in the Taiwan Strait and Russia's invasion of Ukraine, it said.
Jukneviciene, who was Lithuanian minister of defense from 2008 to 2012, was quoted by the ministry as saying that Taiwan had demonstrated its courage in safeguarding democracy and freedom in the face of China's ambition to expand.
Enhancing Taiwan-EU relations has become the consensus of cross-party members of the European Parliament, she added.
Dallemagne called on Europe to continue its firm support for Taiwan's freedom, democracy and international participation, the ministry said.
He presented to Wu a letter of appreciation signed by the six copresidents of the Belgium-Taiwan Friendship Group, it said.
Wiseler thanked Taiwan for donating urgently needed masks to Luxembourg and other European countries in the early stages of the COVID-19 pandemic, and affirmed Taiwan's contribution to global public health, it said.
Brinton urged Europe to unite with Taiwan to take on challenges posed by authoritarian countries and expressed appreciation for the Taiwanese government and Taiwanese providing aid to Ukraine, it said.
Wu thanked the lawmakers for supporting cross-strait peace and stability, closer Taiwan-Europe cooperation and Taiwan's participation in international organizations, the ministry said.
The high-level reception received by the minister underlined the importance the European Parliament attaches to Taiwan and the actions it takes to bolster cooperative partnerships, it said.
Additional reporting by CNA
Comments will be moderated. Keep comments relevant to the article. Remarks containing abusive and obscene language, personal attacks of any kind or promotion will be removed and the user banned. Final decision will be at the discretion of the Taipei Times.