China-Russia patrol sends Seoul scrambling for jets
China and Russia yesterday conducted joint air force patrols over the Sea of Japan and the East China Sea, as South Korea said it had deployed fighter jets in response to warplanes near its airspace.
Beijing and Moscow "staged the sixth joint aerial patrol in accordance with an annual military cooperation plan between China and Russia," China's Ministry of National Defense said in a statement.
The statement gave no further details of the maneuvers, which took place over waters bordering Japan, the Korean Peninsula and Taiwan.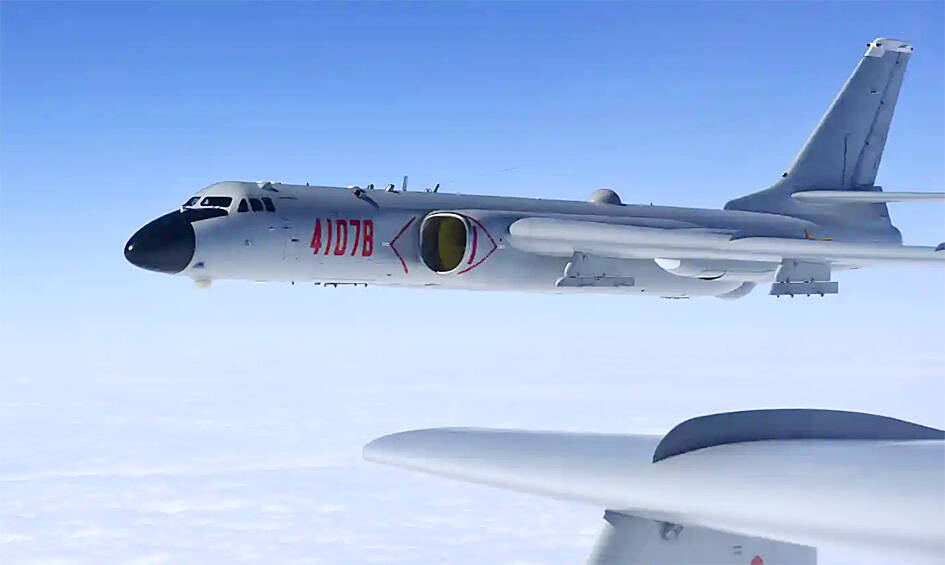 A file image of a Chinese military H-6K bomber.
Photo:AP
South Korea said four Russian and four Chinese military aircraft had entered its air defense identification zone (ADIZ) around lunchtime, prompting it to scramble fighter planes.
An ADIZ is an area wider than a country's airspace in which it tries to control aircraft for security reasons, but the concept is not defined in any international treaty.
The South Korean military "identified the Chinese and Russian jets before their entry into the air identification zone," South Korea's Joint Chiefs of Staff (JCS) said.
"We deployed air force fighters to conduct tactical steps in preparation in case of an emergency," it added.
The eight foreign jets did not violate Seoul's airspace, the JCS said.
The incident comes after the defense ministers of South Korea, Japan and the US on Saturday agreed to set up real-time data sharing on North Korean missile launches by the end of the year.
Comments will be moderated. Keep comments relevant to the article. Remarks containing abusive and obscene language, personal attacks of any kind or promotion will be removed and the user banned. Final decision will be at the discretion of the Taipei Times.