Advanced chipmaking to stay: TSMC
COMMITMENT: The world's biggest contract chipmaker said that its new 2nm chips, as well as next-generation, cutting-edge 1.4nm chips, will be produced in Taiwan
Taiwan Semiconductor Manufacturing Co (TSMC, 台積電) yesterday said that the majority of its most advanced chips would continue to be manufactured in Taiwan and that it is boosting advanced chip packaging capacity to catch up with fast-growing demand driven by generative artificial intelligence (AI) applications like ChatGPT.
Deeply rooted in Taiwan, TSMC is expanding production capacity for its most advanced 3-nanometer (nm) chips at its Tainan fab and is building new plants to produce new 2-nanometer chips in Hsinchu and Taichung in 2025.
The chipmaker also plans to produce next-generation, cutting-edge 1.4-nanometer chips, which are currently under development, at home, it said.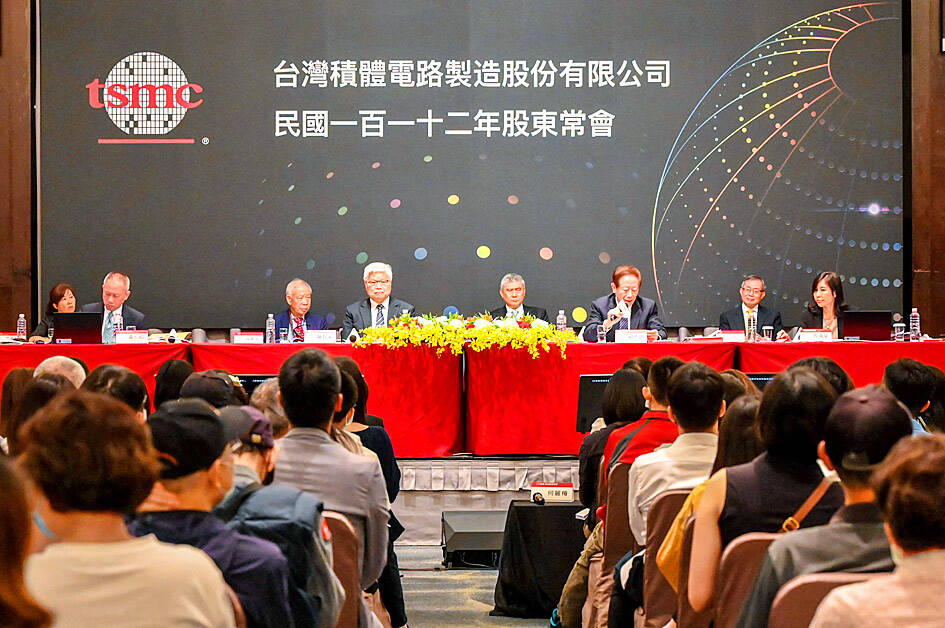 Taiwan Semiconductor Manufacturing Co CEO C. C. Wei, center left, and chairman Mark Liu, third right, attend a shareholders' meeting in Hsinchu yesterday.
Photo: Sam Yeh, AFP
"A majority of [these advanced chips] will be made in Taiwan," TSMC chief executive C.C. Wei (魏哲家) said in response to a shareholder's question about capacity expansion plans during the company's annual general meeting in Hsinchu.
"I think Taiwan's semiconductor industry plays a stabilising role amid global geopolitical tensions. Whether it's China or the United States... they all hope that TSMC is around," said TSMC chairman Mark Liu (劉德音).
"I hope Taiwan's semiconductor industry can do well to have a stabilising effect on global geopolitical conflict."
Although TSMC has been expanding its global footprint in the past few years to meet customers' requirements, it expects that only a small portion, or about 20 percent, of its 28-nanometer chips and some advanced chips would be made at fabs outside Taiwan in the next five years or even longer.
Aside from its advanced fabs in the US, TSMC deploys more mature process technologies to produce chips mostly for vehicles and other gadgets at its fabs in China and Japan.
The company is also evaluating plans to build two new fabs — in Japan and in Europe, likely in Germany — to produce less advanced chips.
TSMC is engaging with customers and partners to evaluate the feasibility of building a specialty fab focused on automotive technology in Germany, it said.
Like its Japanese fab, the company is considering allowing some automotive customers to hold minor stakes in the planned fab, Liu told a media briefing after the shareholders' meeting.
At home, TSMC is trying hard to boost advanced packaging capacity through unconventional approaches to cope with demand after ChatGPT and other generative AI applications became popular at the start of the year.
"Because of ChatGPT, TSMC has received large orders for advanced packaging. Demand has greatly exceeded our capacity," Liu said.
Nvidia Corp, a major supplier of AI graphics processing units, is one of the major clients of TSMC's chip-on-wafer-on-substrate (CoWoS) packaging technology.
To satisfy customers' demand, TSMC allocated some capacity for the advanced packaging technology at its fab in Taoyuan's Longtan District (龍潭), Liu said, adding that it outsources some of the CoWoS production to chip packagers.
For the full year, CoWoS capacity would be double the size of last year, as the company continues its pace of expansion, he said.
Revenue contribution from chips used in generative AI applications is still tiny, but this new business is helping the company's advanced chip packaging reach economies of scale, Liu said.
TSMC also called on the government to step up efforts to encourage green energy production.
Because of the scarcity of energy from renewable sources in Taiwan, the company would not be able to achieve carbon neutrality by 2030, Liu said.
Additional Reporting By AFP
Comments will be moderated. Keep comments relevant to the article. Remarks containing abusive and obscene language, personal attacks of any kind or promotion will be removed and the user banned. Final decision will be at the discretion of the Taipei Times.