HK police arrest opposition leader and nine others
Hong Kong police yesterday detained several pro-democracy figures on the 34th anniversary of the Tiananmen Square Massacre, including the leader of a key opposition party.
Chan Po-ying (陳寶瑩), a veteran activist and head of the League of Social Democrats, was in Hong Kong's Causeway Bay shopping district — an area that for years was the site of commemorations of the bloody June 4, 1989, crackdown in China. Holding a small LED candle — a common sight during the annual vigil — and two flowers, Chan was immediately seized by police and hauled into a van.
Earlier yesterday, Alexandra Wong (王鳳瑤), a prominent democracy activist better known as "Grandma Wong," was also taken away. The 67-year-old was carrying flowers at the time.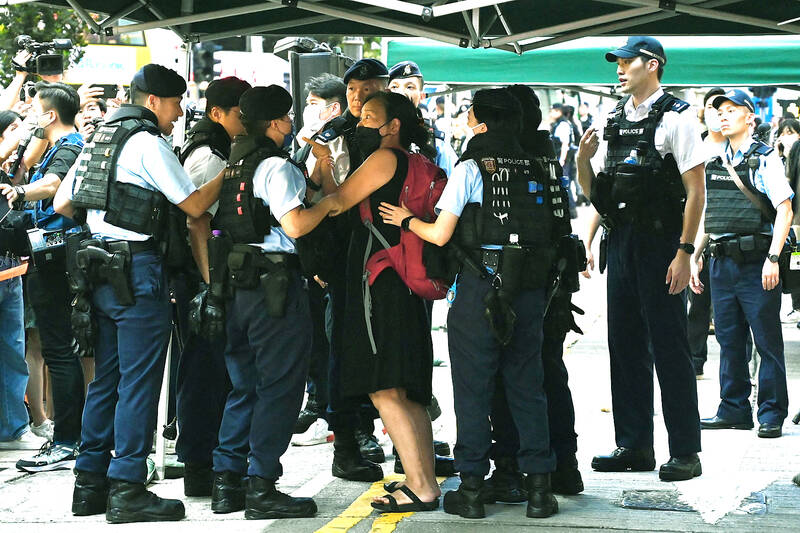 League of Social Democrats leader Chan Po-ying, center, argues with police before being taken away in Hong Kong's Causeway Bay shopping district yesterday.
Photo: AFP
Veteran journalist Mak Yin-ting (麥燕庭), the former chairwoman of the Hong Kong Journalists Association, was also detained at Causeway Bay.
In total, Agence France-Presse reporters saw at least 10 people detained yesterday in the commercial district.
One of them was a woman who shouted: "Raise candles, mourn 64" — shorthand for the sensitive date. Another was a young man dressed in black who carried a book titled "35th of May," another way to express the four days after May 31 in China.
One woman who was briefly questioned, searched and then released, shrugged and told a reporter: "Everyone knows what day is today."
Police arrested four people on Saturday for "seditious" acts and "disorderly conduct," and another four were detained on suspicion of breaching the peace.
By late afternoon yesterday, police had set up a tent in the middle of the busy shopping district where they questioned people out of direct sight of the public.
Comments will be moderated. Keep comments relevant to the article. Remarks containing abusive and obscene language, personal attacks of any kind or promotion will be removed and the user banned. Final decision will be at the discretion of the Taipei Times.