Leaders remember Tiananmen Square
HARD-WON FREEDOM: Beijing's 1989 crackdown on protesters has not been and should not be forgotten, as China tightens its grip on Hong Kong, Lai said
Taiwanese enjoy democracy and freedom and have multiple ways to express their creativity, and hopefully young people in China would also one day have the freedom to sing and express themselves, President Tsai Ing-wen (蔡英文) said yesterday, commemorating the Tiananmen Square Massacre.
Yesterday was the 34th anniversary of the Chinese People's Liberation Army's bloody crackdown on student-led protests in Beijing in 1989, also known as the June Fourth Incident.
Tsai posted a photograph taken in March in a subway station in Guizhou, China, where hundreds of young people gathered to sing People With No Ideals Don't Get Hurt (沒有理想的人不傷心), saying that they had sung the verse: "I don't want to always live underground."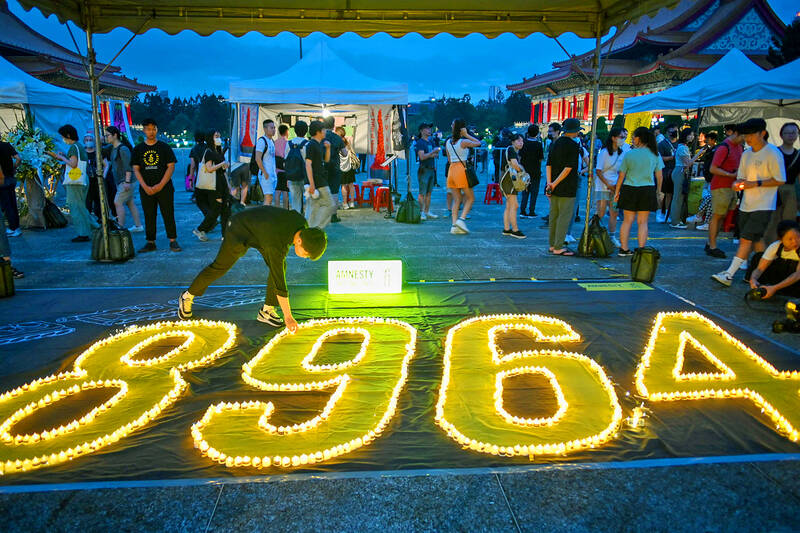 A man places a candle at Liberty Square in Taipei yesterday to mark the 34th anniversary of the 1989 Tiananmen Square Massacre.
Photo: Sam Yeh, AFP
Expressing emotions or criticizing society through song is common for young people, including in Taiwan, she wrote on social media.
For many, the right to freely create is as natural as air and water, as people have democracy, freedom and multiple channels to express their diverse creativity in Taiwan, Tsai wrote.
"We hope one day, young people in China can sing freely and have passion when they create and express themselves, without worry," she wrote.
Vice President and Democratic Progressive Party (DPP) Chairman William Lai (賴清德) wrote on Facebook that "people should not forget the June Fourth Incident, and should cherish hard-won freedom and democracy."
Taiwan had just lifted martial law and there were many democratic movements when the Tiananmen Square Massacre occurred, so Taiwanese understood why Chinese wanted democracy, he wrote.
The incident has not been and should not be forgotten, and people should continue to discuss and commemorate it to remind themselves that freedom and democracy do not come easily, Lai wrote.
As China tightens its control over Hong Kong, events commemorating the incident have been suspended, books about it have been removed from libraries and the liberal, pro-democracy Civic Party was dissolved last month, he wrote.
Lai said that the play 35th of May (五月三 十 五日) — code used by Chinese for "June 4" as it is censored — was banned in China and Hong Kong, but would be performed in Taipei, showing the difference between democracy in Taiwan and China's autocracy.
Chinese Nationalist Party (KMT) Chairman Eric Chu (朱立倫) wrote on Facebook that the students who pursued freedom in Beijing's Tiananmen Square not only shouted their wish for reform, but showed the world their hope for democracy.
He said that the best way to pay tribute to them is by continuing to be a democratic lighthouse for ethnic Chinese, preserving the lifestyles in Taiwan, and protecting the freedom, democracy, human rights, rule of law and prosperity of the Republic of China (ROC).
"Facing the historical pain, we must realize that freedom and human rights are the progressive values that both sides of the [Taiwan] Strait should pursue, and supporting June Fourth is a practical display of the ROC pursuing freedom and democracy," New Taipei City Mayor Hou You-yi (侯友宜), the KMT's presidential candidate, said in a statement.
Separately, National Taiwan University (NTU) graduate student Lau Ka-yee (劉家儀) and a friend protested in commemoration of the Tiananmen Square Massacre at Hong Kong's Victoria Park on Saturday evening, and were arrested for allegedly acting with seditious intention.
The NTU Graduate Student Association held a news conference condemning the Hong Kong police, saying that it would monitor Lau's situation.
It urged NTU's president to speak up for Lau and provide assistance.
Additional reporting by Yang Mien-chieh
Comments will be moderated. Keep comments relevant to the article. Remarks containing abusive and obscene language, personal attacks of any kind or promotion will be removed and the user banned. Final decision will be at the discretion of the Taipei Times.