US Stinger missiles delivered: report
AID PACKAGE: The military already operates variants of the weapons delivered by the US, and they can be used as short-range missiles against aircraft flying at low altitudes
A batch of FIM-92 Stinger missiles arrived overnight on Thursday, the Chinese-language United Daily News reported yesterday, citing an unnamed source.
The arms shipment delivered in a Boeing 747 cargo plane at Taiwan Taoyuan International Airport has been received by the Ministry of the National Defense, the newspaper reported.
It is part of a US$500 million aid package to Taiwan utilizing the US' presidential drawdown authority, which draws from US stocks of weaponry and has been used to expedite weapons deliveries to Ukraine, the report said.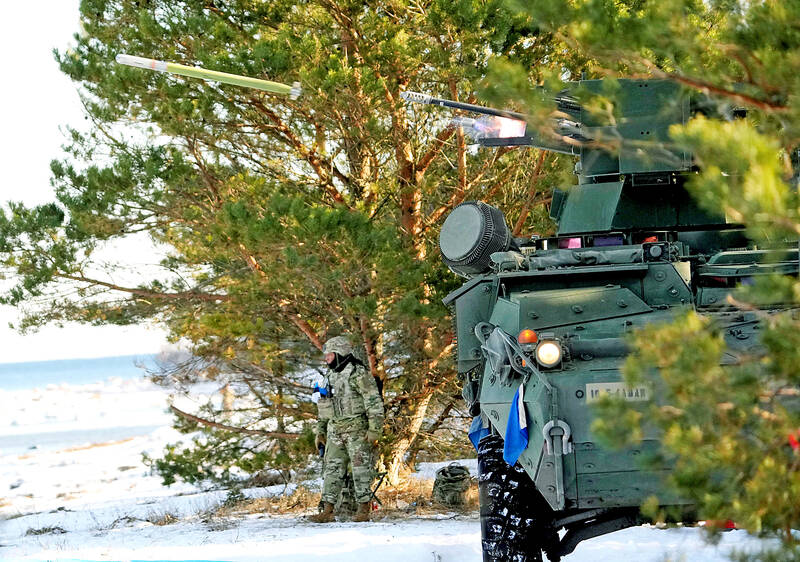 US troops fire Stinger missiles from a Stryker vehicle in Rutja, Estonia, on March 10 last year.
Photo: REUTERS
The air defense weapons are handheld portable variants of the Stinger missile system.
The package is believed to include weapons systems earmarked for Taiwan, but whose delivery had been delayed due to the Russia-Ukraine war and supply chain issues related to the COVID-19 pandemic.
The armed forces already operate variants of the missile, including the Dual Mount Stinger (DMS), the Humvee-mounted Avenger weapons system and an air-launched version adapted for Apache attack helicopters.
Stingers are light, mobile, fire-and-forget air defense weapons that enable the operator to seek cover, relocate or engage a new target immediately after firing, which increases efficiency. They can also be used as short-range weapons against aircraft flying at low altitudes.
The US authorized the transfer of Stinger missile systems in 1996. No further transfers were made after 2000 out of concern that the weapons possess an offensive potential.
On Tuesday last week, US Secretary of Defense Lloyd Austin told the US Congress that a substantial military aid package would be delivered to Taiwan.
Minister of National Defense Chiu Kuo-cheng (邱國正) confirmed that the US had informed Taipei of the package ahead of its public announcement.
Commenting on condition of anonymity, a US defense official said that US President Joe Biden used special emergency presidential powers to authorize the package and ensure that backlogged arms would be delivered to bolster Taiwan's defenses.
No further comments about the implementation details and items in the package could be made, they said.
Yesterday, Institute for National Defense and Security Research analyst Shu Hsiao-huang (舒孝煌) said that the backbone of the nation's air defenses is comprised of US-made Patriot and domestically developed Tien Kung missiles, but the nation lacks weapons that are effective against low-flying aircraft.
Portable handheld Stinger air defense missiles would be effective against helicopters and drones launched from Chinese People's Liberation Army amphibious assault ships, he said.
Recent simulations conducted by US think tanks have underscored the importance of having adequate stockpiles of ammunition in deterrence and warfare, he said.
Modern warfare is highly intensive in the use of ammunition and equipment, and Taiwan would not be able to resupply if it is subjected to a naval blockade, Shu said.
The reported inclusion of Stinger missiles and anti-armor weapons such as TOWs and Javelins in upcoming packages suggests that the US is prioritizing territorial defense over long-range strikes or decisive battles at the beachhead, retired air force lieutenant general Chang Yan-ting (張延廷) said.
Ukraine defends its air space from Russia by utilizing air defense missiles, including Stingers, which precludes the invaders from deploying mass airstrikes, he said.
Additional reporting by Wu Su-wei
Comments will be moderated. Keep comments relevant to the article. Remarks containing abusive and obscene language, personal attacks of any kind or promotion will be removed and the user banned. Final decision will be at the discretion of the Taipei Times.