Thai party leader says policies adopted from Taiwan
Several of the policies adopted by the Move Forward Party (MFP) and its seven prospective coalition partners in Thailand took inspiration from Taiwan, MFP leader Pita Limjaroenrat said in an interview on Tuesday.
The MFP won the most seats in Thailand's general election on May 14, but Pita's hopes of becoming prime minister could yet be denied by Thailand's military.
He told the Central News Agency (CNA) that some of the coalition's 23 policy proposals were based on those already implemented by Taiwan.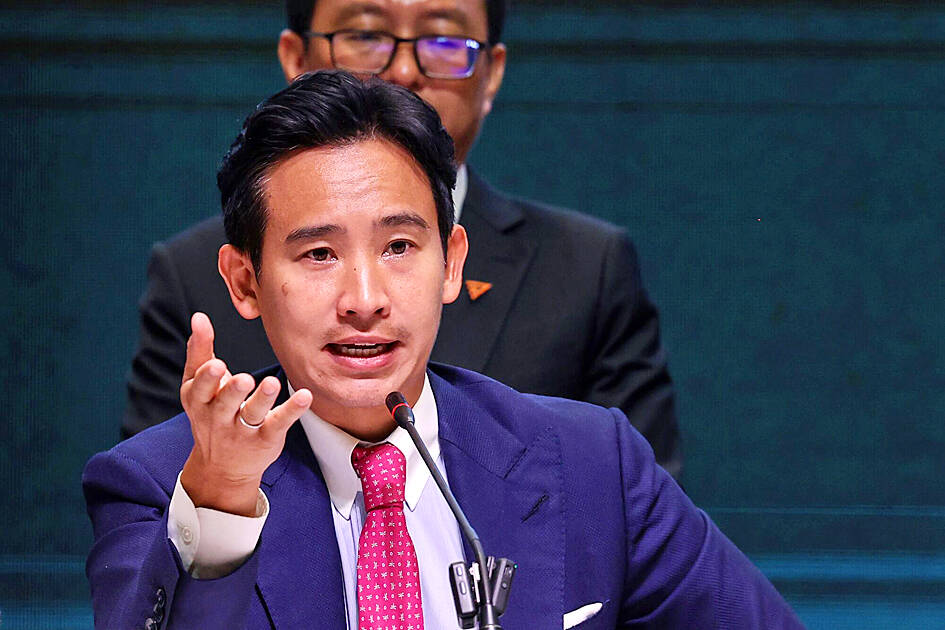 Move Forward Party leader Pita Limjaroenrat speaks during a meeting of coalition parties in Bangkok on Monday.
Photo: Bloomberg
"A lot of our policies are based on the Taiwanese experience," Pita said, citing Taiwan's Uniform Invoice lottery, which encourages people to ask for a receipt in a bid to tackle tax evasion.
The 42-year-old added that marriage equality was another issue where his party hoped to follow the lead of Taiwan.
Thailand could also learn from Taiwan's promotion of transparency and good governance, such as using digital platforms to make government information more accessible, he said.
On a personal note, Pita said he met with Taiwan Semiconductor Manufacturing Co (TSMC, 台積電) founder Morris Chang (張忠謀) at the APEC summit last year.
Chang was President Tsai Ing-wen's (蔡英文) envoy to the event in Thailand.
"I also have had a chance to meet Mr Morris Chang of TSMC on a possible cooperation in terms of economics and education on the chip industry," Pita said, adding that they are both graduates of the Massachusetts Institute of Technology and had bonded over their shared alma mater.
Despite the majority formed in Thailand's lower house by the MFP and its coalition partners, the 250 members of the military-appointed Thai Senate also get a vote on the country's next prime minister, a state of affairs that could see Pita lose out on the job.
Asked about his policy plans in terms of diplomacy, Pita told CNA that it has to be "rules-based diplomacy," with the objective being stability in Asia and the world as a whole.
"There might still be ... Sino-America rivalry, but if this is strategically managed, such competition will benefit countries, including Thailand and others in ASEAN," he said.
"It is time for a middle power like Thailand to really step up to the global arena and to really shape the new world order," he added.
Comments will be moderated. Keep comments relevant to the article. Remarks containing abusive and obscene language, personal attacks of any kind or promotion will be removed and the user banned. Final decision will be at the discretion of the Taipei Times.