Ukraine war shows need for defense pact with US: PNG
Papua New Guinea (PNG) said it would sign a defense agreement with the US, ahead of a deal with Australia and despite opposition party concerns that it could upset China, because the Ukraine conflict shows the need for military capability.
Today, the Pacific island nation is to host visits by US Secretary of State Antony Blinken, Indian Prime Minister Narendra Modi, New Zealand Prime Minister Chris Hipkins and other Pacific island leaders.
While Modi's visit is expected to focus on trade, Blinken is to sign a defense cooperation agreement (DCA) with PNG Prime Minister James Marape, the two nations have said.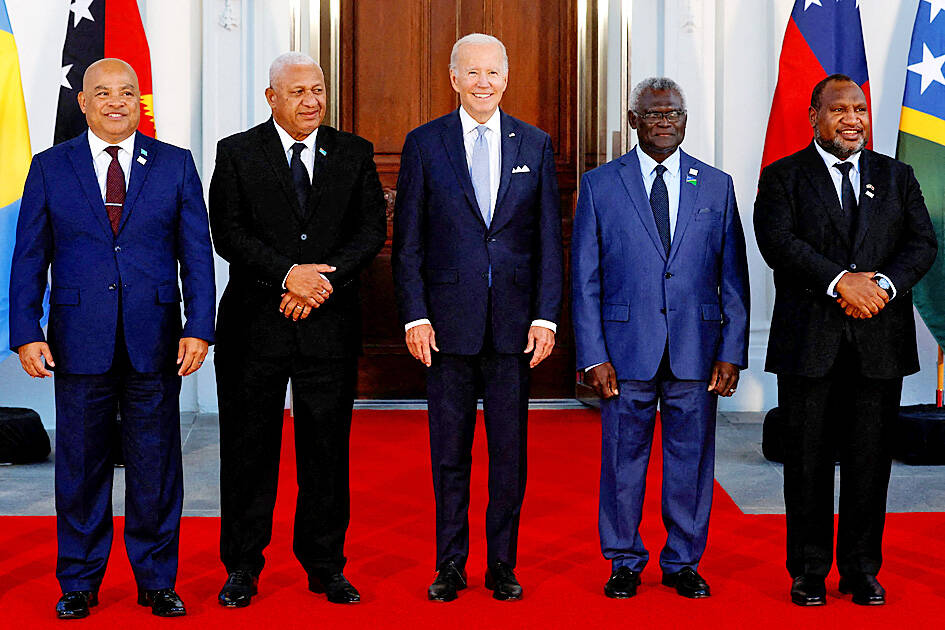 From left, then-Federated States of Micronesia president David Panuelo, then-Fijian prime minister Frank Bainimarama, US President Joe Biden, Solomon Islands Prime Minister Manasseh Sogavare and Papua New Guinean Prime Minister James Marape meet for the US-Pacific Island Country Summit at the White House in Washington on Sept. 29 last year.
Photo: Reuters
The agreement would boost PNG's defense infrastructure and capability after decades of neglect, a government statement said on Saturday.
Highlighting domestic political sensitivity over taking sides in strategic competition between the US and China, the statement said the deal would "not stop Papua New Guinea from working with other nations including China."
The defense agreement would also not give visiting US military personnel immunity for criminal conduct, the statement said.
"Assets developed under DCA will be owned by PNG Government," it added.
The DCA is about building defense capabilities because border disputes are "inevitable in the future," it said.
"Papua New Guinea does not have enemies, but it pays to be prepared," it said, citing Russia's invasion of Ukraine.
China, a major infrastructure provider to the Pacific islands, has sought to increase its security role, signing a security pact with the Solomon Islands that prompted criticism from the US and its allies about Beijing's intentions.
While in PNG, Blinken and Palauan President Surangel Whipps Jr are today to sign a strategic agreement, before the US state secretary heads to Micronesia to sign a similar deal tomorrow, US Special Presidential Envoy for Compact Negotiations Joseph Yun said.
Yun said he hopes to conclude a deal with the Marshall Islands soon.
"We have made progress over my three-day visit to Marshall Islands and we hope to sign an agreement with the Marshall Islands in the coming weeks," he said.
Washington reached what are known as Compact of Free Association (COFA) accords with the three island states in the 1980s, under which it retains responsibility for their defense and provides economic assistance while gaining exclusive access to huge strategic swathes of the Pacific in return.
Renewing them has become a key part of US efforts to push back against China's bid to expand its influence in the region. Chinese diplomats have been courting the region and China's construction and mining companies have expanded their business in many Pacific island nations.
The Marshall Islands' COFA is due to expire this year. Yun gave no reason for the holdup in renewing it, but a parliamentary election is expected there in November.
Yun called the deals "strategically important."
"We've achieved two out of three," he said. "Compacts are very important for the United States. It defines the relationship between us and northern half of the Pacific."
Comments will be moderated. Keep comments relevant to the article. Remarks containing abusive and obscene language, personal attacks of any kind or promotion will be removed and the user banned. Final decision will be at the discretion of the Taipei Times.