MAC urges athletes not to parrot CCP propaganda
The Mainland Affairs Council (MAC) yesterday urged people to refrain from parroting the Chinese Communist Party's (CCP) "united front" propaganda after Taiwanese taekwondo athlete Lee Tung-hsien (李東賢) sparked controversy for waving a Chinese flag after winning a bronze medal at the Asia-Pacific Masters Games (APMG) in South Korea last week.
"We are asking people to cherish our democratic values and way of life. Even when they are developing a career in China or interacting with Chinese, Taiwanese should not cooperate with the Chinese government in its 'united front' efforts against Taiwan or serve as models for it," the council said.
The Sports Administration on Saturday said that the APMG allows athletes who are not on national teams or are not members of a sports association to compete, and no flag-raising ceremony is held when such athletes receive medals.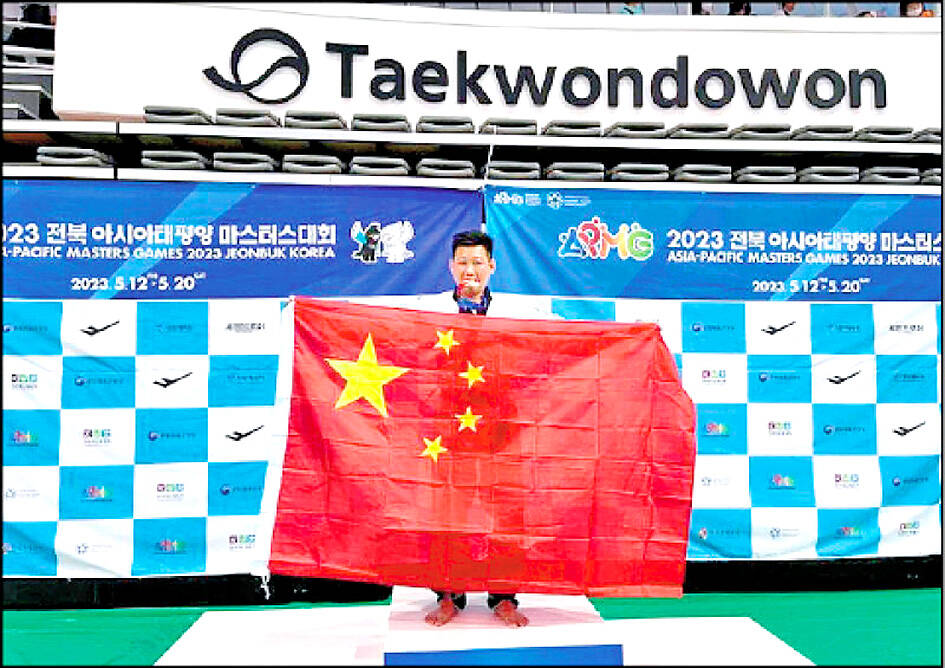 Taiwanese taekwondo athlete Lee Tung-hsien displays a Chinese flag after winning a bronze medal at the Asia-Pacific Masters Games in South Korea last week.
Photo: Screen grab from the Internet
"Lee competed as an individual athlete, not as part of the national team. Nor is he a member of the Chinese Taipei Taekwondo Association," the agency said.
Nevertheless, games organizers required athletes to wear uniforms with the names of their nations on them, and Lee sported a dobok stitched with Taiwan's national team emblem, "TPE," local media reported.
The Chinese Taipei Olympic Committee, which owns the emblem copyright, did not restrict its use, local media reported.
Lee has reportedly worked in China for a long time and joined the CCP on July 1 last year. He also held a Chinese flag on the podium after winning a bronze medal in a taekwondo tournament in Malaysia in 2017.
Chinese Taipei Master Games Association head Peng Tai-ling (彭臺臨) said that all athletes who competed in the APMG did so as individuals.
"We only assisted athletes in registering for the event. We are not in charge of forming a national team or selecting athletes for a national team. The behavior of the individual had nothing to do with the association," he said.
Democratic Progressive Party Legislator Wang Ting-yuan (王定宇) said that Sports Administration should investigate whether Lee had received government subsidies to participate in sports events, adding that such an athlete should not be funded by taxpayers' money.
"People in Taiwan can freely choose to identify with or immigrate to any country, as Taiwan is a free and democratic country. Lee has been living in China and identifies with the CCP, so he should carry the national flag he identifies with and not help the CCP take advantage of Taiwan by using a political symbol of Taiwan," he said.
"Although Lee was born and raised in Taiwan, he embraced a country that has been threatening to take over Taiwan with military might. I have nothing but contempt for him," he added.
Tainan City Councilor Lee Chong-lim (李宗霖) of the Taiwan Statebuilding Party said that Lee Tung-hsien's display of a Chinese flag immediately after he received a bronze was clearly "premeditated" and part of China's cognitive warfare against Taiwanese.
"He is also deputy chairman of the Chinese Youth Development Association... The government should investigate the association to determine if it has received funding from China or acted as a Chinese agent," Lee Chong-lim said.
Former Formosa TV chairman Kuo Bei-hung (郭倍宏) criticized the Sports Administration's response to Lee's behavior as "incompetent" and "disgraceful."
Holding a Chinese flag while wearing a taekwondo uniform with "TPE" stitched in the back is no different from a declaration that Taipei is a territory of China, he said.
"How can the Sports Administration dissociate itself from Lee's actions by saying this was the behavior of an individual, when the athlete wore a uniform representing Taiwan and intended to demonstrate loyalty to Beijing?" he said. "Why do we still keep such an incompetent and disgraceful agency which did not dare protest or restrict such behavior?"
Comments will be moderated. Keep comments relevant to the article. Remarks containing abusive and obscene language, personal attacks of any kind or promotion will be removed and the user banned. Final decision will be at the discretion of the Taipei Times.