Zelenskiy meets with G7 as US allows F-16s
Ukrainian President Volodymyr Zelenskiy yesterday made a landmark visit to Hiroshima for talks with G7 leaders, after securing long-sought access to advanced US fighter jets for Ukraine's war effort.
Zelenskiy's surprise summit appearance — he had been expected to appear by video call — is his furthest foray from Kyiv since Russia's invasion began 15 months ago.
He arrived significantly buoyed by what he called a "historic" White House decision to allow Ukraine access to F-16 jets, among the most sophisticated materiel yet supplied by the West.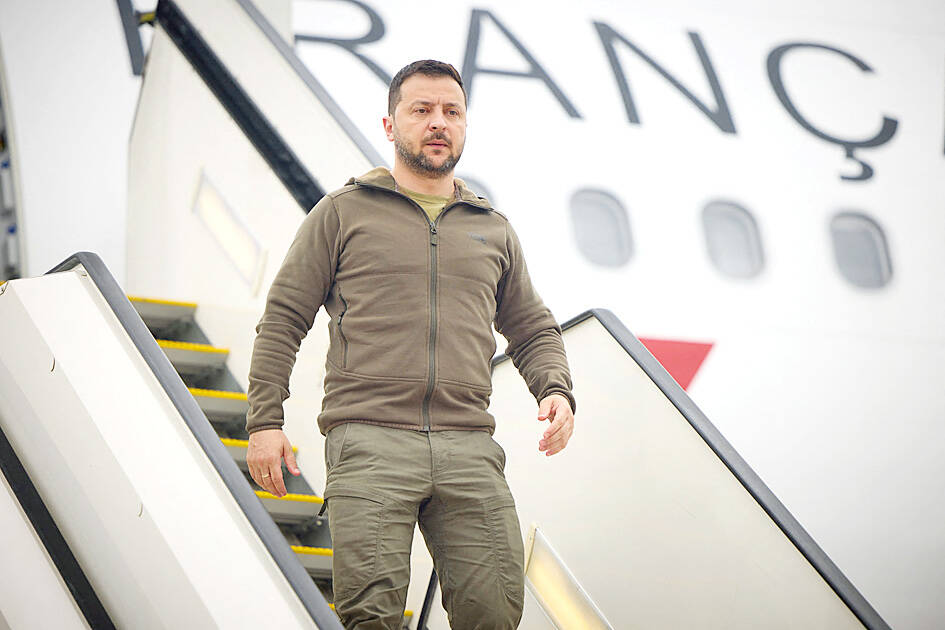 Ukrainian President Volodymyr Zelenskiy arrives at Hiroshima Airport to attend the G7 summit yesterday.
Photo: Ukrainian Presidential Press Service / handout via Reuters
On landing, Zelenskiy said the summit would bring "increased cooperation for our victory," and that "today, peace will be closer."
After a winter of fighting that saw Russian gains in the eastern city of Bakhmut, Ukraine's forces have regrouped for a counteroffensive, but they remain dependent on the flow of Western weaponry.
Military experts say the aircraft would be a significant upgrade from Ukraine's aging Soviet-era fleet, offering greater ability to eventually strike targets in the air or on the ground.
They are also a potent symbol of Western support for Ukraine, forestalling any talk of waning interest as the conflict grinds on.
Mick Ryan, a retired Australian major general, called the decision "very significant."
"F-16s have the sensors and weapon systems that are either equal to, or overmatch, Russian fighters," he said, adding that the jets would make life "more difficult" for Russian missile-launching aircraft operating in and around Ukraine.
Until now, US President Joe Biden had effectively vetoed the transfer of US-made F-16s, with officials citing long pilot training times and the risk of escalating the conflict with Russia.
US National Security Adviser Jake Sullivan said there had been no about-face in US policy, and the decision was based on the "exigencies of the conflict."
"We've reached a moment where it's time to look down the road and to say: 'What is Ukraine going to need ... to be able to deter and defend against Russian aggression?'" he said.
Comments will be moderated. Keep comments relevant to the article. Remarks containing abusive and obscene language, personal attacks of any kind or promotion will be removed and the user banned. Final decision will be at the discretion of the Taipei Times.