Legislators pass human trafficking bill
A bill that establishes penalties for attempted human trafficking passed the Legislative Yuan yesterday, with offenders to face up to seven years in prison.
The newly passed amendments to the Human Trafficking Prevention Act (人口販運防制法) stipulate that those who attempt to use force, threats, intimidation or fraud to recruit, trade, take into bondage, transport, deliver, receive, harbor, hide, broker or accommodate a person would be sentenced to up to five years in jail.
A penalty of up to seven years in jail would be handed to offenders who attempt to traffic someone under the age of 18, the amendments say.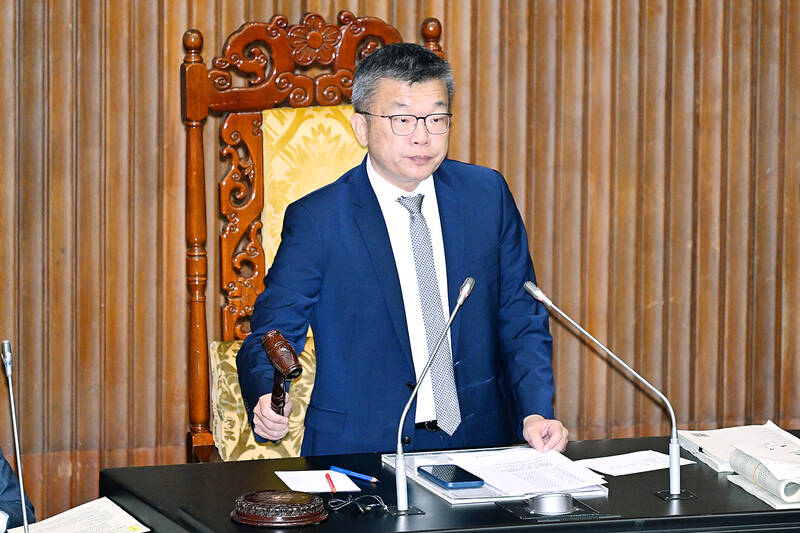 Deputy Legislative Speaker Tsai Chi-chang bangs the gavel in the Legislative Yuan in Taipei yesterday.
Photo: Liao Chen-huei, Taipei Times
The amendments were approved by the Cabinet on March 23, and submitted to the Legislative Yuan for review when the government was under pressure to tighten punishments for human trafficking and attempted human trafficking.
The public outcry followed a series of incidents last year in which hundreds of Taiwanese were lured to Cambodia by gangs with lucrative job offers, only to be held against their will and forced to work in telecommunications scams or as prostitutes.
In accordance with international practices, the amendments employ a broad definition of human trafficking, which includes the conduct of offenders who use forced labor, pay their workers disproportionately, or treat them as slaves.
The amendments would apply even in cases where a potential victim is prevented from boarding a plane by police intervention at an airport, or otherwise rescued before being trafficked abroad.
Previously, the authorities were able — based on the need for an investigation or trial — to grant a visitor permit for up to six months to any non-Taiwanese human trafficking victim.
The amendments extend the period of stay for such people to up to one year, to encourage them to work with investigators.
The amendments stipulate that foreign victims would be granted accommodation and financial assistance if they stay in Taiwan, as well as being accompanied by law enforcement officials to court hearings.
The amendments allow individuals to appeal the outcome of cases.
Anyone found guilty by a court, whether an individual or an institution, cannot bid for public work projects for five years, the amendments say.
Also yesterday, the Legislative Yuan passed an amendment that seeks to curb identity fraud and money laundering using other people's financial accounts.
The amendment to the Money Laundering Control Act (洗錢防制法) stipulates a maximum penalty of three years imprisonment, or a fine of up to NT$1 million (US$32,503), for those found guilty of selling financial accounts or account numbers.
Minister of Justice Tsai Ching-hsiang (蔡清祥) said the amendment was needed to curb a growing number of fraud cases that had "caused great financial loss for many people."
"If we cannot tackle the issue of identity fraud for misappropriating financial accounts, then we will be unable to tackle fraud crime in general," he said.
The amendment includes the addition of Article 15-2, which stipulates that no one can hand over or provide financial account information to others without a justified reason, he said.
The final version of the amendment applies to financial accounts at banks and other traditional financial institutions, virtual currency trading platforms and third-party payment services.
However, the newly stipulated restrictions on sharing account information would not apply to "general business and financial transaction practices, in which sharing of this information is justified and required, or transactions based on a relationship of trust between relatives and friends, or other legitimate reasons," he said.
The amendment stipulates that financial institutions, virtual currency trading platforms and third-party payment services close within a specified period all accounts identified as being associated with identity fraud.
Comments will be moderated. Keep comments relevant to the article. Remarks containing abusive and obscene language, personal attacks of any kind or promotion will be removed and the user banned. Final decision will be at the discretion of the Taipei Times.