US, Taiwan reach deal on trade pact
'MILESTONE': The first phase of the agreement covers regulations, anti-corruption procedures and practices to streamline and strengthen trade between the two sides
Taiwan and the US have concluded negotiations on the first phase of the US-Taiwan Initiative on 21st-Century Trade, which is expected to be signed by the two sides in the coming weeks, the Office of Trade Negotiations said yesterday.
The initiative's First Agreement is comprised of eight chapters and more than 80 articles, and is being called the most detailed trade agreement signed between Taiwan and the US since 1979, when formal bilateral ties were severed.
The office described the document as a milestone that would serve as a crucial "building block" in efforts to negotiate a free-trade agreement between the countries, and shows that Taiwan's trade system meets high international standards.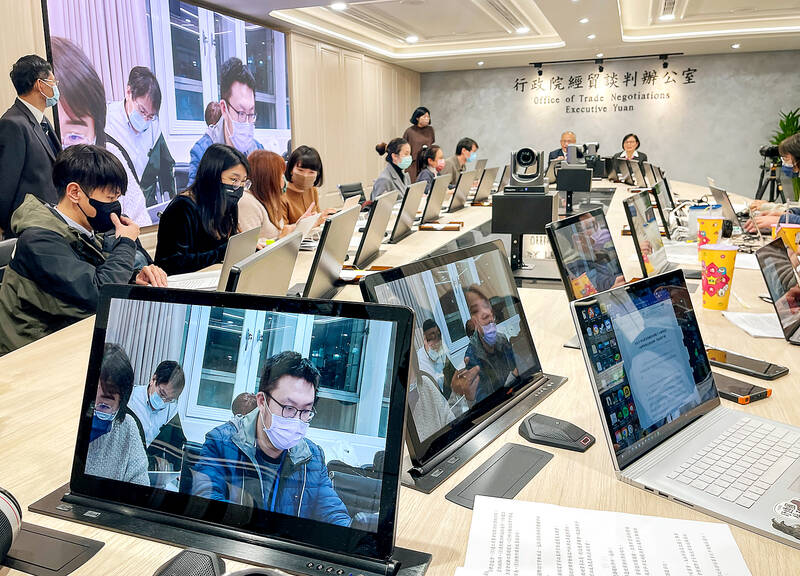 Taiwanese and US officials conduct trade talks on Jan. 17 in Taipei.
Photo: CNA
Unlike standard trade pacts, this initial agreement does not cover tariff reductions or exemptions. It outlines practices and procedures related to a host of topics aimed at streamlining and strengthening trade relations.
The areas covered were customs and trade facilitation, regulatory practices, domestic regulation of services, anti-corruption practices, and small and medium-sized enterprises.
Under the new deal, the two sides have committed to working to facilitate bilateral trade and investment flows, improve regulatory practices, promote anti-corruption measures and minimize unnecessary formalities at the border.
It also establishes a foundation for addressing trade and investment challenges and opportunities.
Most of the provisions offer measures aimed at small, incremental improvements.
For example, on trade facilitation measures, the office said that by using a digital declaration and risk assessment system, goods that meet the criteria, such as products with a short shelf life, would be allowed to clear customs on arrival.
The agreement requires both sides to improve coordination on adopting regulatory practices, including adopting the digitization of paperwork, and taking into account the potential effect of regulations on small and medium-sized enterprises, the office said.
These measures are expected to benefit communications companies, medical equipment manufacturers and pharmaceutical firms, which are subject to strict regulatory standards.
As for anti-corruption practices, the office said that Taiwan and the US introduced guidelines on preventing and combating corruption in all areas affecting trade and investment, which should benefit exporters, contractors that have undertaken projects overseas and private companies that engage in business with government agencies.
Although the First Agreement is seen as a milestone, the Executive Yuan said that at least seven areas remain on the agenda for bilateral negotiations, which it plans to finalize by the end of this year.
These would include issues on labor standards and the environment.
The conclusions reached during future talks would be added to the First Agreement to lay an even more solid foundation, the Executive Yuan said in a statement.
No time frame was given for when the next meeting would be.
"We are glad to see that we can conclude the negotiations over the first five trade agendas in such a short time," Minister of Economic Affairs Wang Mei-hua (王美花) told reporters. "This indicates that Taiwan and the US are deepening trade exchanges."
The US-Taiwan Initiative on 21st-Century Trade was launched on June 1 last year, and two rounds of negotiations have since been held in New York and Taipei, along with several videoconferences.
"This accomplishment represents an important step forward in strengthening the US-Taiwan economic relationship," US Trade Representative Katherine Tai (戴琪) said in a statement on Thursday.
Comments will be moderated. Keep comments relevant to the article. Remarks containing abusive and obscene language, personal attacks of any kind or promotion will be removed and the user banned. Final decision will be at the discretion of the Taipei Times.