Truss urges forming 'economic NATO'
'ADMIRER OF TAIWAN': An economic grouping dedicated to the Indo-Pacific would help democratic allies formulate the best approach against China, Liz Truss said
Visiting former British prime minister Liz Truss yesterday called on the free world to establish an "economic NATO" to coordinate against China's economic coercion, and safeguard freedom and democracy in the Indo-Pacific region.
Truss made the remarks during a speech in Taipei. She is visiting Taiwan on the invitation of the Prospect Foundation think tank.
As "a huge admirer of Taiwan and the Taiwanese people," she is visiting the nation to raise awareness of Taiwan's situation and to learn more about how the UK can engage with and help it, she said.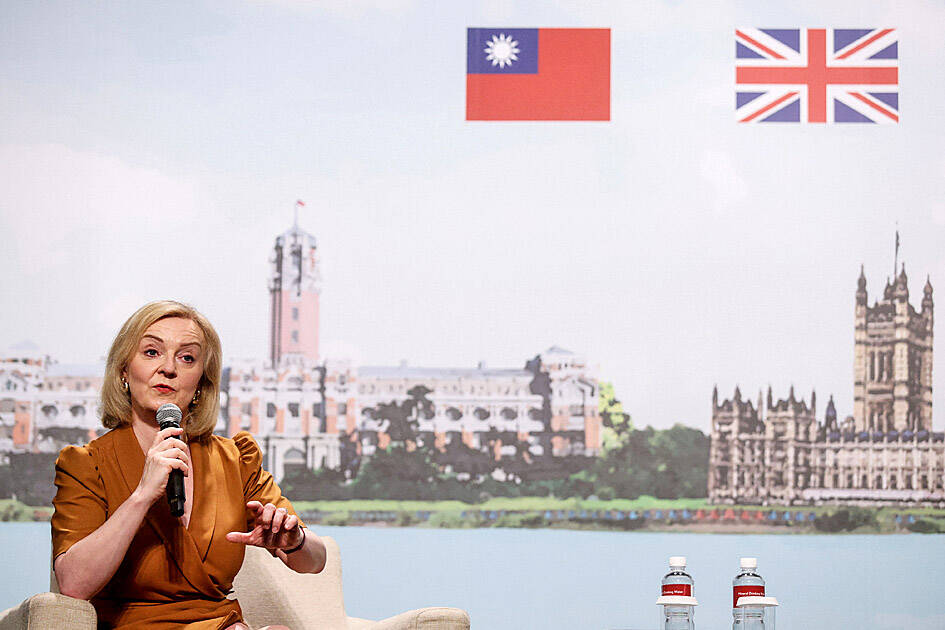 Former British prime minister Liz Truss speaks during a news conference at the Grand Hyatt Taipei hotel yesterday.
Photo: Cheng I-Hwa, AFP
Truss several times during her speech underlined the importance of establishing "an economic NATO" dedicated to the Indo-Pacific region.
Such a grouping would help democratic allies agree on the best approach toward China and to make sure that Taiwan has the means to defend itself, she said.
It would also serve as an alternative to the WTO or the UN Security Council, which has become an unreliable body, as it was recently chaired by Russia, she said.
The G7 group, EU countries and other allies, which make up more than 50 percent of the global economy, should urgently take serious action, such as sanctions and bans on tech exports, to deal with Chinese economic coercion, as the opportunity to do so might not exist in a few years, Truss said.
She called for fast tracking Taiwan's accession to the Comprehensive and Progressive Agreement for Trans-Pacific Partnership (CPTPP), as that would boost trade between Taiwan and the UK, and be a "stepping stone to uphold freedom."
China must be prevented from joining the trade bloc, she added.
Taiwan is "powering the modern economy" with its semiconductors and shipping routes vital for global commerce, Truss said.
Taiwan is a thriving democracy and "a direct challenge to everything the Chinese Communist Party stands for," she said, calling on free nations to promote security cooperation with Taiwan and "commit themselves to a free Taiwan and be prepared to back it up with concrete measures."
The establishment of the AUKUS alliance of Australia, the UK and the US, and the Global Combat Air Programme of Japan, the UK and Italy are welcome developments, but a coordinated approach is needed to determine what goods to export to Taiwan, she said.
To develop such an approach, countries involved should understand the situation on the ground by talking directly to Taiwanese, she added.
Truss condemned European nations' nonchalant attitude toward the Taiwan issue as "irresponsible," since it is "a core interest to the people of Europe."
"A fatalism in the free world that somehow a Chinese takeover of Taiwan is inevitable" is the biggest danger for the future of Taiwan, she said.
The free world should end the ambiguity in its stance toward China and take concrete actions to reduce its economic reliance on Beijing, instead of turning a blind eye to its threats to freedom and democracy, due to the economic benefits it offers, she added.
"You can't believe a word they [totalitarian regimes] say," she said, citing the examples of Beijing reneging on its promise to preserve Hong Kong's democratic way of life for 50 years following its return to China, and concealing information regarding the COVID-19 pandemic.
She urged the British government to amend its Integrated Review "to make it absolutely clear that China is a threat," not just an "epoch-defining and systemic challenge," and immediately close down Confucius Institutes in the UK.
"Your future is our future," she said, expressing British solidarity with Taiwan and vowing to continue to support the nation.
Truss attended a news conference after delivering her speech, where she was asked about speculation that China could invade Taiwan within two years.
She said Chinese President Xi Jinping's (習近平) ambition "is absolutely clear," but when and how an invasion would happen is unknown.
Asked about China calling her visit "a dangerous political stunt," Truss said that allowing a totalitarian regime to dictate who goes where "is a very dangerous idea."
During a meeting with Premier Chen Chien-jen (陳建仁) later yesterday, Truss vowed to work with the British government to help Taiwan's CPTPP bid.
Beijing must be stopped from limiting Taiwan's representation and engagement in international organizations, as Taiwan's expertise can contribute to the WHO and beyond, she said.
Comments will be moderated. Keep comments relevant to the article. Remarks containing abusive and obscene language, personal attacks of any kind or promotion will be removed and the user banned. Final decision will be at the discretion of the Taipei Times.