Taiwan, Canada sign MOU on health
BOLSTERING COOPERATION: The two nations seek to enhance resilience in response to public health incidents, a department head in the Ministry of Foreign Affairs said
Taiwan and Canada signed a memorandum of understanding (MOU) to promote cooperation on health affairs and boost the efficiency of joint programs, the Ministry of Foreign Affairs said yesterday.
Representative to Canada Harry Tseng (曾厚仁) and Canadian Trade Office in Taipei Executive Director Jim Nickel signed the MOU on Health Cooperation between Taiwan and Canada via videoconference on Tuesday, the ministry said in a statement.
With the MOU, the two sides can facilitate cooperation and enhance resilience in response to public health incidents, North American Affairs Department Director-General Douglas Hsu (徐佑典) told a news conference yesterday.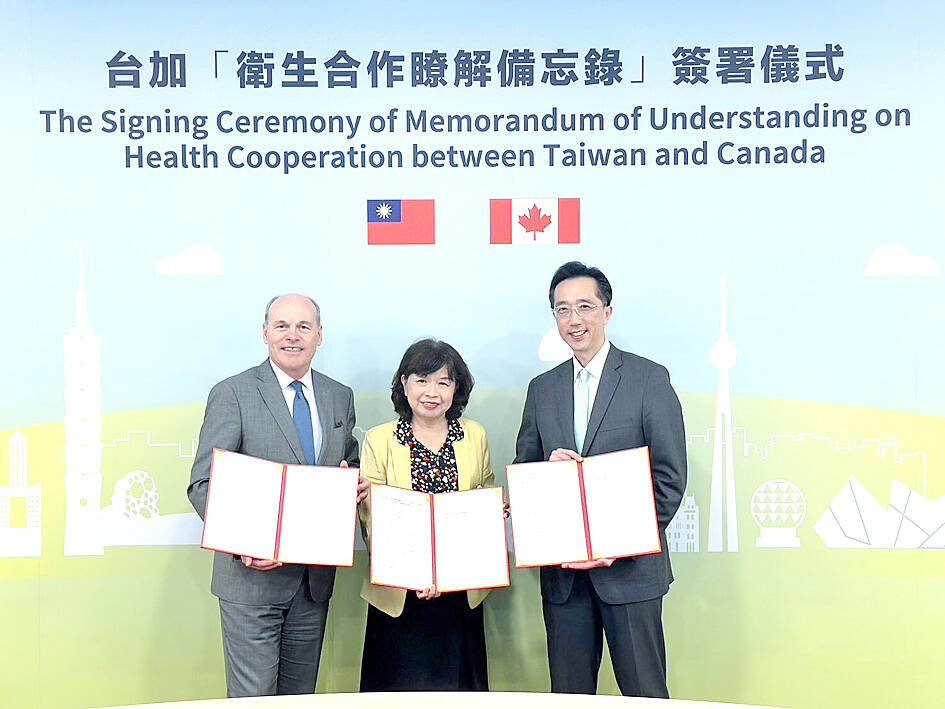 Canadian Trade Office in Taipei Executive Director Jim Nickel, left, and North American Affairs Department Director-General Douglas Hsu, right, pose for a picture in Taipei on Tuesday.
Photo courtesy of the Canadian Trade Office in Taipei
It is the first time that the two countries have established systematic cooperation in the field of public health, he said, adding that it is the result of cross-departmental efforts from both sides.
The MOU also demonstrated that Taiwan and Canada are taking concrete steps to bolster their partnership, he said.
Taiwan is confident in its ability to continue to make contributions to the world in the field of public health, he said.
Taiwan is looking forward to deepening cooperation with Canadian agencies to enhance the health and well-being of Taiwanese and Canadians, and the two countries' common interests, he said.
Taiwan's "soft power and warm power" continue to attract like-minded partners around the world to seek deeper and wider cooperation with the nation on not only public health, but also economy and trade, he said.
Hsu cited the example of British Columbia's (BC) plan to establish a Trade and Investment Representative office in Taiwan to increase export and investment opportunities in the country.
The Canadian province announced the plan on Friday last week, identifying Taiwan as one of the "valuable new markets that BC will focus on for export growth," along with Mexico and Vietnam.
The office "will be created to support BC businesses with better access to the market" as part of its new trade diversification strategy, the British Columbia Government said.
The priority cooperation fields include agricultural products, clean energy and technology, forestry, manufacturing, the information and communications industry, and biotechnology, Hsu said.
The announcement came after similar plans were implemented by Arizona and West Virginia, which opened representative offices in Taiwan in March and last month respectively, he said.
The US and Canada are adding resources to their programs in Taiwan, which proves that Taiwan has a good economic and trade environment, plays an important role in the global supply chain and is internationally competitive, he said.
The ministry welcomes Canadian provinces and US states seeking to set up offices in Taiwan, and encourages North American businesses to increase their investment in the nation, he added.
Comments will be moderated. Keep comments relevant to the article. Remarks containing abusive and obscene language, personal attacks of any kind or promotion will be removed and the user banned. Final decision will be at the discretion of the Taipei Times.